Presented with the Medal of Honor by President Barack Obama in 2014, Bennie Adkins distinguished himself as a war hero during three tours of duty between 1963 and 1971, later creating a charitable foundation to help returning veterans to attend further education and settle into civilian life.
President Obama said at the time, 'to be honest, in a battle and daring escape that lasted four days, Bennie performed so many acts of bravery we actually don't have time to talk about all of them.'
Unfortunately, the popular Vietnam veteran was unable to escape his final battle.
Adkins was admitted to the East Alabama Medical Centre in Opelika, Alabama at the end of March 2020.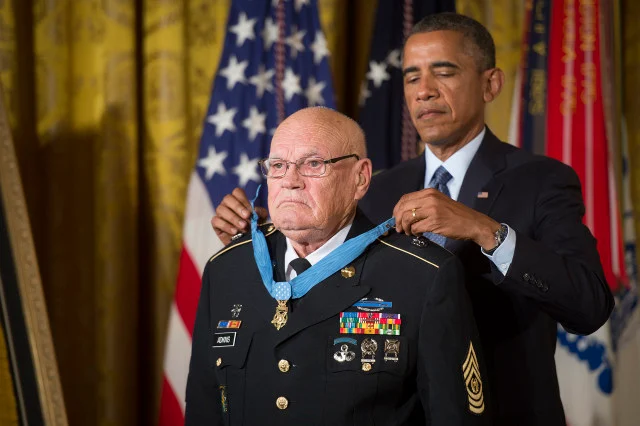 When his condition deteriorated, he was moved to intensive care and put on a ventilator, but despite the best efforts of his medical team he sadly died on April 17th following complications caused by Covid-19, coronavirus.
The veteran soldier was reported to have killed and injured 135 to 175 Vietnamese insurgents during a four-day battle, during which he was wounded eighteen times, but his resilience meant he remained effective helping a number of US soldiers to safety.
Adkins was on his second tour at the time, in 1966, with the 5th Special Forces Group (Airborne) A-102 Detachment as an intelligence sergeant.
Their mission was to track enemy movements and report back to HQ.
It was March 9th, 1966, early in the morning when their camp in the A Shau valley was attacked by hundreds of North Vietnamese with mortars and rocket propelled grenades.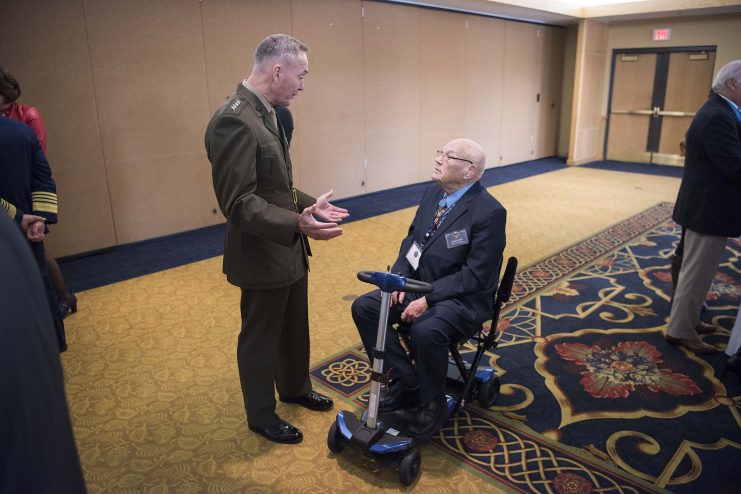 Adkins dodged through the incoming fire to man a mortar position to repel the insurgents.
He survived being hit by shrapnel many times while breaking cover to reach wounded soldiers in order to get them to a place of safety. But the worst of the attack was to come.
The Vietnamese forces regrouped and redoubled their attack the next day. Before long Adkins was the last man with a mortar, but eventually he too ran out of rounds.
He fell back on small arms, hand grenades and a recoil-less rifle to repel the attack, dashing back and forth from mortar pit to bunker through enemy fire to resupply his diminishing stock of ammunition.
As the fighting intensified and the US defences were gradually beaten down Adkins and his men destroyed their signalling equipment and burned classified documents to stop them falling into the hands of the Viet Cong.
The men dug through the back of the bunker and fought their way out of the camp as it was finally overrun by the enemy.
After two days trekking through the jungle, avoiding forward scouts and keeping out of sight, Adkins and his men were rescued by helicopter.
In an interview in 2015 Adkins said of the escape that, 'we were not going to be prisoners of war, whatever we had to do.'
Bennie Adkins was born in Waurika, Oklahoma, and entered the military in 1956 when he was 22. After being drafted he volunteered for special forces.
Following his service in Vietnam he remained with the Army, working as a jungle warfare trainer at Fort Sherman, Panama, eventually retiring in 1978 with the rank of command sergeant major.
He went on to obtain a bachelor's degree and also two master's degrees, going on to create the Bennie Adkins Foundation to help other retired service personnel into further education, which specifically supports ex-special forces in their transition into civilian life.
Bennie Adkins was married to Mary for 60 years. She died in February 2019. He leaves behind four sons, a daughter, a number of grandchildren and great-grandchildren.
D-Day Hero Goes Viral With Mohawk Haircut
Sadly, none of his family were able to see him while he was in hospital due to the restrictions put in place by the Medical Centre to contain the spread of the coronavirus.