UPDATE, 10/06/22:
Numerous reports coming out of Europe have warned that Russia's latest nuclear submarine, Belgorod (K-329), has gone "missing" from her base in the White Sea. The reports also warn that the vessel left the area with her "doomsday" weapons onboard: 80-foot Poseidon nuclear torpedoes, which are officially known as the 2M39 Status-6 Oceanic Multipurpose System.
According to Italian media, NATO has reportedly warned member countries that Russia might plan a test of the submarine's nuclear torpedos, which have an unlimited range. They can detonate at a depth of one kilometer near a coastal city, triggering a 1,600-foot nuclear tsunami, which would irradiate the target settlement.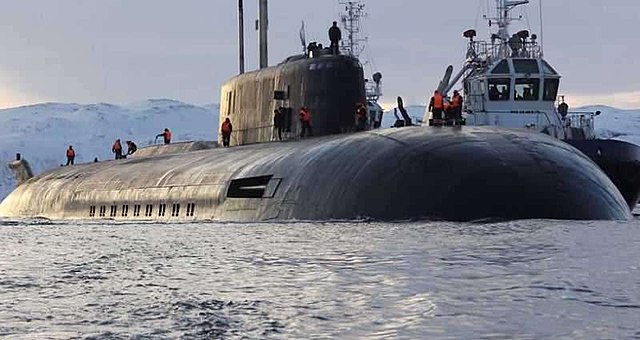 Belgorod's location remains unknown as of October 3, 2022, which doesn't surprise experts, given the vessel's stealth capabilities. According to a report by USNI News, the submarine was last spotted on September 22 and 27, 2022, near the Kola Peninsula in Russia's extreme northwest. While Naval News has stated she's now in the Barents Sea, Italian media has reported she's not far off from the area, in the Kara Sea.
When asked by USNI about Belgorod's recent movements, the Pentagon wouldn't provide specifics, but did play down the submarine's recent operations.
ORIGINAL STORY, 07/12/22:
The Russian Navy has commissioned a modified version of the Soviet-produced Oscar II-class guided-cruise missile submarine. Dubbed by many as an advanced "doomsday" vessel, the submarine is capable of launching the Poseidon nuclear torpedo, which is armed with a warhead of up to 100 megatons.

The submarine was constructed by Sevmash Shipyard, in the port city of Severodvinsk. Built under Project 09852 and designated Belgorod (K-329), the vessel is the longest in the world and weighs around 30,000 tons. She was designed to accommodate six Poseidon nuclear torpedoes, which have an unlimited range.
Construction of Belgorod was completed in 2019, with the vessel floated out of the shipyard later that year. After undergoing sea trials under the secretive Main Directorate of Undersea Research, the submarine was delivered to the Russian Navy's Northern Fleet headquarters on July 8, 2022, according to Russian state-owned news agency, TASS.
The Main Directorate of Undersea Research, known as Glavnoye Upravleniye Glubokovodnykh Issledovaniy (GUGI) in Russia, operates from a remote base on the Kola Peninsula in the Barents Sea. Belgorod has joined the program as part of its 29th Submarine Division.
According to a statement from Russian Navy Chief Adm. Nikolai Anatolyevich Yevmenov, the vessel was built for research and rescue purposes:
"The Belgorod submarine opens up new opportunities for Russia in conducting various research, allows conducting diverse scientific expeditions and rescue operations in the most remote areas of the world ocean. The ship is designed to solve diverse scientific problems, conduct search and rescue operations, and can also be used as a carrier of rescue deep-sea and autonomous unmanned underwater vehicles."
Despite these claims, Western powers fear Belgorod could be used to sabotage undersea cables. Concerns over nuclear war have also come up, following repeated threats from Russian officials over opposition to the Russo-Ukrainian War.

As aforementioned, the submarine was built to carry the 80-foot Poseidon nuclear torpedo, which is officially known as the 2M39 Status-6 Oceanic Multipurpose System. Considered both a torpedo and an unmanned vehicle, the Poseidon can be launched against enemy shorelines, destroying coastal cities both with both a blast and through the creation of large tidal waves.
The torpedo, which was first revealed in 2015, also has the ability to devastate coastal areas through "radioactive contamination, rendering them unusable for military, economic or other activity for a long time," according to a translation of a Russian presentation captured on video by the BBC. It's for this reason Belgorod has been touted as a "doomsday" vessel.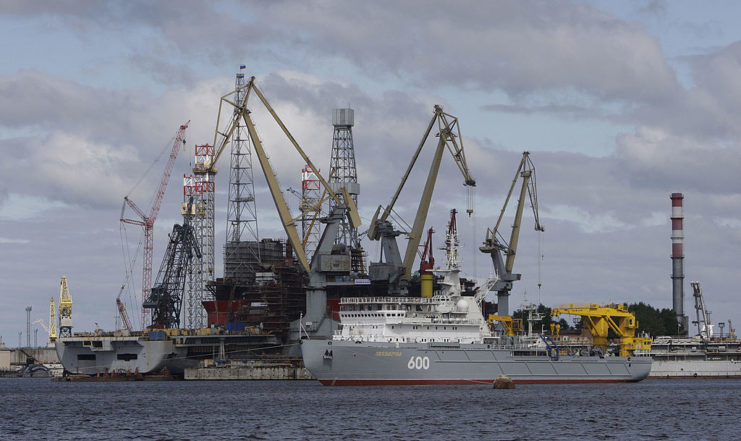 More from us: Why Were Pigeons Onboard America's First Aircraft Carrier?
Along with being equipped with Poseidon nuclear torpedos, Belgorod will also serve as a mothership for crewed and unmanned undersea vessels.