If you've been online at all over the past week or so, you'll likely have seen that Arnold Schwarzenegger has been named Netflix's Chief Action Officer. Arguably one of the most popular action stars to ever call Hollywood home, the news comes alongside the release of his new series on the streaming service, FUBAR (2023-present).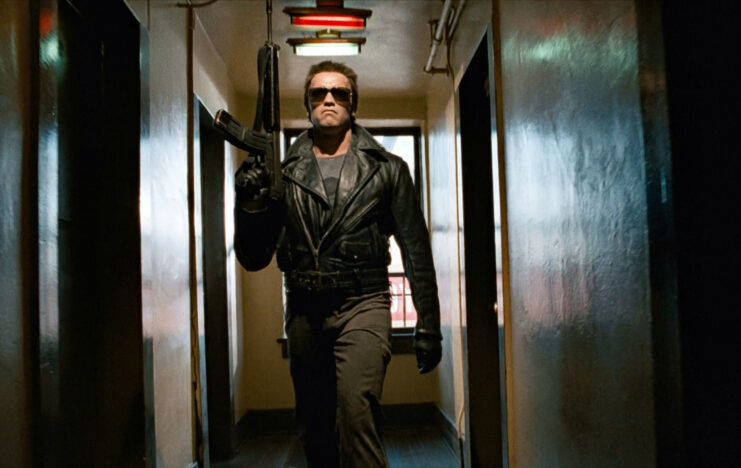 In the official trailer for the announcement, Arnold Schwarzenegger is seen arriving at Netflix's headquarters in the most Arnold vehicle out there: a military tank. Not one to worry about parking – we mean, come on, he is a world-famous celebrity – he drives over a Mercedes Benz parked along the sidewalk.
Once situated, he pokes his head out of the tank and declares, "No one loves action as much as I do."
As the video goes on, we see Schwarzenegger offer some important advice to other notable action stars, such as Chris Hemsworth, before cutting a burrito with a sword (honestly, who hasn't wanted to do that?) and discussing his new Netflix series, FUBAR. On top of this, the clip includes nods to his various acting roles from over the years.
"I'm working around the clock to bring you the biggest action on Earth," the actor and former California governor assures.
Now, you might be thinking this is just another gimmick by Netflix to keep subscribers, especially after the whole debacle with them no longer permitting password sharing among users who don't live in the same household – and that would be the case, if Arnold Schwarzenegger wasn't the man who was given the job.
Over the course of his Hollywood career, the Austrian actor has been at the center of some of the entertainment industry's most hard-hitting action films. Conan the Barbarian (1982)? An absolute epic within the sword and magic genre. Total Recall (1990)? A sci-fi action thriller that was so popular it spawned a remake in 2012. Raw Deal (1986)? An action-packed blending of the mafia and the FBI.
We also can't ignore Predator (1987), in which he starred alongside former US Navy SEAL Jesse Ventura, Commando (1985) and arguably his most popular role: the titular character in the Terminator movies.
"I've always been passionate about delivering the best action possible, whether it was my films like Terminator, in my new action comedy FUBAR or now as chief action officer," he explained in an interview with Netflix. "The toughest part is that I love action so much, I want to put it in everything I watch… romantic comedies, stand-up, dramas – all candidates for more explosions in my opinion."
In the same interview with Netflix, Arnold Schwarzenegger revealed it was really him driving the tank in the now-viral trailer, saying, "Was it really me driving? Of course it was. I wasn't going to let anyone else have that fun." That's the exact answer we'd hope to hear from the company's new Chief Action Officer.
Impressively, it only took him two takes to perfect, as it was his very own M47 Patton! He'd driven it while serving his mandatory one-year service with the Austrian Army, hiding weights within to help him bulk up. It'd been buried following decommissioning, but he was lucky enough to get it dug up, and he now uses it to raise money for charity.
"I drove this exact tank when I was an 18-year-old in the Austrian army, and many years later I was fortunate enough to be able to bring it to the US," he shared. "So when Netflix wanted to name me as CAO, I jumped at the opportunity to have a little fun with the tank."
More from us: INTERVIEW: Director Steven Luke Talks New WWII Film, 'Come Out Fighting'
FUBAR premiered on Netflix on May 25, 2023. The series, developed by Nick Santora, is Arnold Schwarzenegger's first live-action series, and sees him portray a CIA operative. It co-stars Monica Barbaro, Jay Baruchel, Travis Van Winkle and Gabriel Luna.