Napoleon Bonaparte was no ordinary Joe. His family were minor nobles from Corsica, and he was always destined to a more privileged life than 99% of Frenchmen. His rise from such "humble" beginnings to become France's leading general was only extraordinary by the standards of an age in which social status played a bigger part than ability in shaping military careers.
His rise to the position of Emperor was extraordinary by the standards of any age. But he did not rise alone. His career was supported by the Marshals, France's leading generals. Many of the men who held these positions under Napoleon were far more humble than the Emperor himself.
Born in 1767, Murat was the son of a farmer and innkeeper. His parents pushed him toward the priesthood, a good way for an ordinary man to find a steady income and position of influence. But at the age of twenty, he saw a troop of cavalry ride through town and was swept up in the romance of military life. He left the seminary and joined the army, but was forced to resign due to an affair two years later.
Following the revolution, Murat returned to military life as an ardent Republican. In 1795, he gathered the canons with which Napoleon put down the 13 Vendémiaire rebellion. For this, he was made a colonel.
Joachim Murat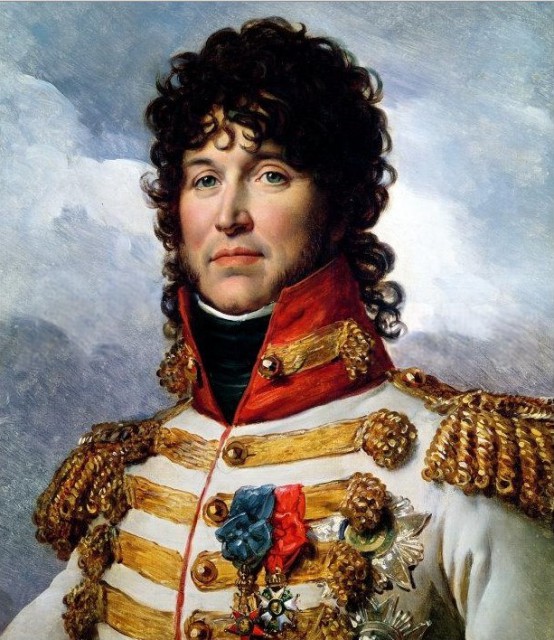 Murat commanded the cavalry in Napoleon's expedition to Egypt in 1798, helped the general overthrow the government in 1799, and married Napoleon's sister Caroline in 1800. He was made a Marshal in 1804 and played an important part in Napoleon's Russian and German campaigns. In 1808, he was made the king of the satellite state of Naples and Sicily. It was only after Napoleon's fall that he was overthrown and executed.
Jean Lannes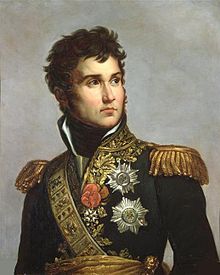 A farmer's son from the small southern town of Lectoure, in his youth Jean Lannes, was apprenticed to a dyer. Uneducated but strong and fit, Lannes volunteered to fight for the new French Republic against Spain. He was made sergeant-major of his brigade but lost his position in one of France's political shifts in 1795.
In 1796, Lannes reenlisted as a private, joining Napoleon's army in Italy. His courage soon saw him rising through the ranks. He captured two enemy flags at the Battle of Bassano, was twice wounded in battle, and led the vanguard on several campaigns. Having helped Napoleon in the coup of 1799, he was made a Marshal at the founding of the Empire in 1804. He and the Emperor were close personal friends.
Lannes's story was a classic example of a humble soldier rising through courage and determination. His death created a poignant finale. On 22 May 1809, at the Battle of Aspern-Essling, he saw a friend killed by a cannonball, and in a lull in the fighting sat down to contemplate the horror. Another cannonball hit him in the legs, and despite the best treatment surgeons could provide he died on 31 May.
Michel Ney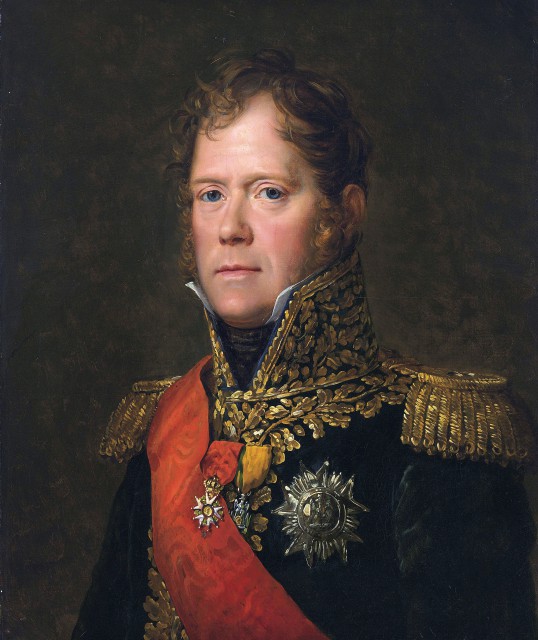 The most famous of Napoleon's Marshals, Michel Ney came from a military background, his father Pierre having fought in the Seven Years War. Now a master barrel-maker, Pierre Ney ensured that his son received an education, leading Michel to work as a notary and then an industrial overseer.
Dissatisfied with a career in bureaucracy, Ney joined the army in 1787 and was made an officer in 1792, having distinguished himself in several battles. He personally led cavalry charges and was wounded at Winterthur in 1799.
Ney is perhaps best remembered for his success during retreats. Fighting the British in the Iberian Peninsula, he fought a series of rearguard actions during the retreat from Torres Vedras. Commanding III Corps in the 1812 invasion of Russia, he once again led the rearguard during a retreat, fighting his way back to the main army after his contingent was cut off. He held the vital bridge at Kovno, helping the army escape. Napoleon nicknamed him "the bravest of the brave" for his actions while others lauded him as "the last Frenchman on Russian soil".
As the Empire collapsed before her many enemies, Ney was among those who urged Napoleon to resign, and for this, he retained his rank under the restored monarchy. But he found himself looked down upon by the Bourbon court because of his humble origins, and so defected to Napoleon on his return in the Hundred Days of 1815. Arrested after Waterloo, he was tried and executed on 7 December. A man of distinction to the last, he refused a blindfold and gave the firing squad the order to shoot him.
Nicolas Oudinot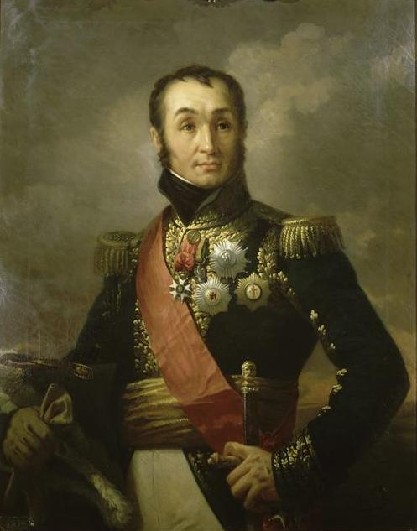 The son of a brewer, Nicolas Oudinot was the only one of nine siblings to survive childhood. He spent three years in the army in the 1780s, retiring as a sergeant, and returned to service in 1792 to defend the republic. Elected lieutenant-colonel of a volunteer regiment, he distinguished himself defending a small fort on the Vosges and was transferred to the regular army.
Oudinot's fearless approach to warfare led him to be injured 34 times in battle as he rose through the ranks. Though not one of the initial group of men made Marshals by Napoleon in 1804, he was promoted to that rank in 1809 thanks to his courage at the Battle of Wagram.
Kept in place by the restored Bourbons, Oudinot did not return to Napoleon's side in 1815, and so continued to command until 1823. Unlike many 19th century generals, he knew his limitations, never claiming to be a great overall commander. But he was an excellent divisional commander, an inspiring leader, and an example to officers of the following generation.