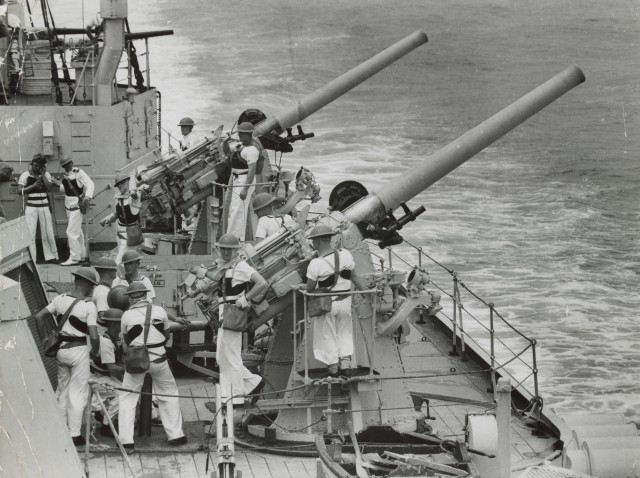 A research expedition off the coast of Western Australia has discovered warship wrecks of the sunken World War Two Australian HMAS Sydney and German HSK Kormoran. [Via]
The expedition has captured never before seen images of the wrecks which have been at the bottom of the Indian Ocean for more than 74 years.
The German HSK Kormoran was revered in naval circles and was one of the Nazis most successful war ships. It sunk the HMAS Sydney along with around 700 of its crew in 1941, after which the Kormoran itself sunk.
The expedition has captured around three quarters of a million underwater images of the wrecks, which sit at around 2.5kms under the surface of the water and around 20kms apart. They lie around 200kms west off the coast of Shark bay in Western Australia, north of Perth.
The expedition, organised by Curtin University and the Western Australian Museum, plans to create models of both warships to be put on display. Images have been captured of Linda, the name given to the gun atop the HSK Kormoran. She is marked by a skull and crossbones which her German crew must have painted alongside her. Inside the ship a list of ships that she sunk during the war is written on the wall. The list includes 11 Allied ships.
Historians have said that it was common for the German Navy's crew to name their guns. Aboard the Bismarck gun turrets were named and included Bruno, Dora and Caesar.
The expedition says that they are seeing things that they expected to find, but also many surprises. The images are showing the personal side of the German experience during the war and how they lived onboard the Kormoran.
The images were taken by a deepwater camera fixed aboard the DOF Subsea. It has located a 15cm hole which is thought to be from a shell which hit the side of the ship. Meanwhile the HMAS Sydney had a lot of damage to its guns and its bow had been destroyed, the Mail Online reports.
The expedition has used social media to upload the images and keep war enthusiasts up-to-date with what they have found. The reconstruction of the ships is expected to cost around AU$1million.