Guns of the mighty Bismarck wreck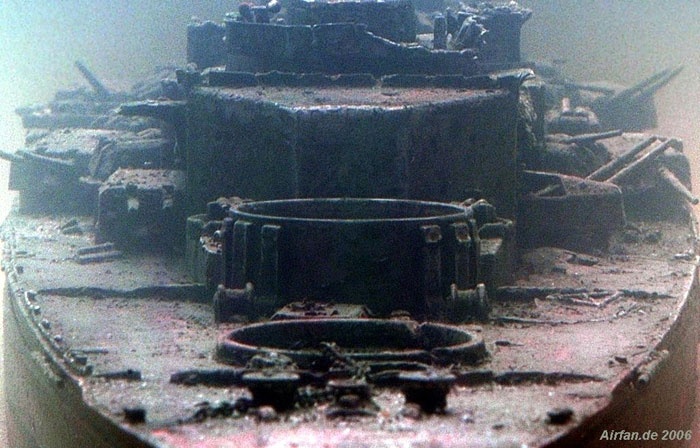 USS Yorktown wreck discovered by Robert Ballard in 1998
USS Kittiwake
Two grounded WWI German submarines
Two wrecked German submarines at dockside in Hamburg, Germany, after Allied bombing. Shipyards were rebuilt a few times, but after the heavy…
New York City, c.1942, The SS. Normandie capsized after going up in flames in New York Harbour
KIEL HARBOUR, GERMANY, 19 MAY 1945. View of the German cruiser ADMIRAL HIPPER which was in dry dock at Kiel when the harbour was captured by the Allies. Both the German attempts to camouflage her and the damage caused by Allied bombers can be seen.
Dunkerque and her sister Strasbourg were among the few battleships equipped with two superimposed quadruple turrets, in this case housing 13″ guns. Both ships ended up at Toulon when France fell to the Germans and the Vichy government was established.
Ultimately both ships, along with the majority of the French fleet at Toulon, were scuttled on 27 November 1942, to deprive the Germans of their use. Dunkerque was scuttled in drydock, where she remains in this post-liberation view. The ship has been heavily damaged by demolitions crews – although it is not clear how much of the damage was done by the French, and how much by the Germans as they were driven out of Toulon.
Five of her eight guns barrels have been cut off, her superstructure has been completely demolished, and her bow has been entirely removed back to the forward turret.
This is the hulk of the French battleship Dunkerque, scuttled at Toulon.