As war loomed in Europe with the growing menace of Nazi Germany there was also an awareness of a Nationalist Japan intent on expanding its empire in Asia. Under this growing cloud, a number of concerned business leaders and military officials in Australia realized the need for the manufacture of advanced modern aircraft to keep pace with current foreign models. This forward-thinking approach not only addressed the lack of suitable aircraft but enabled the commencement of Australia's aircraft industry just in time for the outbreak of the Second World War.
Wing Commander Lawrence Wackett, Managing Director of the Tugan Aircraft Company is known as the father of Australian aircraft industry. In early 1936, he went on a five-month tour of Britain and Europe, and finally headed to the United States to visit the North American Aviation (NAA) factory. It was here that the concept of a versatile two-seater general purpose aircraft was seen. The NAA had been producing a family of aircraft based on a two-seat design and with a standard engine (Pratt & Whitney 1340 Wasp) and various configurations i.e. fighter (NA-16-2), bomber (NA 16-3) and trainer (NA 16-4).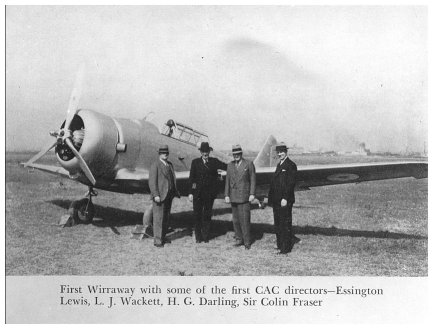 Arriving back in Australia, Wackett and the team's choice of the North American design soon come into conflict with the Government who rejected the proposal to use an American designed aircraft. The relationship between the RAF and RAAF was established, and the RAAF in the 1930s relied totally on Britain for the supply of aircraft. By 1936, when a more up-to-date two-seat general purpose aircraft was sought, the only aircraft the RAF could offer to fill this role was the Westland P8 (the prototype of the Lysander).
With the support of Prime Minister Lyons and his Cabinet, a direct challenge to Britain's insistence on using a British aircraft was made. On 18 June 1936, Prime Minister Lyons announced that Commonwealth Aircraft Corporation (CAC) was being formed, funded by Broken Hill Proprietary, Broken Hill Associated Smelters and General Motors Holden. The CAC was to build Australia's first mass-produced military aircraft.
Lawrence Wackett was hired to head the new team and tour the world's leading aircraft manufacturers to find a suitable design. Wackett and his small CAC team returned to North American Aviation and soon realized that some advancements in design had occurred so selected the most up-to-date model the NAA had produced. It was decided to purchase both designs and test them further in Australia. These two designs included the earlier design the NA 16-1A (NAA-32) with a fixed undercarriage and the more streamlined NA 16-2K (NAA-33) with a retractable landing gear and a geared engine (P&W13400 and a three-bladed propeller.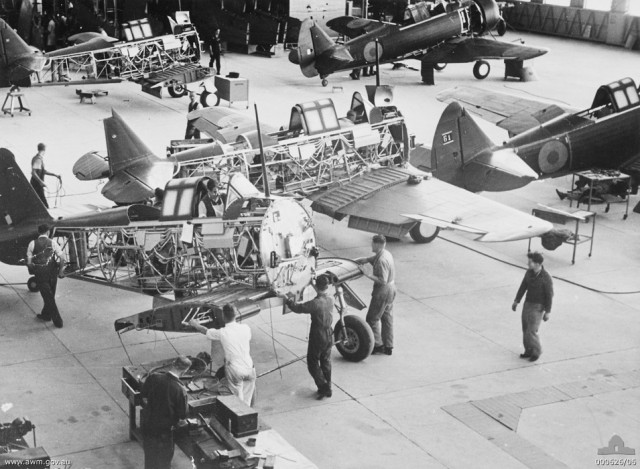 Wirraway aircraft under construction at a CAC factory in 1940
The models arrived for trials in Australia in August and September 1937 respectively. The NA 16-2K had many features the earlier model lacked, including a hydraulic system that controlled the flaps and landing gear, and 14 hard points under the center section that could hold four 45kg bombs or ten 11kg bombs. With these added features it was this design that got the nod of approval from the RAAF.
Throughout 1938 CAC and the RAAF worked out the technical and equipment needs of the newly approved design. Forty aircraft would be produced and designated CA-1. Adding to the NAA design a number of technical updates and modifications were recommended and these included:
Increasing bomb hard points to 18;
two forward firing synchronized machine guns (Vickers Mark V);
a single Vickers rear machine gun that could be raised and lowered and on a rear ring with a swivel seat;
a prone bomb aiming position with the addition of doors;
installation of both long range (R 1082/T 1083) and short range radio set (TR 11B);
more instrumentation in the rear cockpit; and
a number of other smaller modifications.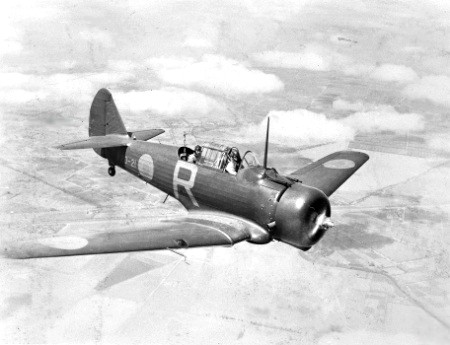 Laverton, Vic. 1940-02-09. A Wirraway aircraft of No. 21 Squadron RAAF, in flight.
The first production aircraft CA -1 Wirraway made its maiden flight on 27 March 1939 at Fisherman's Bend in front of all the CAC workers and other invited guests. The first three test aircraft (A20-3, 4 & 5) were handed over to the RAAF on 11 July to undertake a number of trials including bombing, navigation and armament testing. A further four aircraft, and two of the test aircraft, joined 12 Squadron and so by the outbreak of war on 3 September 1939 six Wirraways were in service.
By Rod Mountford, reproduced with permission