The Huey helicopter, formally known as the Bell UH-1 Iroquois, was a famous Vietnam Era helicopter. It was originally developed by Bell Helicopters as a medical evacuation and utility helicopter in 1952. It saw its first flight on October 20, 1956.
The military ordered it into mass production in March 1960. It was the first turbine-powered helicopter to enter combat production. More than 16,000 units were built.
The Huey saw its first combat use by the U.S. Army during Vietnam War. Originally designated the HU-1 it become known by the nickname "Huey." In September 1962 it was re-designated the UH-1, but the name "Huey" stuck. Approximately 7,000 Huey's saw service during Vietnam.
During Vietnam, the Huey was used for a variety of purposes. Hueys tasked with the ground attack, or armed escort roles were equipped with rocket launchers, grenade launchers, and machine guns.
Because of their versatility, the Huey was able to assume many roles and functions. Given a certain function, they came to bear different names based on the role they assumed.
By 1962, the Huey became modified locally by the companies themselves who started to fabricate mounting systems on their own. Gunships became known as "Frogs" or "Hogs" if they carried rockets.
Hueys that only carried guns became known as "Cobras" or "Guns." Troop transport Hueys came to be known as "Slicks" due to their lack of weapons pods.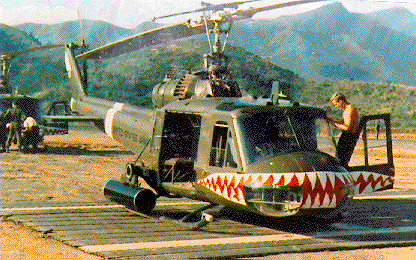 174th AHC SHARKS, flying UH-1C and UH-1M Huey gunships from 1966-1971 Source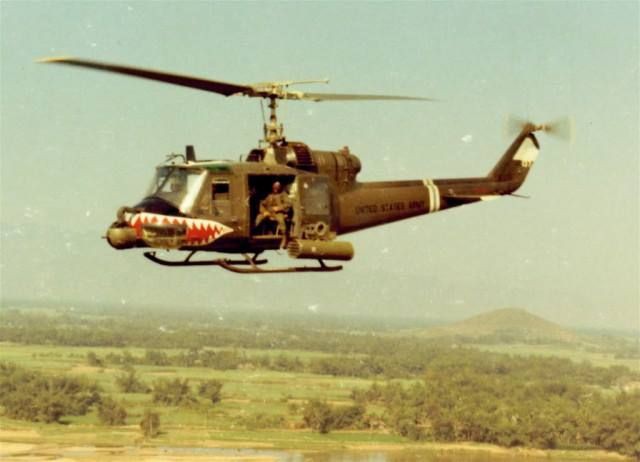 "Soc Trang Tigers" Huey Gunships in Vietnam (1968)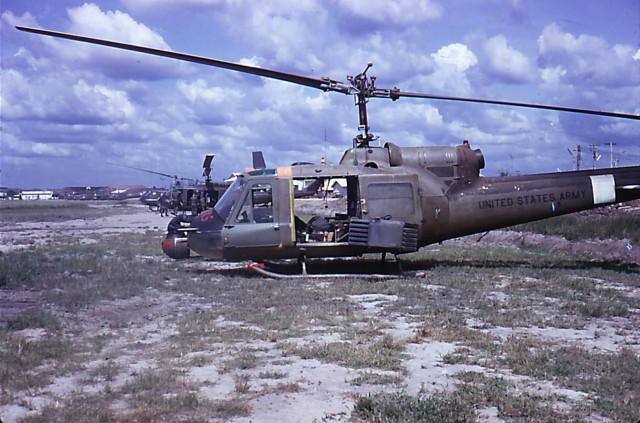 US Army UH-1 Huey Gunship.   Photo supplied by Bert Lane [1966] Source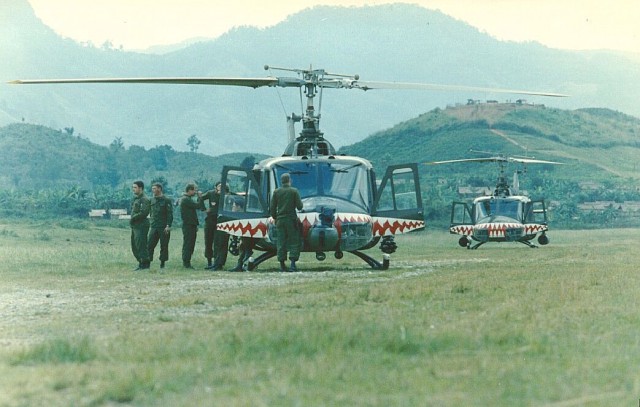 Gunships Shark #161 'Surfer' and #140 'Hooded Cobra'. We actually had a heavy fire team of three gunships heading back for fuel Source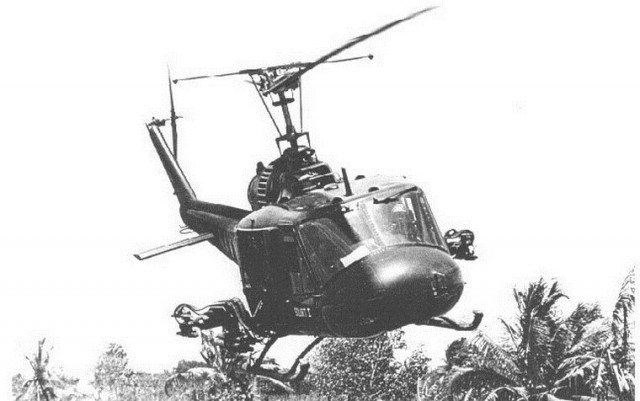 Gunship coming in low
Slicks and Hogs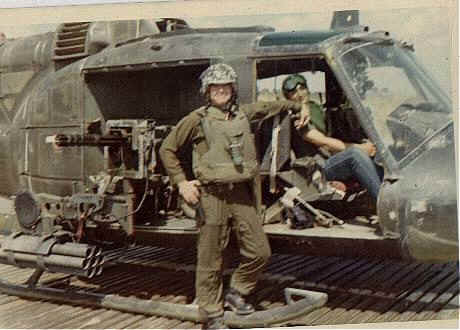 Gunship with Door Mounted MiniGun –  Det 7 Gunners Doug Taylor and Pat Keech Source
128th Helicopter Gunship Assault Company, prepping the LZ Vietnam 1969.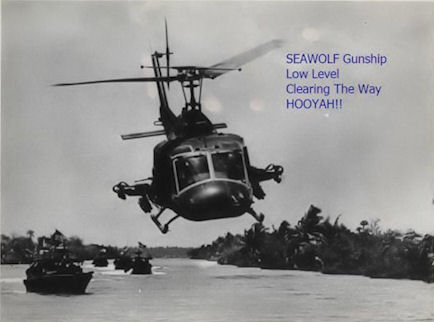 Source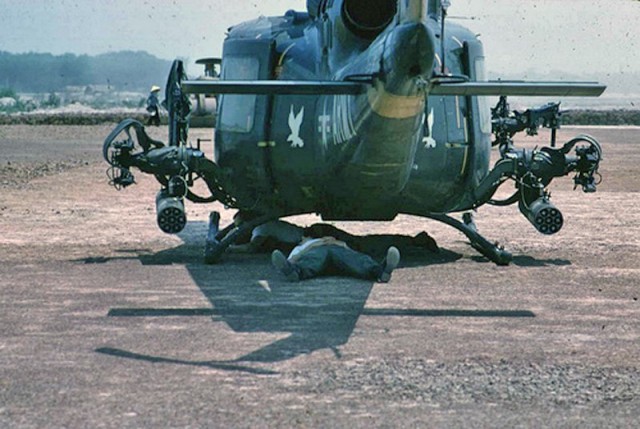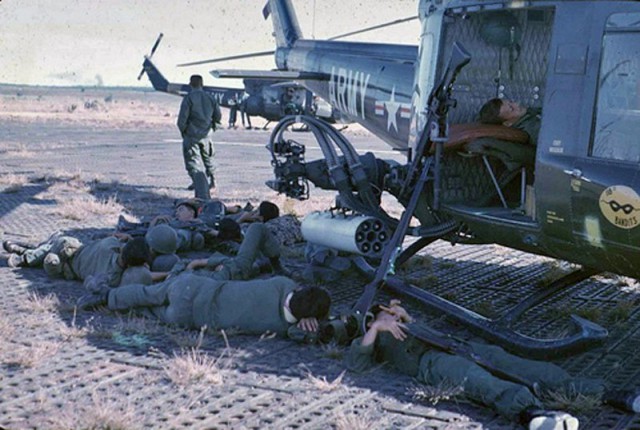 Exhausted crews sleeping in the shade of their gunships
Vietnam War Radio Chatter- Gunship Taking Fire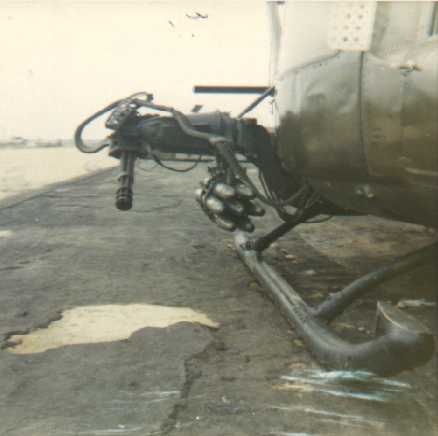 Armament system on UH-1C 66-15072- CE was Pete Verbeek at the time of these pictures. Source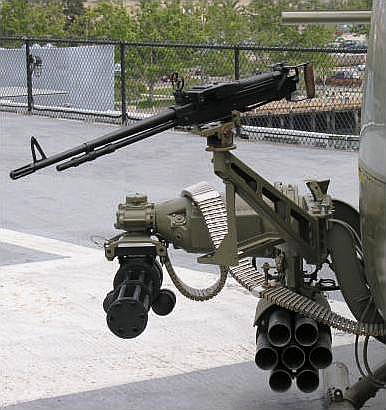 Typical armament for UH-1 gunship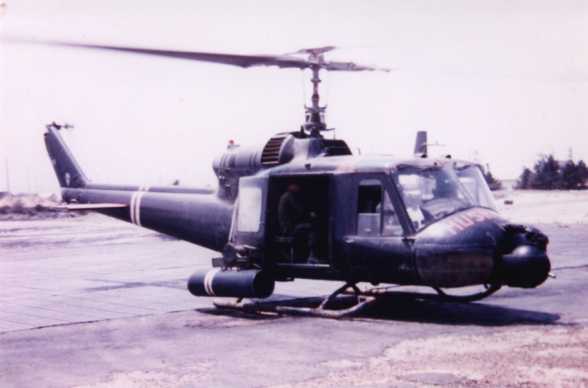 Unidentified Musket Frog gunship. Source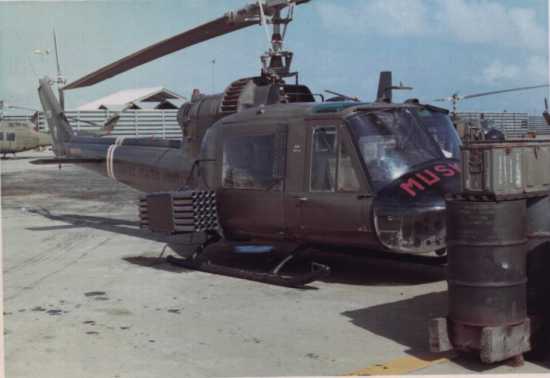 This "Mike" model gunship logged 1109 hours in 176th from 70-09 to 71-12. 1971 picture contributed by Craig Thoricht. Source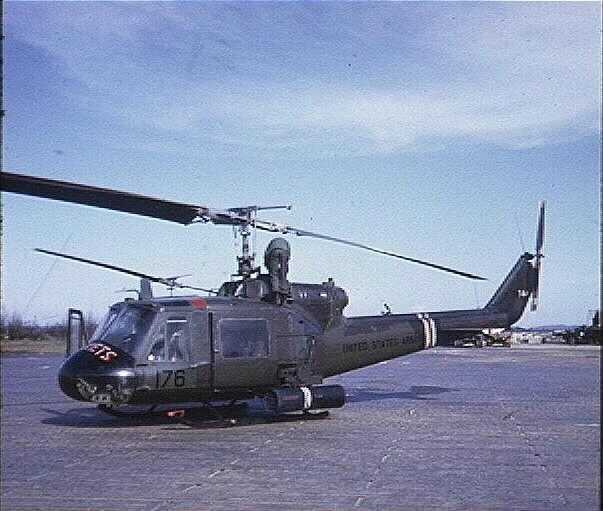 UH-1C 66-00744. According to records, this gunship was flown 460 hours from July 1968 to April 1969. Records may not be correct or this may be the last photo taken of this aircraft in one piece. Does anyone know the fate of this Musket gunship? May 1969 picture contributed by Ralph Liening. Source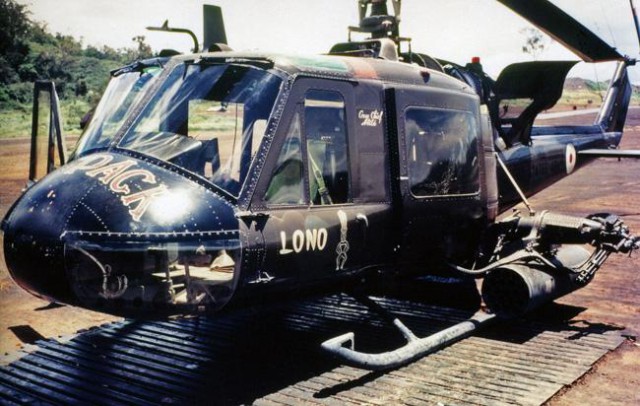 Bell UH-1 Iroquois gunship helicopter at Nui Dat, circa 1968-1969. This UH-1 has been equipped with rocket launchers and machine guns, for a ground attack or armed escort role. Source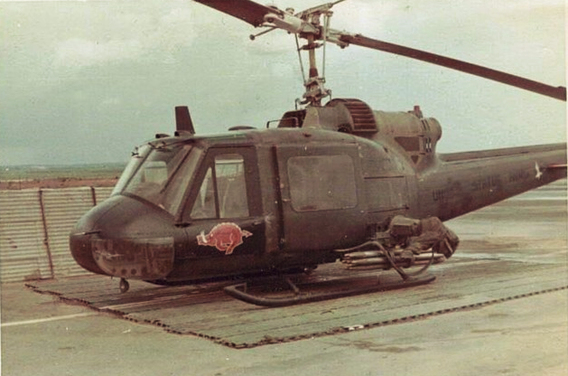 Gunship 948 at Nha Be, Republic of Vietnam, in 1971. Source
GOD'S OWN LUNATICS by Joe Galloway