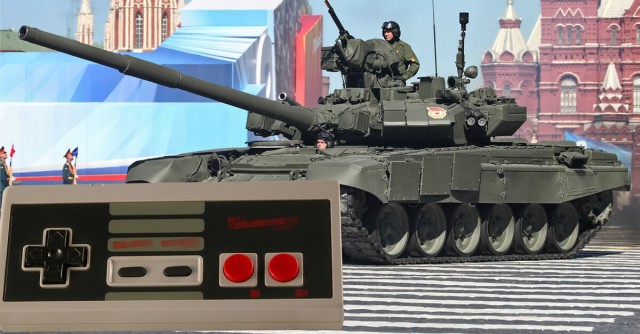 The famous T-90 Russian tank is being turned into a robot, and the Russian military is planning to have computer gamers drive it in future conflicts.
The story was leaked by an aide of Russian President Vladimir Putin, who said that the Russian T-90, which has been in operation for about 20 years, is going to be refurbished so that it can operate without a driver, and can be driven and operated remotely.
The aide said that the T-90 will potentially be the ground version of the drone in that it can be operated from a distance. Russia's deputy prime minister, Dmitry Rogozin, corroborated the story, saying that it could mean the Russian Army might end up being full of computer gamers in the future, who are more qualified to operate the tanks than regular military personnel.
The news of the remote-controlled T-90 comes as Russia's military is controversially engaged in the Syrian conflict. However, Russia says it does not plan to launch a ground invasion in the area. Another military controversy involving the Russians has been the destruction of civilian flight MH17 last year over the Ukraine. An investigation recently declared that the aircraft was blown up by a Russian-made missile fired in the east of the country where the conflict was at its worst. The Russians have denied being involved, but all of this exacerbates tensions between Russia and the West, the Mail Online reports.
The task of turning the T-90 tanks into driverless vehicles has been given to existing Russian tank manufacturer, Uralvagonzavod.  To date the company has confirmed that the tank can be controlled remotely from a distance of around three miles. Operators will still need to be nearby, but not directly in the line of fire.
The T-90 may soon be slated to be superseded by the T-14 Armata tank, which is said to be the most powerful and adaptable tank in the world.  The Russian military plans to purchase them in bulk during 2017-18.