It's not often you walk around a military fair and someone taps you on the shoulder and then says "Pssst….. want to know a secret?"
Normally when people stop me at fairs they're asking me for the money I owe them so this was a pleasant change. Well, a few months back I had such an encounter and it left me speechless but at the same time wondering to myself 'is this for real?….it all sounds too good'
Well I sat on the story anyhow and not 4 weeks later I found myself staring down into the sea from Pointe Du Hoc when the story gate crashed my thoughts. Had someone REALLY found Colonel Rudders Landing craft that brought him and his Rangers to the very shore below?
The day I stood there was June 6th. It was busy as can be expected and as I looked around me I could see the throngs of people surrounding the Ranger Veterans that had made the pilgrimage over to France. I looked to the sea and to the shore and back to the Veterans.
"THE actual boat? LCA number 888 that 71 years ago lay bobbing about and under German machine gun and mortar fire not 150 foot below where I now stood!"
I needed to follow this up. I HAD to follow it up. I needed to make enquiries and I was going to make them today. I knew where to head to and I knew who to ask. Had they found a landing craft from the D-Day invasion…no, it turned out…….they'd found FOUR of them!
Below is the remarkable story of the findings and beginning of the long restoration project for all four LCAs. It's going to a tough path and a long one with many twists and turns but it's one that by hook or crook WILL be completed. War History Online is honoured to be able to take you on this long yet exciting journey.
Phil Hodges
The restoration of LCA 888
We are delighted to be able to confirm media reports that 4 of the original WWII – D-day Rangers LCA's – Landing Craft Assault boats have been recovered and are under restoration in the south of England.
The project first started a number of years ago and has been an ongoing balance between finance and teamwork. The team now assembled to rebuild the boats are the best in the business and team leader Neil Russell is excited.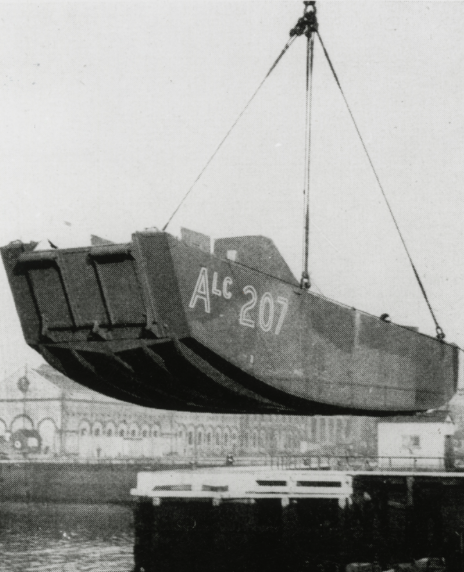 Many of the wartime LCA's were supplied for the British Commandos to use and were painted in white with varying degrees of camouflage.
"They were in fact recovered last year from a boatyard where they had remained lost for 70 years.
After a long negotiation, tricky recovery and difficult transportation, they have been moved to a workshop location – from where 3 of them are undergoing a complete ground up restoration." Two of the four vessels will be placed on permanent display next year (2016) in the Normandy village of Osmanville – only a couple of miles from Pointe du Hoc… where they will be placed into a purpose built new museum.
The 3rd LCA is to be sold once restored and it is hoped it will go to one of the major museum collections somewhere in the world. The remaining boat will be restored at some point in the future.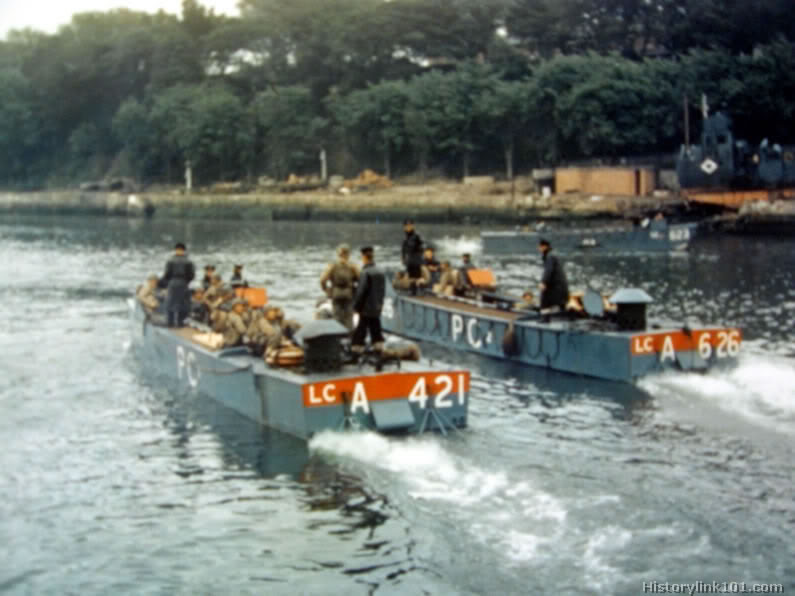 Shown here in a rare colour photograph are LCA 626 and LCA 421 leaving Weymouth harbour for the last time on the 1st of June 1944.
The Rangers boats were painted in battleship grey and had the Rangers trademark orange "follow me" stripe on the top rear of each boat.