Shown here is a 1950 era propaganda produced by the U.S. Signal Corp highlighting the then new B-36 intercontinental nuclear bomber. Playing in the U.S. movie theatres of the era, the film served the dual purpose of not only informing the U.S. public about U.S. air power but to also serve notice to the Soviets about what awaited them should they step out of line.
Built by Convair, the B-36 "Peacemaker" was a strategic bomber operated solely by the United States Air Force (USAF) from 1949 – 1959. It was the largest mass-produced piston engine aircraft ever made. Eclipsing the wingspan of any combat aircraft ever built, the Peacemaker measured in at a whopping 230 ft.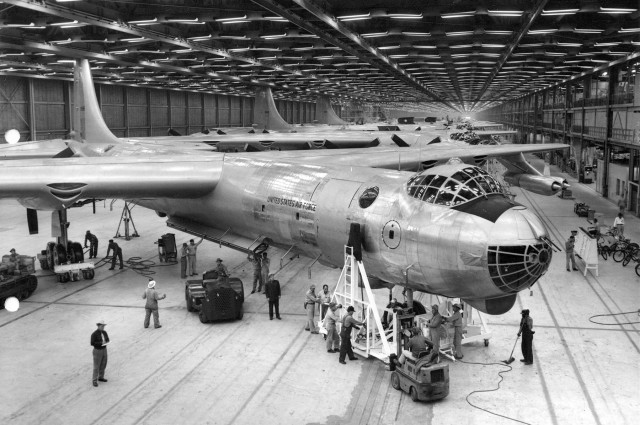 Built specifically for the purpose of nuclear warfare, the B-36 was the first bomber capable of delivering a payload of any nuclear weapon within the U.S. arsenal without needing any modifications. With four bomb bays, a range of 10,000 miles and a maximum payload of 87,200 lbs, the B-36 was the world's first manned bomber with intercontinental range capabilities without the need to refuel.
The B-36 was the USAF Strategic Air Command's (SAC) primary nuclear weapons delivery arm until it 1955 when it was replaced by the jet-powered Boeing B-52 Stratofortress. The first of its kind, the B-36 set the standard in terms of range and payload for all future U.S. intercontinental bombers.
https://www.youtube.com/watch?v=1V9CWQNZRF8