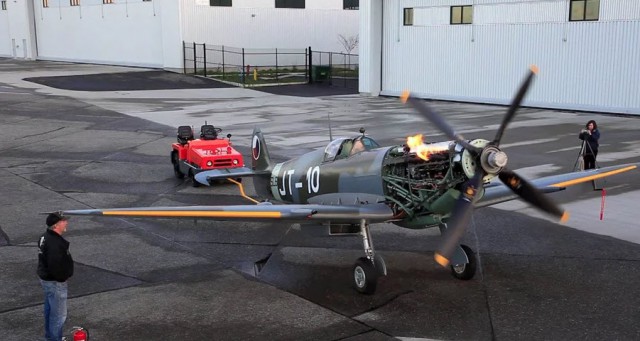 In 2008 Historic Flight At Kilo-7 acquired a Spitfire, which arrived in a crate from Burma. However it was never buried underneath a runway like fabled Burma Spitfire that were never found, it was packed in a standard shipping container.
The men at Kilo-7 knew they had a treasure on their hands but it proved to be an enigma at first. Certifying a plane for airworthy restoration depends on whether its provenance, or identity history, can be authenticated beyond doubt. In most cases, restoration requires that a plane still carry the data plate marked with the original serial number. When the plane arrived for restoration at Historic Flying Limited in Duxford, all involved knew they had a genuine Spitfire in hand—but its data plate was gone, and the plane sported a Harvard T-6 tail and dizzying layers of changes to its body and code markings.
Some facts of the acquired Spitfire, a LF Mark IXe to be precise, were certain. The previous owners were the Burmese Airforce. They acquired it after it had made a belly landing in 1954 and a lengthy repair session and used it until 1957. They bought it from the Israeli air force who operated it from 1948 until the unfortunate landing in 1954. However the paper trail ended there, it was not certain from where the plane with the israeli code "20-42" came from.
A researcher was hired who went through the Israeli archives and he found "Ex 633" written on an aircraft servicing form! A 23 year old mystery was finally solved, the identity and with it the coveted certificate, was known!
RAF Spitfire SL633 was built in at the end of WWII in 1945 and with 53 others it would be part of a Czech fighter wing. There it was used in various roles until the communist takeover in 1948. The Czechs had promised to help the new Israeli state with military arms and the SL633 was part of that aid package.
You can read the full story here!
After the Spitfire back arrived in England, going full circle, it was put back together and they shot an amazing time-laps video of it: