Between 1950-53, only a few years after the end of the Second World War, the United States entered another conflict: the Korean War. As part of the enduring fight against Communism, the country's forces supported South Korea, while the North Koreans were backed by China and the Soviet Union. It was during the conflict that US Marine Robert Simanek valiantly saved members of his company, an action which earned him the Medal of Honor.
Robert Simanek's early life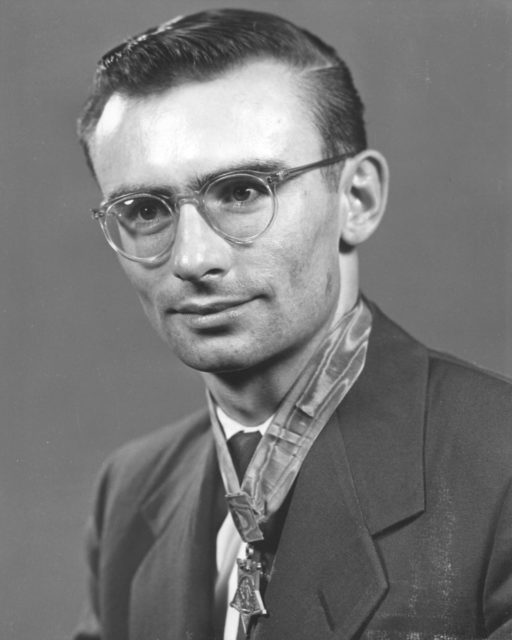 Robert Simanek was born on April 26, 1930 in Detroit, Michigan. In 1948, he graduated from high school and went to work for two car manufacturers, Ford Motor Company and General Motors. Recalling his parents later in life, he shared they were "tough enough to raise 4 boys." Of the children, Simanek was the third-born.
As a young teenager, he watched his two uncles serve in the Second World War. One of his older brothers also served in the south Pacific with the US Marine Corps, which inspired him to become one years later. Simanek always intended to enlist and follow in his family's footsteps – he just wanted to complete college before doing so. This never happened, as he was drafted in 1951 to serve in the Korean War, before having saved enough money to attend school.
Drafted into the US Marine Corps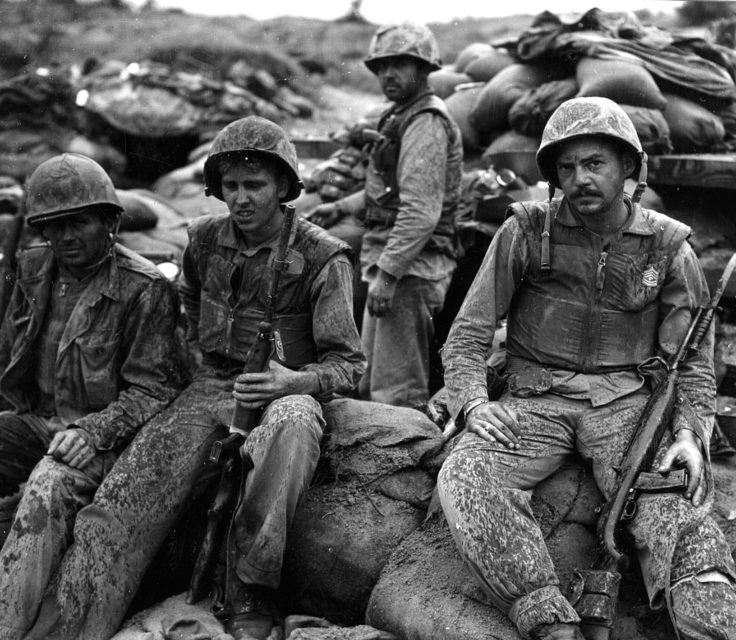 When given the choice, Robert Simanek chose to enlist in the Marines. He completed basic training at the Marine Corps Recruit Depot, Parris Island, and after undergoing further instruction at Camp Pendleton, California was deployed to Korea in April 1952, assigned to Company F, 2nd Battalion, 5th Marine Regiment, 1st Marine Division.
Most of Simanek's early time in Korea was spent as a rifleman, something he wasn't too keen on. He'd been assigned a Browning automatic rifle, which he thought was completely unsuited to the conflict at hand – and he said as much to his superior officer. Simanek complained about the weight of the weapon, and instead wound up carrying the radio for his unit, something infinitely heavier than the Browning.
Robert Simanek's valiant actions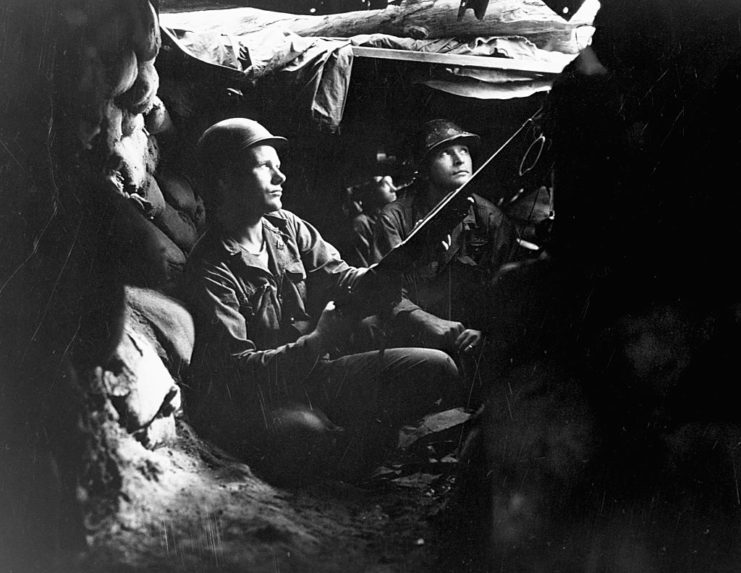 Between August 9 and September 30, 1952, the Americans fought the Battle of Bunker Hill against the Chinese. Robert Simanek was there. By this point, he'd already distinguished himself as a Marine, having earned two battle stars and been promoted to private first-class.
Still carrying his radio, he was assigned to accompany a different unit as their radioman on August 17, 1952. On a reconnaissance patrol, he and the other men moved out of friendly territory, hoping to occupy Outpost Irene. Instead, they were ambushed by the Chinese, forcing them to run for cover.
Simanek and four others took cover in a nearby trench, where they regrouped and attempted an attack as best they could. The Marine took the opportunity to try and confuse those firing at the trench, shooting at them in one location, before quickly moving to another. The success of this was short-lived; eventually, the combatants grew frustrated and decided to throw grenades into the trench, instead.
Severely wounded by a grenade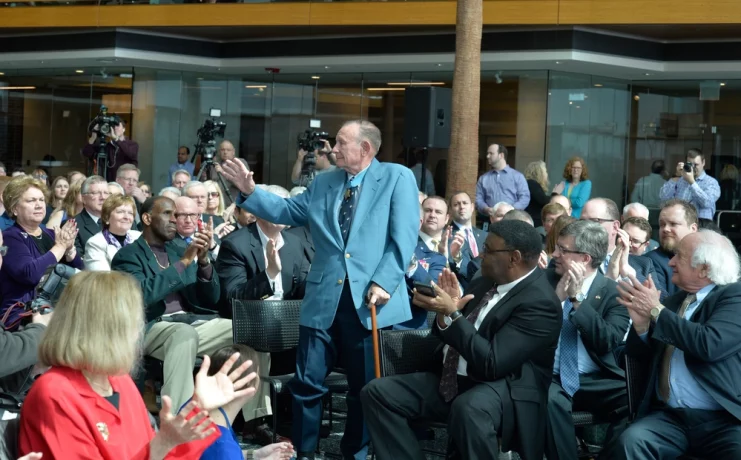 The first explosive was easy to deal with, and Robert Simanek kicked it out of range, although the blast injured his foot. The other, however, wasn't so. The Marine made the courageous decision – and, by all accounts, with no hesitation – to throw his body on the grenade, to shield the other four from the blast. Against all odds, this didn't kill him. He did, however, suffer a badly injured leg, but this wasn't enough to take him out of the fight.
Simanek cleverly used his radio to spot for a nearby tank crew while they fired on the enemy, telling them where to move and how to readjust. The men tried to carry the Marine to safety, but this proved difficult, due to the continual enemy fire. Eventually, he decided they should just leave him. They did, but not before replacing his jammed weapon with a pistol.
Simanek's injuries were severe, yet he managed to crawl away from the enemy until a rescue squad was able to reach him and get him to safety. He was evacuated from the battle on a helicopter, recalling, "I just couldn't get over how beautiful it was. But then, I'd had a shot [of morphine] in the arm, and that sort of gave me a little extra sense of beauty."
Robert Simanek is awarded the Medal of Honor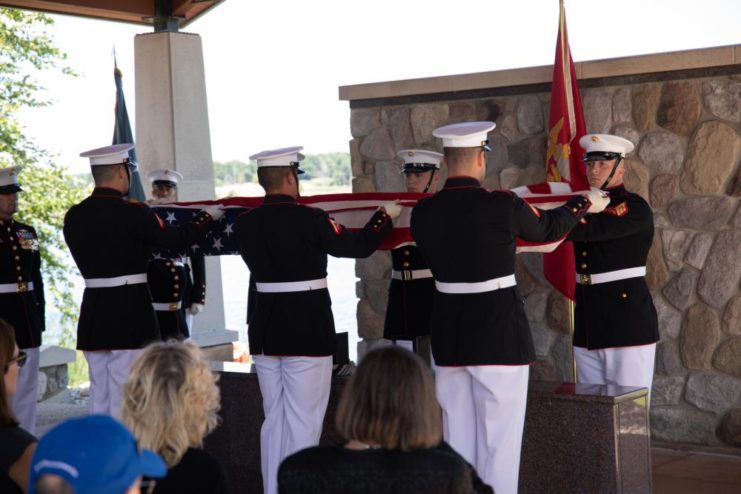 Robert Simanek was treated for his injuries and nerve damage onboard the USS Haven (AH-12), before being transferred to numerous different hospitals over a five-month period. He never regained feeling in his leg, and was medically discharged from the military.
A year later, the Marine was informed he would receive the Medal of Honor, presented by President Dwight D. Eisenhower, at the White House on October 27, 1953. It was awarded to him for "his daring initiative and great personal valor in the face of almost certain death."
More from us: Gary Wetzel: The MoH Recipient Who Rescued His Commander, Despite Losing His Arm to Enemy Action
As he could no longer serve as a Marine, Simanek went back to his original plan and attended Michigan State and Wayne State Universities, earning a degree in business administration. He married his wife in 1956, and returned to General Motors, where he began working in accounting. This was followed by a career with the government in small business administration.
Simanek died on August 1, 2022, at the age of 92.