Bonanza, which ran from 1959-73, was one of America's favorite television series. At the heart of the show was Eric "Hoss" Cartwright, played by Dan Blocker. He was as kind-hearted as his character, and was also a hero who served his country during the Korean War.
Dan Blocker always seemed destined for big things
Bobby Dan Davis Blocker was born in De Kalb, Texas in 1928. He attended the Texas Military Academy before going off to college at Hardin-Simmons University. A large man, Blocker put his size to good use by becoming a star football player. He later transferred to Sul Ross State Teacher's College, where he continued his stardom on the gridiron.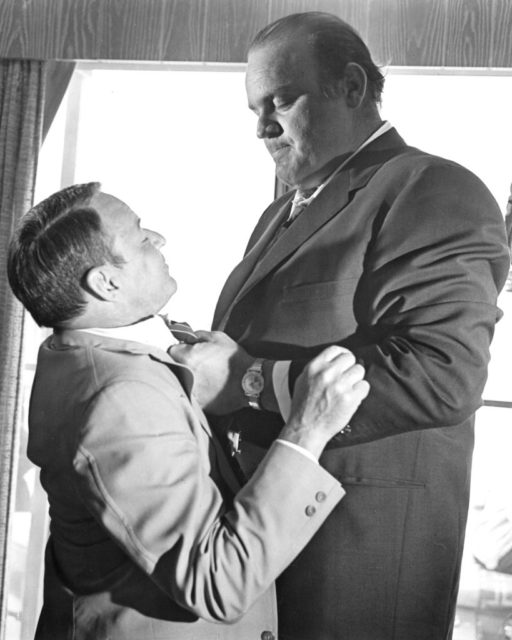 Following college, Blocker spent two peacetime years in the US Army. Upon his return, the future actor earned his master's degree and worked a variety of jobs, including as a bouncer at a local bar and a rodeo performer. He also put his degree to good use by working as both an acting and sixth-grade teacher.
Blocker and his wife, Dolphia, later moved to Los Angeles to seek out acting roles.
Fighting in the Korean War
Dan Blocker was drafted into the Army once the Korean War broke out. After completing basic training at Fort Polk, Louisiana and in Sapporo, Japan, he was assigned to Company F, 2nd Battalion, 179th Infantry Regiment, 45th Infantry Division and sent to Ichon, South Korea. The unit soon found themselves defending the Jamestown Line, in a virtual stalemate against North Korean troops.
The fighting along the line, which lasted more than 200 days, was fierce. One of the most notable days for Blocker's unit was May 25, 1952, when they manned Hill 200. During the fighting that day, six US soldiers were killed, while another 21 were wounded. The Chinese suffered 132 losses.
During their time along the line, they also fought in battles at Hill Eerie, Pork Chop Hill and Old Baldy, before defending Hill 223.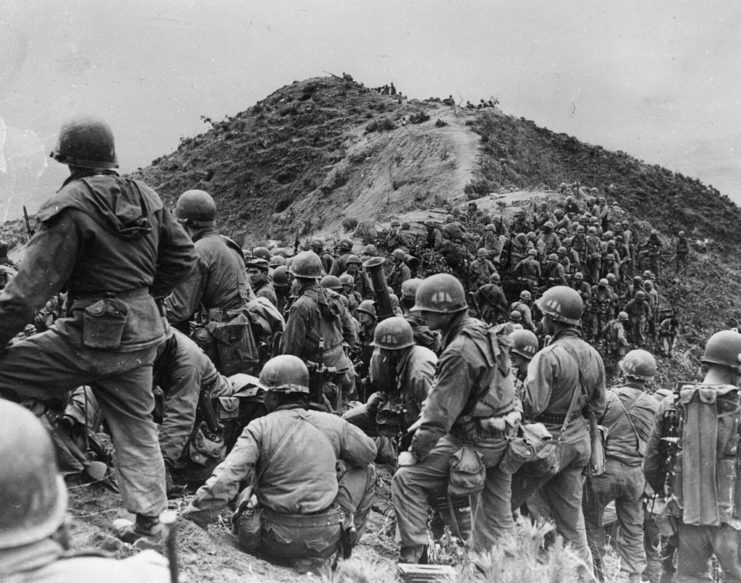 During one of these battles, Blocker was shot while trying to rescue his fellow soldiers. Despite this, he remained on the line until the 179th Infantry Regiment was ordered off it in July 1952 and sent to Yanguu, South Korea, where they were put on reserve. Blocker was sent home to recover from his wounds and later received the Purple Heart for his actions.
In addition to the Purple Heart, he also received the Republic of Korea Presidential Unit Citation, the National Defense Service Medal and the Combat Infantryman Badge, among other decorations.
Dan Blocker was discovered upon his return home
While Dan Blocker sought out acting jobs prior to being drafted, the profession wasn't his first choice upon his return to the US. Still living in Los Angeles, he planned on getting his doctorate from UCLA.
Western films were all the rage during this period and casting agents were seeking actors who looked like cowboys. Blocker, a massive Texas, certainly fit that bill. He was discovered while making a call in a telephone booth in the mid-1950s.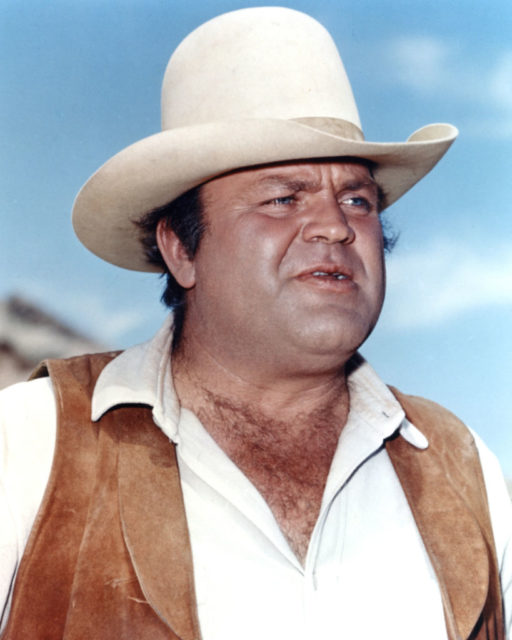 Blocker first appeared as a goon in a Three Stooges short, and also made appearances in shows like Have Gun – Will Travel (1957-63), Gunsmoke (1955-75) and The Rifleman (1958-63).
Bonanza makes Dan Blocker a household name
After a few years of guest spots, Dan Blocker landed a leading role in 1959. NBC's Bonanza would go down as one of the most beloved and longest-running shows in television history. Blocker portrayed Eric "Hoss" Cartwright, whose nickname was intended to show that while the character was large in size, he was also kind and amiable.
This also represented Blocker's real-life personality.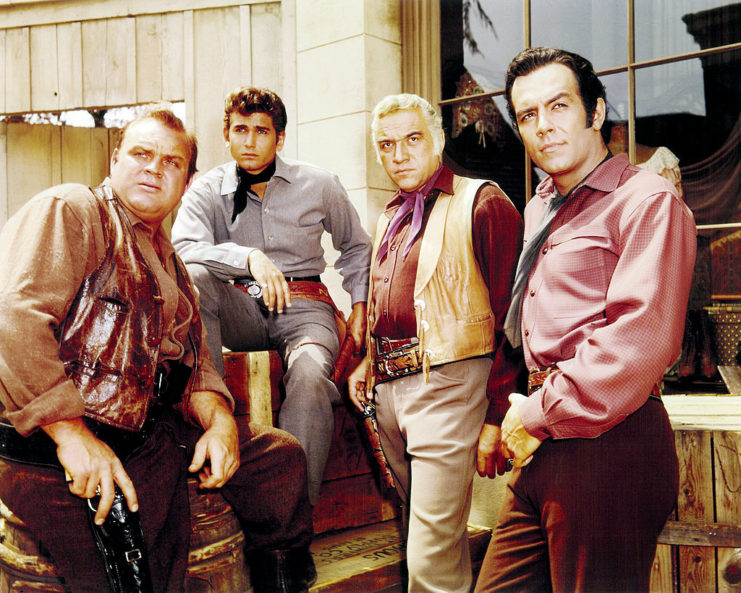 In all, Blocker appeared in 415 episodes of the television show. The part also led to movie roles for the actor. He appeared in Come Blow Your Horn (1963) and Lady in Cement (1968), alongside Frank Sinatra.
Blocker attributed his portrayal of "Hoss" Cartwright to a quote by Stephen Grellet. It read, "We shall pass this way on Earth but once, if there is any kindness we can show, or good act we can do, let us do it now, for we will never pass this way again."
Leaving behind a long legacy
Dan Blocker tragically died in 1972, after going in for gall bladder surgery and developing a blood clot in his lung. He was just 48 years old. He left behind his wife and four children, two of which – Dirk and David Blocker – followed him into show business.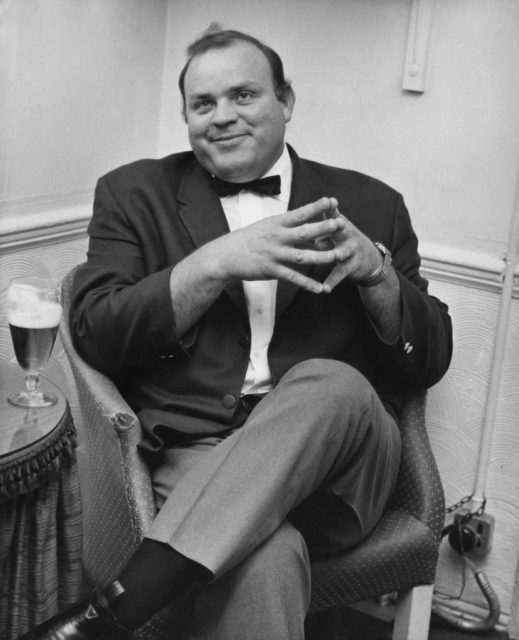 More from us: Clark Gable's Service with the US Army Air Forces During WWII
Bonanza was still airing at the time of Blocker's death. The show mentioned his passing, a rare event at the time. A 2011 report noted that "this was to be the first time in television history that a show had dealt with, or even mentioned, the death of one of its characters."