The partially inflated parachute pulled Hinman's harness up around his neck and held him against the side of the basket.
Late September 1918, France. A lone German plane flew over the wreckage of the recent St. Mihiel Offensive and dropped a package over an American airfield.
Folded carefully inside a propaganda pamphlet was a handwritten note: "Lieutenants R. S. Tait and George W. Hinman, Balloon observers with the twelfth balloon company are safe and sound in Germany. Please advise parents in America by cable." It was signed R.S. Tait A.S.S.R.C
First Lieutenants Roland Smith Tait (St. Louis, Missouri) and George Willard Hinman (Worcester, Massachusetts), Air Section, Signal Reserve Corps, were reported missing early on the morning of the 12th of September, 1918 after their tethered observation balloon broke free during a thunderstorm on the opening day of the St. Mihiel Offensive.
At the beginning of the war, both men were in college and shared an interest in engineering. But whereas Tait was engaged with music and acting inside the classroom, Hinman tended more towards the outdoors and was captain of his track and cross country running teams.
In June of 1917, they both registered for the draft.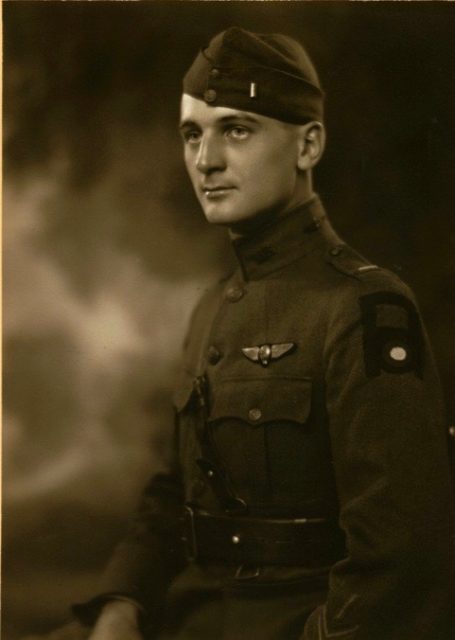 Tait stated on his registration that he had "applied for 1st Lieutenant in the Aeronautical Division of the U.S. Army." He would soon become the youngest draft-age free-flight qualified balloonist in the Army at the recently opened Army Balloon School in Omaha Nebraska.
Hinman made clear on his registration that he had already "enlisted in the Infantry Officers Reserve Corps." He soon requested a transfer out of the Infantry and was promoted from Sergeant to Lieutenant and moved to the Signal Corps as a Reserve Officer.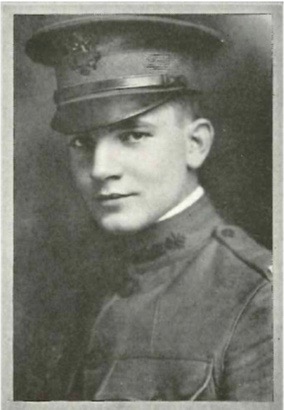 By January 1918, both men were in France. They initially trained with the French Balloon Corps, then served with various American Balloon units at the Front. They arrived and met each other for the first time at the headquarters of the 12th Balloon Company on the morning of July 26th, 1918.
One of the Balloonist's chief jobs of the time was to act as an aerial Artillery Observer and assist in adjusting the strike of the guns. Tait and Hinman were rated as numbers 14th and 12th respectively, out of the top 30 aerial artillery observers in the American Balloon Corps.
They were just the men to correct the fire of the 14-inch naval guns of Battery B, 53rd Coastal Artillery Corps in the upcoming offensive against the St. Mihiel Salient.
"Low clouds, rainy and high wind" was the understated weather report for September 12th, 1918, the first day of the St. Mihiel Offensive. Tait and Hinman were called to ascend and adjust the fire of Battery B's 14-inch guns. The primary targets of those guns were the rail yards at Conflans and the tracks between Conflans and Metz.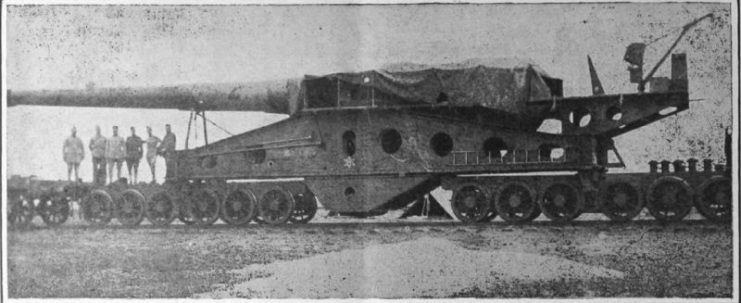 Soon after their ascension, Hinman reported that they were swinging wildly in the wind and that visibility was zero. The balloon was ordered to be hauled down but was winched too quickly for the speed and force of the wind. As it touched down, the ground crew was quickly engulfed in a mass of writhing cables, control lines, and a bucking balloon.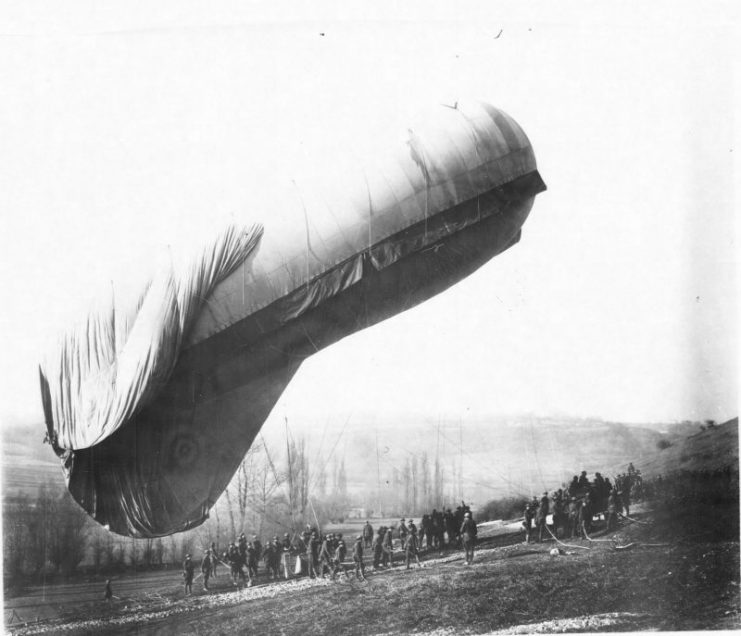 In the fight to get the balloon under control, someone stepped on Hinman's parachute rope and the chute deployed. The partially inflated parachute pulled Hinman's harness up around his neck and held him against the side of the basket.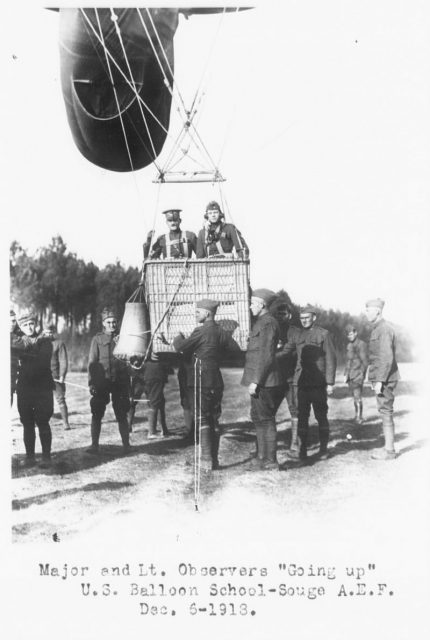 The balloon then shot to the end of its tether and broke free. The time was 7:15 am. At 7:30 am, the French 41st Balloon Company reported seeing a free-flying Cacquot balloon moving across the lines and into German airspace.
Their flight covered 26 miles and lasted approximately 45 minutes. During that time, Tait freed himself, cut Hinman loose from his parachute, and then made their first landing attempt only to end up in the middle of an artillery barrage, from which they quickly ascended to a holding altitude of around 13,000 feet.
Their second attempt was somewhat more successful in that they did land but in the middle of a very surprised Russian POW work crew and their German guards a few miles outside of German-occupied Habonville.
German First Lieutenant Herbert Kraft, an Air Intelligence Officer of the Headquarters Staff, German Composite Army Group C, St. Mihiel, interrogated the two men, identified them as POWs to the International Committee of the Red Cross (ICRC) and conducted a basic intelligence interview. Lt. Kraft also wrote the note detailing their capture and safe status in Germany.
After the war, he provided the US Consulate in Stuttgart with all of his interrogation reports, including Tait and Hinman's. He detailed how he wrote several notes for American aviator POWs and had the notes dropped on American airfields.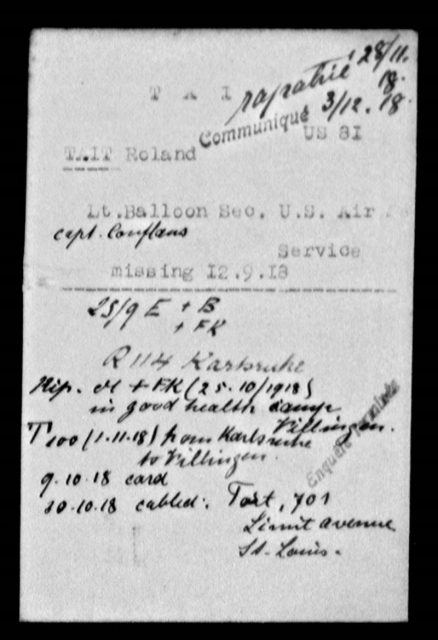 Regardless of their "friendly" conversation with Lt. Kraft, Tait and Hinman were less than forthcoming about their mission. This won them a trip from Habonville to the site of their earlier targeting efforts, Conflans. The artillery fire in Conflans became so intense that all civilians and prisoners were ordered to be evacuated to Metz.
As their train pulled out of the Conflans main station, they felt a terrific concussion and scrambled beneath their seats as the car in front was crushed by a large chunk of steel. The train moved onward, dragging the broken car in its wake.
In Metz, they suffered a long night of continuous American air and artillery bombardments. Early the next morning, they were evacuated to Montmedy.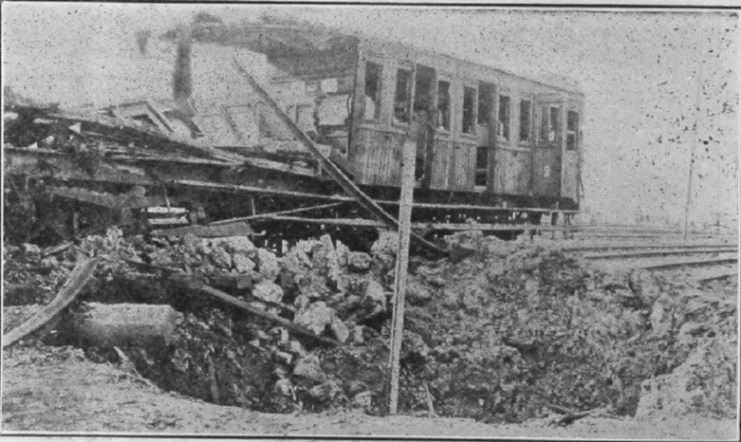 In Montmedy they were met by a new intelligence operative, the "French Aviator." Both men decided that their new roommate was about as French as they were and continued their silence in the face of some less than competent questioning.
Soon, they were given a trip back to Metz through another round of "friendly fire" and finally on to Karlsruhe where they were held for a day or two in the "The Dictaphone Hotel."
The rooms were riddled with listening devices that were easily found and roundly ridiculed by the prisoners. After running this gauntlet of intelligence collection, they were held about a week at Karlsruhe, then two weeks in Landshut, Bavaria. They were finally settled at Camp Villingen near the Swiss border around October 4th, 1918.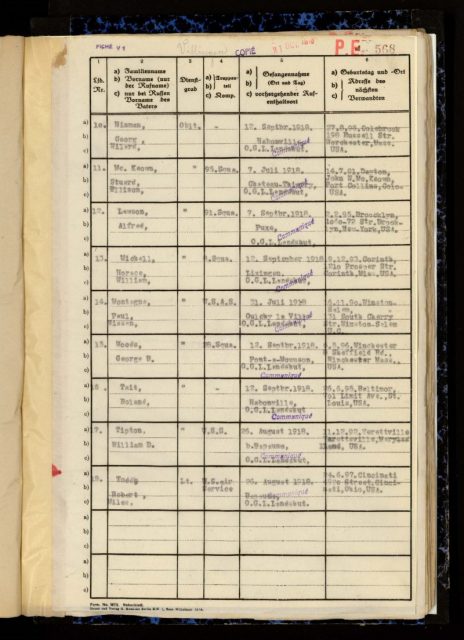 On the 28th of November, 1918, the recently installed Socialist Commandant of Camp Villingen gave the prisoners a formal farewell speech and loaded them on a train to Geneva. There they were transferred to an American medical train and sent to a military hospital in Paris for review and release.
Before they were demobilized and sent back to the States, they met the officers of Battery B, 53rd CAC and described to them their harrowing train trips through Conflans and Metz. The officers of Battery B were apparently very impressed to learn how successful their fire was and appreciated the positive feedback.
George W. Hinman returned home to Massachusetts on February 3, 1919, to run his family's asbestos business. He died in 1980 and was buried in his birthplace, Colebrook Village, New Hampshire.
Roland S. Tait returned home to Missouri on February 9, 1919, and eventually took over the family refrigeration business, Tait & Sons Engineering. He died in 1981 and was buried at the Fort Snelling National Cemetery in Minnesota next to his brother and fellow balloon veteran, Roderick H. Tait.
Post Script:
Lt. Kraft's note eventually ended up in the hands of Roland Tait's mother, who turned it over to the Missouri National Guard to be held for eventual inclusion in a suitable war memorial for the men of Missouri who fought in the Great War. I could not find any record of the note or the propaganda pamphlet in which it was wrapped. A team of Missouri aviation and Great War historians made a great effort to find it but, at the time of writing, still have not found a trace.
Special thanks are warranted to the group of Missouri history enthusiasts who assisted in looking for the actual note dropped by the German pilot in September of 1918. At the time of writing, it is still missing.
Dan O'Hara – President, Missouri Aviation Historical Society
Kathy Lawton Brown – Radio Arts Foundation, St. Louis, mO
Paul Dillon – President POW-MIA Museum of St. Louis, MO
Mark Sundlov – Director, Soldiers Memorial, St. Louis, MO
Mike Venso – Military & Firearms Curator, Soldiers Memorial, St. Louis, MO
Shay Henrion – Collections Manager, Soldiers Memorial, St. Louis, MO
Molly Kodner – Head Archivist, Library and Research Center, Missouri Historical Society
All photos provided to War History Online by the author.