Here is another impressive book from Stackpole Publishing, this time looking at the vista of German armoured reconnaissance vehicles, unit organisation and action on all fronts during World War II.
Authored by Robert J Edwards, the book takes an all-encompassing look at how German recon units operated, with useful charts showing the makeup of formations in addition to many interesting archive photographs from personal albums and official sources including still frames from cinefilms. It is actually a follow-up to the earlier Scouts Out, a book I haven't seen, yet – but it's safe to assume the earlier book is equally meticulous.
If you have even the smallest liking for German armoured cars and light vehicles, this book will definitely sate your appetite. The big eight-wheeled armoured cars have always been attractive to me, and I can look at snaps of them until the cows come home, so there is plenty to like here.
The book is not just about photographs and the text offers a pretty solid guide to how both the Heer and SS got things done at the sharp end. It makes use of after action reports and many other contemporary accounts and looks at both personalities and hardware. I found the early war period of the Blitzkrieg in the West to be quite enthralling. This is an underexposed facet of the era of Nazi conquests, and it definitely takes second place to events in the Soviet Union.
As per usual, we are also treated to colour images showing items of relevant militaria. I love all this stuff but am even more intrigued by period colour photographs showing men and vehicles that appear to come straight out of an issue of Signal. If you are a model maker, a re-enactor or a lover of armour and vehicles this book offers an awful lot you will find useful, and the material on personalities adds a human dimension I cannot fault. Features such as death notices bring an increasingly distant war much closer to home and remind us that all deaths had an impact in somebody's house.
I tend to use these books more as a photographic reference than as pure history, but this range offers much more for your money. I have been a fan of this publisher's output for some time and trust that despite it's recent acquisition and change of distributor we will continue to see titles coming into the WHO office.
Reviewed by Mark Barnes for War History Online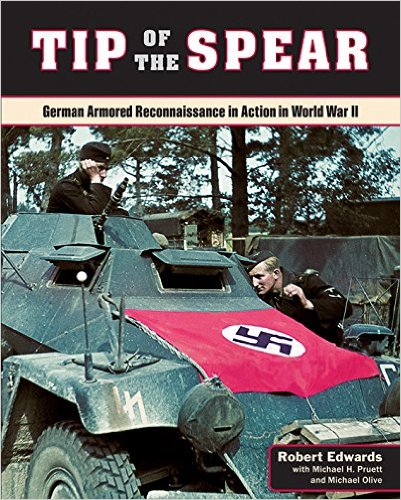 TIP OF THE SPEAR
German Armored Reconnaissance on Action in World War II
By Robert J Edwards with Michael H Pruett and Michael Olive
Stackpole Books
ISBN: 978 0 8117 1571 3