Do you remember watching the movies Twelve O'clock High or Memphis Belle? Have you ever imagined what it would be like to fly your own mission in a legendary B-17 Flying Fortress or a B-24 Liberator? Young or old you can live your dream at Bomber Camp™!
Bomber Camp™ is much more than a 'fantasy camp'. It is an immersive WWII living history experience allowing you to step back in time to train for a bombing mission and then to fly it, for real. You will experience sights, sounds, and smells that few others have known, and gain a greater appreciation for the men and women of the "greatest generation".
This year's Bomber Camp™ offers a more affordable one-day program. You will attend classes in the morning, have a GI lunch in the mess tent, fly your bombing mission in the afternoon, and relax in the officers' club after mission debrief. This once in a lifetime opportunity can be yours. Enlist now!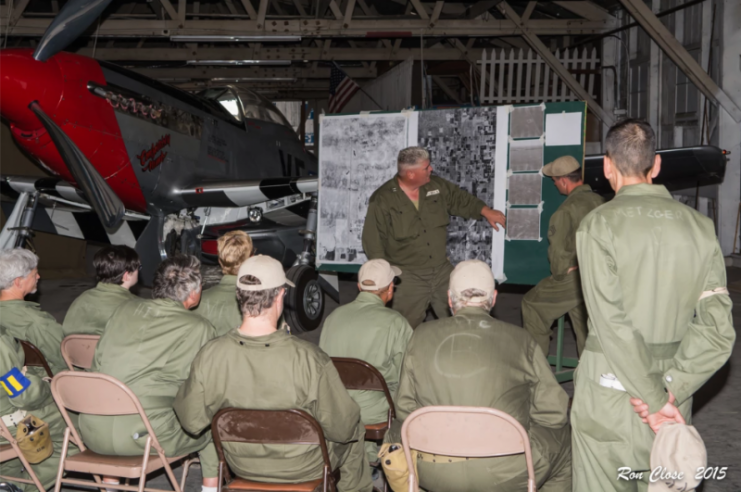 Re-live the past
Mustering with your fellow recruits in the cool morning air at present day Stockton Metropolitan Airport, you will be met by base personnel and transported back in time to 1944, as a cadet at the Stockton Field Air Corps Advanced Flying School. There you will experience sights, sounds and smells that few others have known. Come and join us for a truly unique adventure.
Bomber Camp™ is held Wednesday and Thursday, May 30 and 31, 2018. It is a one-day camp starting at 7:30am and ending at 6:10pm. Gather at the WWII Memorial in front of the Stockton Airport terminal on the day for which you registered (or both days if you registered for both). Trainees must arrange travel to Stockton Airport and be fed and ready for transport at 7:30am. Daytime parking at the airport is free. You will be returned to this spot in the evening when camp is done.
Summers in Stockton are generally sunny and hot. Bring sunscreen and arrive in comfortable clothes and shoes. Military coveralls, cap, and canteen will be issued during morning induction. We encourage you to bring period correct sunglasses, footwear and accessories, as well as period civilian clothes for relaxing at the officer's club after your mission. (We can offer suggestions and links.)
Besides induction and orientation, morning includes aerial gunnery and bombardier training classes. Gunnery class introduces you to various weapons familiar to and used by aircrews, especially the famous Browning 50 caliber machine gun. Also includes instruction on how to operate turret and flex (nose, waist) machine guns, and how to aim them by leading your target and compensating for range.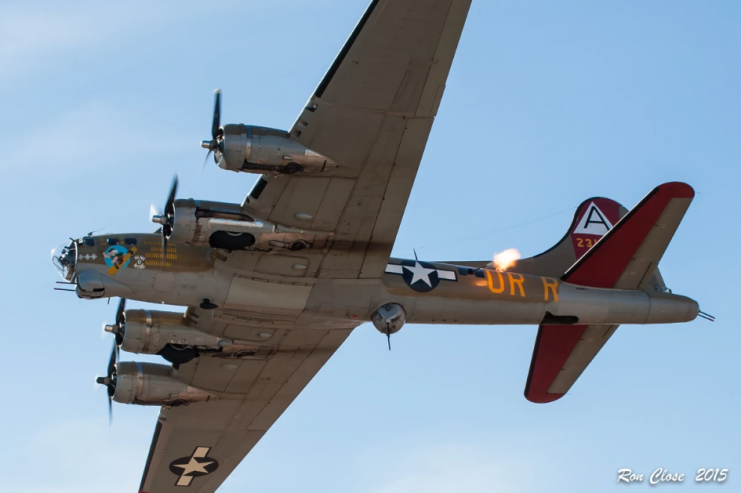 When: May 30th or 31st 2018. Your choice.
Base Location: Stockton Municipal Airport / Stockton Field Aviation Museum Hangar, Stockton, California.
Target: Top Secret Classified Information. Crew will be issued mission and target objectives on completion of crew training.
Cost: $2,200.00 per person.
Age restrictions: 16 yrs. and older. 16 yrs. to 18yrs. has to be accompanied by legal adult guardian.
Sign up at the site below as space is limited!
Bombercamp.org
Follow Bomber Camp on Facebook!
Images: Photographer Ron Close – courtesy Stockton Field Aviation Museum Facebook page