Last remaining vehicles from a Private Collection which includes a main battle tank, tracked vehicles and other rare vehicles.
Aquatrack Amphibious Vehicle.
Remaining example of four prototypes made by Glover Webb Ltd, a GKN Company. Aquatrack has a 5 tonne load capacity, capable of carrying a vehicle, stores, or personnel on land and sea.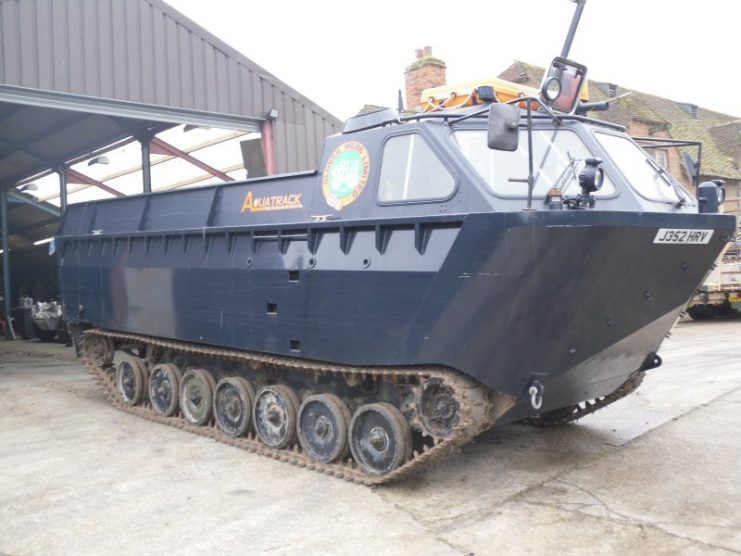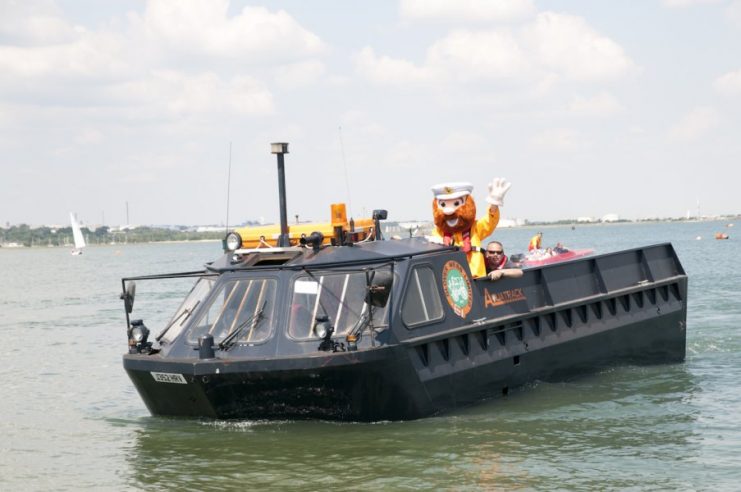 Driven by its tracks or variable pitch propellers or both together, it can operate on roads, harsh terrain, mud, soft sand or frozen waste and, without any preparation. It can move from land into river, lake or rough seas. Fully operational in sea state 3 and can survive in sea state 5. Trialled by the Royal Marines in 1991. Vehicle requires a replacement starter motor.
Guide price £60,000 ($74,000).
Chieftain Main Battle Tank Mk10.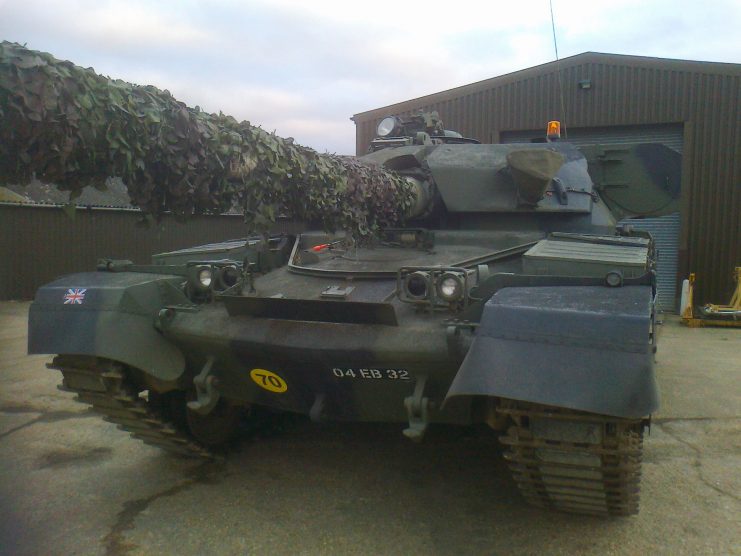 This Chieftain tank is in very good condition and as complete an example as you will find.
Runs and drives very well. Main brake hydraulic seals need replacing. Good tracks. New batteries fitted May 19. Fully operational turret with deactivated 120mm main armament.
Guide Price £46,000 ($57,000).
FV180 Combat Engineer Tractor. 
Very little use showing 678 miles. Serviced in April 2017 with new filters, oils, etc. Drives as a CET should. Bucket and winch fully operation.
Road registered and MOT exempt. Registered as Agricultural Special Types so tax exempt.
Will require a new set of batteries. Charging system is functional. Stored undercover since our ownership.
Guide Price £11,000 ($13,500).
Hagglund BV206 Amphibious Carrier
Powered by a Ford V6 OHV petrol engine.
Lots of work completed on this vehicle including a complete overhaul of the running gear (all forty wheel stations) and four final drive assemblies. New seals and bearings fitted. New carburettor, air filter and electronic ignition fitted. Runs and drives as it should. Road registered.
Guide price £19,000 ($23,000).
UN Ferret Scout Car 2/3
Runs and drives. Full overhaul of the braking system completed including overhaul of the master cylinder and relined brake shoes.
New regulator panel and new batteries. LPG firing 30 Cal. Fitted with coms and Clansman 353 system.
Items needing attention are a small petrol leak at the carburettor, the charging system requires repair (likely wiring fault) and the brakes need bleeding.
Guide price £13,000 ($16,000)
Modified DUKW Runs and drives but brakes require repair.
This vehicle was used for pleasure rides in Belgium. The engine is German Herschel post war diesel engine. Gearbox and transfer box are standard DUKW as are the propshafts and swimming kit.
Clutch release bearing is noisy. Fibre glass body applied by professional boat builders. Interesting vehicle history. The DUKW landed at Normandie-le Harve in September 1944 and was purchased by a Belgian customer in 1947. The vehicle assisted in the rescue of people during the North Sea Floods in 1953. Since then, the vehicle has been used for holiday pleasure use in on the Belgian coast.
Paperwork for the vehicle includes a Belgian marine registration document, Belgian ships safety certificate, and Belgian owner's document.
Guide price £10,000 ($12,000).
Another Article From Us: 10 Shermans Go Into Restoration. A Wheatcroft Collection Update
Please submit offers for consideration in writing by the 30th September.
Vehicles are situated in Lymington, Hampshire, UK and can be viewed by appointment.
Please contact Mark Hart for further information – markheliops@aol.com
Proceeds from the sale of these vehicles are going to medical research and selected charities as per the wishes of the late owner.