The Skipjack-class of American submarine was developed in the 1950s, bringing about a host of revolutionary features that became standard for future vessels. Named after its lead submarine, the USS Skipjack, it gave the United States a high performance sea vessel for underwater operations.
Background of nuclear-powered vessels
The class were constructed between 1956 and 1961, and consisted of six vessels. This was an important era for the US Navy and those around the world, as nuclear power became a practical form of propulsion. The Navy got there first with the USS Nautilus (SSN-571). It entered service in 1954, a few years before the Skipjack-class, and ushered in a new age of naval design and warfare.
Powered by the S2W nuclear reactor, Nautilus possessed a theoretically limitless range. She was followed by the nuclear-powered Skate-class, which was heavily based on World War II-era submarines.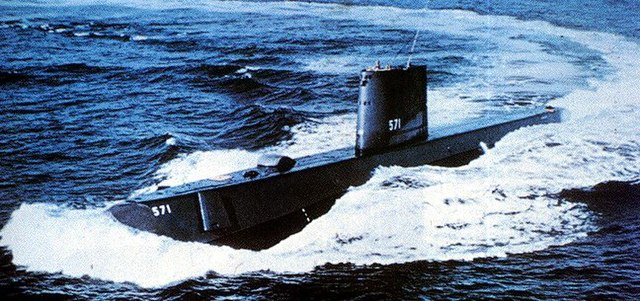 Despite already revolutionizing naval design with Nautilus, the Navy did it again a few years later with the Skipjack-class. These vessels were also nuclear-powered, but while Nautilus broke new ground with her nuclear reactor, she was more of a solitary proof-of-concept design the Navy used to perfect future vessels using similar propulsion.
The Skipjack-class implemented nuclear power in a more complete, modern package and on a much larger scale.
Skipjack-class design
Skipjack-class submarines were powered by an improved S5W pressurized water reactor that provided 15,000 shaft horsepower. These reactors became the standard Navy nuclear reactor until the S6G used in the Los Angeles-class of submarines.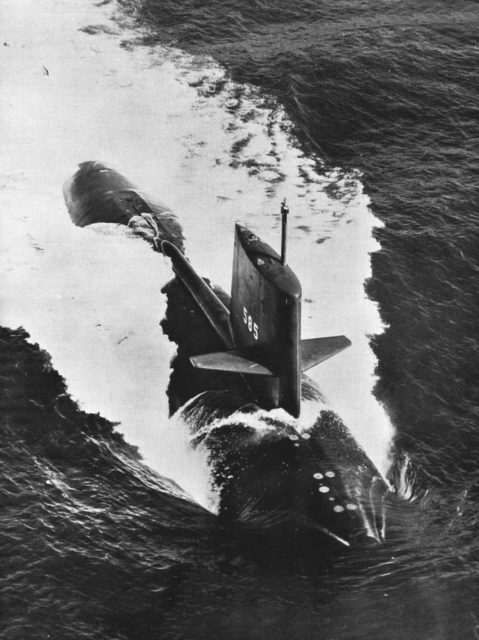 One of the key features of the Skipjack-class was the vessels' teardrop-shaped hulls. This shape was pioneered by the USS Albacore (AGSS-569), a submarine built specifically for research purposes. Its hull was perfected through extensive wind tunnel and hydrodynamic tests.
The resulting teardrop shape was vastly different from the long, tubular hulls of previous submarines – and much more efficient: Albacore could reach 33 knots while submerged. When this design was paired with the power provided by the nuclear reactor on the Skipjack-class, it made for a very fast vessel.
Despite being almost twice as heavy as Albacore, these submarines could also reach 33 knots. In comparison, the Tench-class submarines could only travel at a maximum of 8.75 knots while submerged.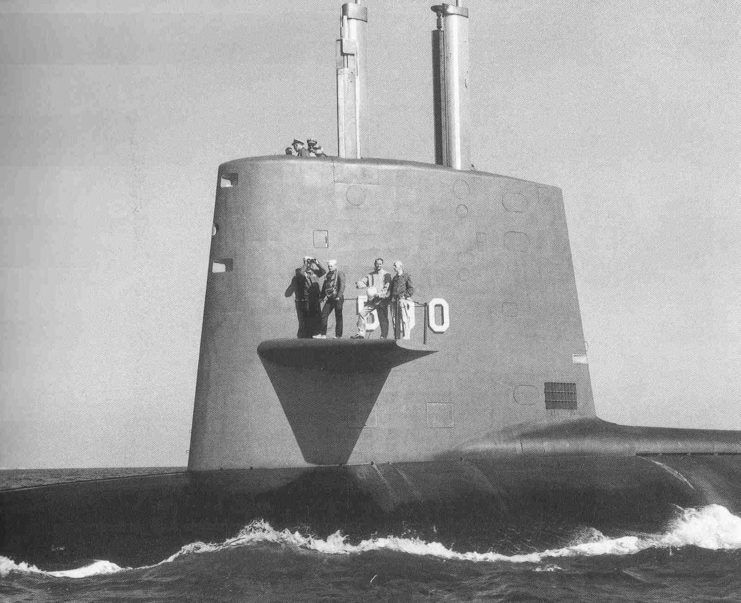 Their nuclear propulsion meant they no longer needed to travel on the surface, so designers tuned their attention to submerged performance. In terms of manoeuvrability, these vessels were revolutionary. At home under the waves, they were extremely agile and fast, capable of moving in ways never before seen by submarines. In fact, their underwater handling was often compared to – and referred to as – flying, as they banked, turned, climbed and dove like aircraft.
The Skipjack-class was fitted with six 533MM torpedo tubes in the bow. Rear tubes were not possible due to the submarines' large single screw. From these tubes, they could launch the Mark 16 torpedo, the Mark 14 torpedo, the Mark 37 torpedo, the Mark 48 torpedo and even the Mark 45 ASTOR nuclear torpedo.
Service in the US Navy
Upon their introduction, the Skipjack-class submarines were marketed as the fastest in the world, despite their official top speed remaining a closely-guarded secret. Six were built in total: Skipjack (SSN-585), Scamp (SSN-588), Scorpion (SSN-589), Sculpin (SSN-590), Shark (SSN-591) and Snook (SSN-592).
Because of their relatively compact size, they offered little room for upgrades, so newer submarines had to be built to keep the US Navy competitive. Despite this, they remained powerful, fast and highly capable vessels until they were decommissioned.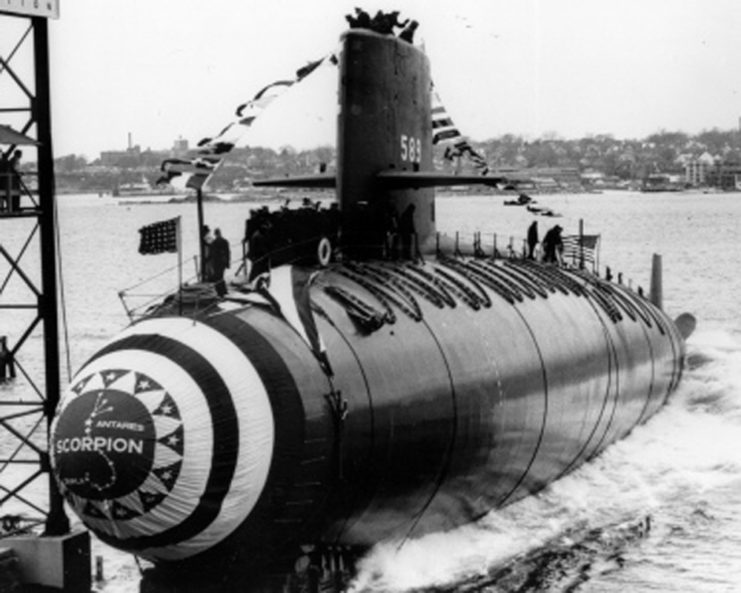 The USS Scorpion was lost in a mysterious incident in 1968, the cause of which is still unknown. She was one of four submarine disappearances to occur in 1968, alongside Israel's INS Dakar, France's Minerve and the USSR's K-129.
The other five Skipjack-class submarines served long careers, and all were retired in or just before 1990.