Left for dead, it was only when placing Rodolfo Hernandez into a body bag that a fellow soldier noticed his fingers twitching. Covered in blood and officially pronounced dead by those present, this story of resurrection to the Nation's highest military honor is one for the halls of history.
In 1951 Korea, Hernandez and his platoon were in defensive positions on Hill 420. When the enemy came surging across the lines in numerically superior groups backed by heavy artillery and mortar fire, Hernandez's platoon was forced to withdraw. Refusing to give ground, Hernandez continued to exchange grenade fire with the enemy. Despite already being wounded, when his stash of grenades ran empty, he charged headlong into the enemy with nothing but a rifle and fixed bayonet. Slicing and dicing he killed six enemy soldiers, disrupting their attack until he eventually collapsed due to extensive grenade, bayonet and bullet wounds. He woke up a month later and had to learn how to walk, write and talk again. However, he did so as the newest recipient of America's highest military honor.
Ready for His Turn
Rodolfo P. Hernandez was born in 1931 rural California into a family of Mexican American farmworkers. Not content for a life of work on the farm for himself, Hernandez sought service to his country at an early age. Having watched the WWII generation fight in that brutal war, as soon as he was able he insisted on doing his part. In 1948 at the age of 17 and with the consent of his parents, he joined the United States Army. Unsure what the post war era would bring, Hernandez wanted to put himself in the middle of the action, whatever may come.
Volunteering for the airborne, Hernandez joined the ranks of the famed paratroopers and was stationed in Germany until fate intervened. In 1950, hundreds of thousands of North Korean soldiers poured across their border into South Korea and Hernandez, along with the rest of the 187th Airborne Infantry Regiment, headed for Korea.
By 1951, Hernandez was with Company G, 2nd Battalion, 167th Airborne Regimental Combat Team standing their ground on Hill 420. The enemy had previously occupied Hill 420 and on May 31, they decided they wanted it back. Launching an attack in overwhelmingly superior numbers, they were on the verge of breaking through and Company G were receiving heavy casualties and quickly running out of ammunition. Unfortunately for the North Koreans, Hernandez had no plans to give ground easily.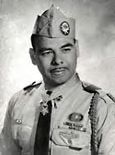 Fight Until the End
As the enemy began to surge up the hill and with American casualties mounting, the order for the men of Company G to withdraw was given. At that point, the fighting was close quarters and in many cases, hand to hand. Choosing to hold his ground as his fellow soldiers attempted to withdraw, Hernandez engaged in an exchange of grenades with the enemy resulting in devastation to the foe but also injuries to himself. He then took to the enemy with his rifle. Firing at such a rapid pace, a cartridge in his rifle erupted giving Hernandez a choice. He could withdraw with his men or continue to take the fight to the enemy.
Hernandez chose the latter and with his rifle out of commission, he emerged with his bayonet and charged the assaulting enemy. Slicing and dicing as best he could, his aggression disrupted the enemy attack causing a halt in their momentum. It gave the Americans an opportunity to plan and reorganize an attack to take back the hill.
Hernandez had taken out six additional enemy soldiers with his gallant last stand, but a combination of grenade, bullet and bayonet wounds caused him to collapse. Yet, his stand had proved vital to the American effort to retake the hill. Soon, the Americans were collecting the bodies of their gallant few who had refused to withdraw. Upon initial observation, Hernandez was dead. With a gaping wound to his head and covered in blood there was certainly no chance he had survived. However, Rodolfo Hernandez had one last fight still in him.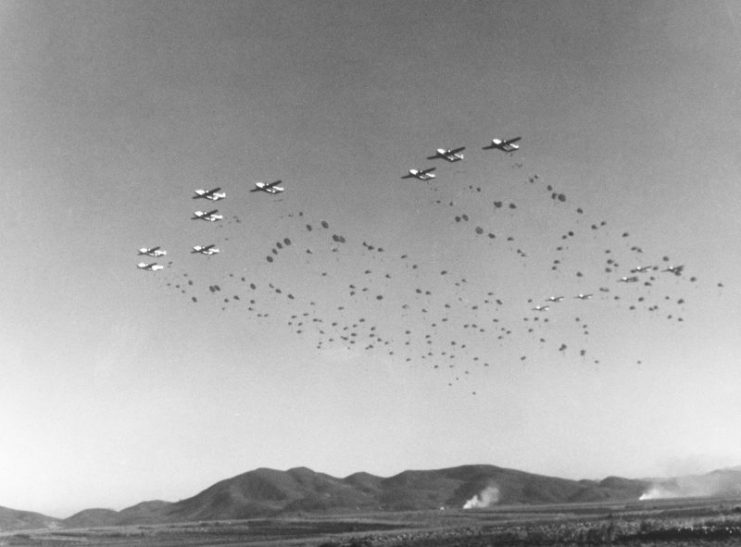 From Death to Life
As soldiers were loading Hernandez into a body bag, one of them noticed finger movements in their fallen hero. Immediately calling for medical aid, against all odds it turned out Hernandez had survived. He had just made a gallant stand on Hill 420 worthy of the nation's highest military honor but his award would have to wait. Hernandez spent the next month unconscious only to wake up in a military hospital unaware of the honor he had earned.
Hernandez had to relearn how to walk, write and even talk in the years ahead. However, it did not stop him from receiving the Medal of Honor from President Harry S. Truman in 1952. After a long recovery, he eventually regained the ability to speak, use of his right arm and the respect of every soldier who witnessed his actions on Hill 420 that day.
He married, had three children and served with the Veteran's Administration in North Carolina. Despite the waves of North Koreans who had tried to end his life early, it was illness that he eventually succumbed to. At the age of 82, some 60 years after Hill 420, Rodolfo Hernandez died – a father, grandfather and gallant legend in the halls of military history.