Of the 132 missions Bob Pardo flew in Vietnam with the 8th Tactical Fighter Wing, the most significant is that of March 10, 1967, when he and his with rear pilot 1st Lt Steve Wayne, were on a mission to attack the steel mills close to the North Vietnamese capitol of Hanoi.
Flying as his wingman was Capt. Earl Aman and his "Guy in Back" Lt. Bob Houghton. The area around Hanoi was the best protected in military aviation history, and on that day enemy anti aircraft fire was the heaviest Captain Pardo had experienced in his many missions there.
Before they arrived at the objective, the F-4 Phantom of Captain Aman's was hit, but he managed to stay in formation. As they were closing in on the steel mill Aman's F-4 was hit by ack-ack once more and his plane started to leak fuel.
Then Pardo's plane was hit as well yet he could proceed with the strike, however his F-4 was now leaking fuel too. When they were over 20,000 feet on their way out, it became evident that Aman did not have enough fuel make it to nearby Laos, where he and Houghton would be able to eject with a fair chance of being rescued by friendly troops.
If they were to eject over North Vietnam, the chances of evading escape were slim and capture and, if they were lucky, a lengthy stay in a POW camp would await them.
Pardo's plane was not so severely damaged and he had enough fuel left to reach Laos where a tanker would await him, he could then refuel and reach his airbase. This would mean leaving Aman and Houghton to a uncertain fate and this was not something Pardo would do.
"How can you fly off and leave someone you just fought a battle with?" asks Pardo. He decided to remain with Aman for as long as he could and come up with a plan to get them to safety.
As it turned out, he had to think of a plan rather quickly as Aman ran out of fuel causing his engines to flame out while still flying over North Vietnam. Pardo came up with a plan just in time, he was going to try and push the F-4 all the way to Laos.
Very gently he used the nose of his F-4 to push Aman's F-4, which was now losing speed and altitude quickly. After a number of failed attempts Pardo found out that the nose of a F-4 was not made for anything else than pushing through air and he had to change his plan or lose both Pardo and his plane.
He came up with a brilliant plan, he asked Aman to lower his tailhook, the Phantom having been originally designed as a naval aircraft equipped with a heavy duty tailhook for landings aboard aircraft carriers. He was going to push the tailhook with his windscreen.
This worked but due to turbulence the tailhook slipped off the windscreen every 15 to 30 seconds, and Pardo would have to reposition his plane. This manoeuvre slowed down the rate of descend to 1500 feet per minute.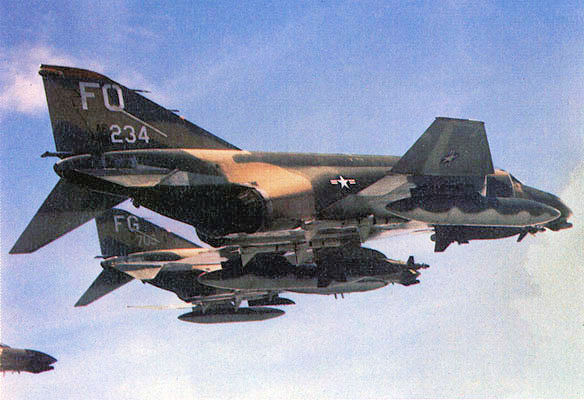 This was not the end of their problems as the left engine on Pardo's plane caught fire forcing him to shut it down, then restart it but it caught fire again.
After checking his fuel state he could ignore the problem as he was without fuel mere minutes anyway. And after pushing Aman's plane almost 88 miles, it was time for everyone to eject and parachute to the ground. Aman and Houghton ejected first, immediately followed by Wayne and Pardo.
The enemy was trying to capture them but they evaded them and were soon picked up by rescue helicopters. Pardo was rescued 45 minutes later and quickly returned to their base in Thailand.
To the pilots Pardo was the hero of the day, but some higher echelon accountants did not see it that way. They threatened to bring charges against him because he lost a rather expensive airplane.
For once, good judgement prevailed and the charges were dropped. 20 years later the Silver Star was awarded to Bob Pardo and Steve Wayne for what was now known as Pardo's Push.
In later years, Pardo, learning that Aman was suffering from Lou Gehrig's disease and had lost his voice and mobility, created a foundation that raised enough money to buy Aman a voice synthesizer, a motorized wheelchair, and a computer.
The foundation and Red River Valley Fighter Pilots Association later raised funds to pay for a van, which Aman used until his death.
Silver Star Citation: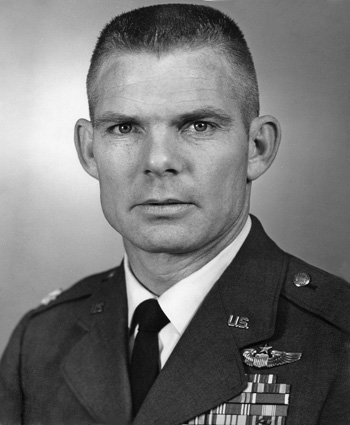 Major John R. Pardo distinguished himself by gallantry in connection with military operations against an opposing armed force over North Vietnam on 10 March 1967. On that date, Major Pardo was flying as the pilot of the lead element on the return from a 1,000 mile flight in which heavy flak damage was encountered. He noticed that his wingman's aircraft was in trouble and was advised that the aircraft was extremely low on fuel. Realizing that the wingman's aircraft would not make it out of North Vietnam, Major Pardo implemented maneuvers to literally push the aircraft across the border. The attempt was successful and consequently allowed the crew to avoid becoming prisoners of war. By his gallantry and devotion to duty, Major Pardo has reflected great credit upon himself and the United States Air Force.