The Husky (formally Carrier, Cargo, Amphibious, M116) is a 1 1/2 ton capacity, low ground pressure cargo and personnel carrier capable of operating over all kinds of terrain and under all seasonal conditions in tropical, temperate and arctic zones.
The Husky was designed to be fully amphibious without preparation of a fording kit. Propulsion and steering, both on land and water, are accomplished by movements of the tracks.
It is sometimes referred to as a marginal terrain vehicle and has served in that role from the hot swamps and paddies of Vietnam to the snowy fields of Alaska.
The Husky body is made of aluminum. The body is open at top and normally is used with top bows and canvas for cover, but it can be covered with a fiberglass enclosure for colder weather. There is a front mounted winch.
Here is your chance to own one of the rarest tracked vehicles in civilian hands.
Being Sold As Is – No Warranties. $1000 non refundable deposit due within 24 hours of auctions end. All bids are final. I do my best to describe the vehicles as best as possible but due to it being a used truck it will be sold as is.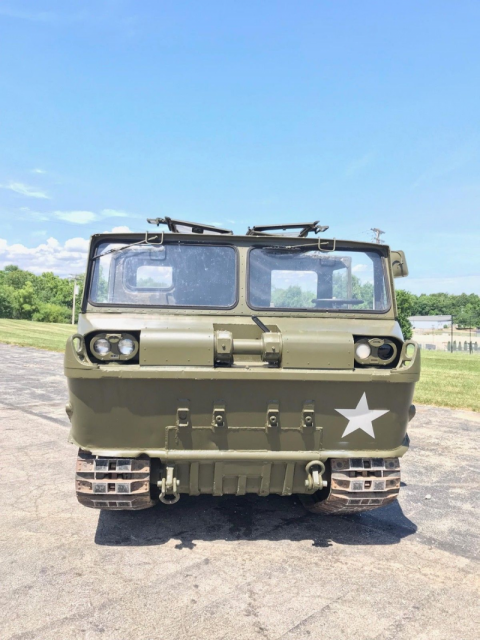 We are able to help arrange shipping anywhere in the US. We are a full time shop that specializes in only military equipment! We can add or do anything to these vehicles one might desire! Custom paint, bed-liner, cargo covers, led lights, hard tops, troop seats, tool kits, wheels & tires, off-road lights and maintenance services.
If you want a Red, Silver or Pink vehicle we can do it!!! We also build trucks to order! If there is anything you are looking for give us a call and see if we can help you out.
Here are the details:
M116 Husky Tracked Amphibious 1 1/2 Ton Cargo Carrier, – Manufactured By Blaw-Knox Company (Mattoon, IL).  Date of Manufacture 11-1962, Government Overhauled @ TEAD in May of 1968.
Serial Number 10, less than 200 Husky's are believed to have been built,, starts, runs & drives beautifully, Tracks Have Street Pads for Asphalt or other improved surfaces
Chevrolet V8, 283 cid, 160hp, gasoline, a Ramsey Front Mounted Winch and a GM Hydramatic, 4 fwd speeds with reverse – Combat Weight 10,600 LBS
The is Length 188″, Width 82″,Height 79″,Ground Clearance 16″, Track Width 20″.
Maximum Speed Land 37 MPH, Maximum Speed Water 4.2 MPH, Spare set of tracks in very good condition included!!!!
– Extra Bogie Wheels Included, Original Tail Gate is also included but is bent and will require repair. 2 Technical Manuals will be included with the sale. You can see more details here.