After the Japanese attack on Pearl Harbor in 1941, Japanese-Americans were under suspicion from many of their fellow countrymen. American citizens of Japanese descent were interned and unable to contribute to the war effort. For those Japanese-Americans able to participate they did so with great pride and in many cases inexplicable gallantry in support of their nation.
For Kaoru Moto, it included leading the charge as a machine-gun bunker buster hero. Having already taken out two machine-gun teams on his own initiative he was then wounded by a German sniper. Despite his serious wounds, Moto held his German prisoner until officially relieved. Then on his way back to the rear aid-station, he noticed another machine-gun position setting up.
By himself and while nursing serious wounds, Moto decided one more enemy machine-gun team destroyed could not hurt. For his actions that day he was awarded the Distinguished Service Cross. Decades later after a review of possible discrimination against Japanese-American gallantry, Kaoru Moto was given his rightful place with his nation's highest military honor.
Protecting the Homefront
Kaoru Motu was born on April 25, 1917, in the Makawao territory of Hawaii. Moto was a second-generation Japanese-American, known as a Nisei. Despite the suspicion and prejudice which had begun to build against Americans of Japanese descent, Moto still felt it was his duty to serve his country. Nearly ten months before the Japanese attacked Pearl Harbor, Moto enlisted in the US Army in 1941.
Moto volunteered for the all-Nisei 100th Infantry Battalion which was made up almost entirely of Japanese from Hawaii. After the Pearl Harbor attack on December 7, 1941, Moto and his fellow soldiers prepared for the invasion of Hawaii. However, they were surprised to have their weapons taken from them and then they were sent to the American mainland for training.
As the War Department grappled with what role the all-Nisei Battalion should serve, the 100th received training at Camp McCoy and Camp Shelby. Despite the discrimination against them, the 100th won its battalion colors on July 20, 1943. By specific request of the unit, they were given the battalion motto, "Remember Pearl Harbor." Rather than fighting the nation that had attacked their homeland, however, they were sent to Africa and then Europe.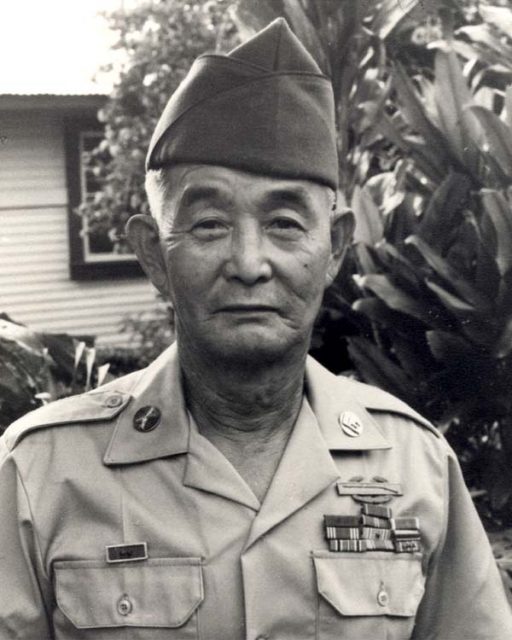 One Gallant Act After Another
In September of 1943, the 100th arrived in North Africa where they became a part of the 133rd Infantry Regiment. By the end of that month, they were en route to the Italian peninsula to take part in the conflict there. From Salerno to Monte Cassino, the unit that had been spurned by many proved themselves more than capable of action.
By July 1944, it was hard for anyone to question the fighting ability of the 100th. On July 7, 1944, while scouting ahead of his platoon, Private First Class Moto observed a German machine-gun nest holding up their advance near Castellina in Italy.
On his own, he moved to within ten paces of the enemy position. With the element of surprise, Moto killed the machine gunner and forced the assistant gunner to surrender. Taking his prisoner with him, Moto moved to an advantage point where he watched another machine gun team moving into position. He engaged them with accurate fire, forcing them to withdraw.
One More for the Win
An enemy sniper found its mark on Moto causing severe wounds. Refusing to quit, Moto took his prisoner and moved to a more secure location. When friendly troops finally caught up with Moto and relieved him of his position he decided it was time to seek aid. On his way to the rear and bleeding heavily, Moto stumbled across another machine gun nest. With every reason to avoid it, Moto chose the noble path.
Firing upon the nest, he wounded two of its occupants. Unsatisfied, he crawled toward the position and with accurate fire forced their surrender. When the day was done, Moto had taken out three machine-gun teams on his own and captured several German prisoners. For his actions that day, Kaoru Moto was awarded the Distinguished Service Cross. A distinguished award for sure, but many believed his actions warranted more.
During the 1990's a review was conducted of Asian-American service records to determine if discrimination from that era prevented some from receiving their due honor. Prominent among the documents reviewed were those of the famed 100th. It was decided that Kaoru Moto and 21 other Asian-Americans had, in fact, demonstrated the type of gallantry and resolve commensurate with the nation's highest military honor.
On June 21, 2000, Moto posthumously received the Medal of Honor from President Bill Clinton and his due place in military history.