With about 40 Boers pumping out their ammunition at any foe in sight, going to the man's aid would be a brush with death.
The Victoria Cross, representing the United Kingdom's most prestigious honor, is royalty among British decorations.
It is awarded to personnel of the British Armed Forces for acts of bravery "in the presence of an enemy."
The recipients are men who have stepped up in desperate times, sometimes even laying down their lives to quell the storms of the battlefield.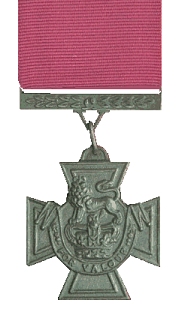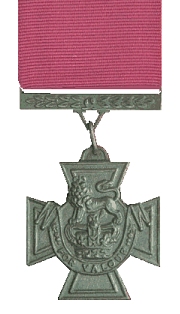 Since its introduction in 1856 by Queen Victoria, the Victoria Cross has been awarded 1,358 times for acts of exceptional bravery, from the Crimean War in the 1850s to the Afghanistan War of present times.
With barely a handful of recipients across all sections of the British Armed Forces, this indicates that the Victoria Cross is a sparingly awarded decoration. Except for Elizabeth Weber Harris who received a replica Victoria Cross in 1869 with permission from Queen Victoria, there has never been a female recipient of the award.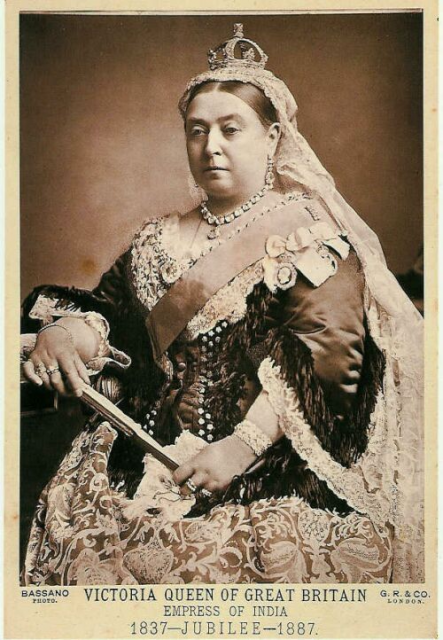 Stories of the recipients are usually marked by extraordinarily intense situations, with many of them not surviving long enough to receive the award in person. As a matter of fact, as of 2018, there are only nine living recipients of the VC.
Clearly, receiving Britain's highest award takes extreme guts. But what would it take to receive it twice? In the history of the Victoria Cross, only three people have achieved this.
Not Afraid of the Rain: Arthur Martin-Leake
Born on April 4, 1874, in Standon, Hertfordshire, Arthur Martin-Leake had some experience as a doctor before the outbreak of the Second Boer War in 1899 which saw him enlist in the Imperial Yeomanry.
He served first as a trooper, being involved in Princeloo's surrender and the relief of Hoar's laager. After that, he joined General Baden-Powell's South African Constabulary where his savoir-faire in the field of medicine became of paramount importance.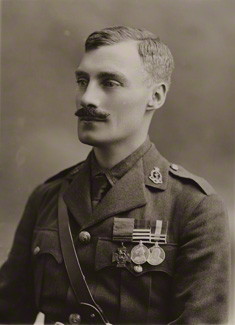 His first VC-worthy performance came on February 8, 1902, during hostilities at Vlakfontein.
As hostile engagements tensed up at Vlakfontein, casualty levels were climbing on both sides. Martin-Leake was 27 years old and a Surgeon-Captain at that time. He and his team were everywhere, attending to the wounded.
He found a wounded man, flat of the ground and writhing in pain, barely 100 yards away from enemy positions.With about 40 Boers pumping out their ammunition at any foe in sight, going to the man's aid would be a brush with death.
But Martin-Leake stepped up to the challenge. Under a rain of hostile fire, he managed to attend to the injured man successfully.
After that, he found a wounded officer to help, but this time he was not as lucky. Three shots left him badly wounded. However, he continued with his duties until he fell over on his back, overcome by the effect of his wounds.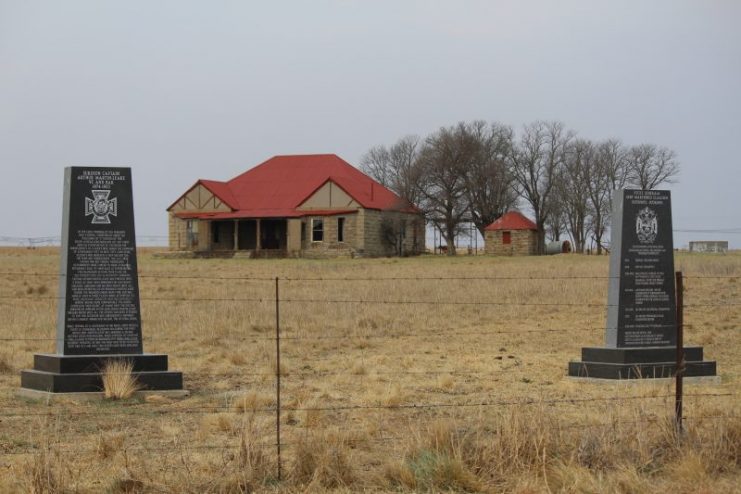 At this point, according to his VC citation, all eight men around him were wounded. While they lay on the Veldt, awaiting treatment, Martin-Leake made sure everyone else had some water before he did.
https://youtu.be/0bBTzzZjCOk
In June 1902, a month after the collapse of the South African Republic and Orange Free State and the effective end of the Second Boer War, Martin-Leake received his first Victoria Cross from King Edward VII at St. James's Palace.
With the outbreak of the First World War 12 years later, Martin-Leake returned to the Army as a lieutenant, serving on the Western Front with the 5th Field Ambulance of the Royal Army Medical Corps.
The Germans were retreating from the Marne and setting up strong positions in the Aisne area. They would subsequently attempt advancements across the Channel ports in the Battle of Ypres. It was for his actions at this time that Martin-Leake was awarded a second Victoria Cross.
From October 29 to November 8, 1914, Martin-Leake repeatedly ran through a rain of fire as hostilities raged at Zonnebeke, Belgium. In doing so, he rescued several wounded comrades who were lying close to enemy trenches.
In recommending the brave man for a second VC, his commanding officer wrote: "By his devotion, many lives have been saved that would otherwise undoubtedly have been lost. His behavior on three occasions when the dressing station was heavily shelled was such as to inspire confidence both with the wounded and the staff. It is not possible to quote any one specific act performed because his gallant conduct was continual."
With the approval of these claims by the king, Arthur Martin-Leake became the first of the only three men ever to have received the VC twice.
Brave to the Core: Noel Chavasse
Formerly a medical doctor and an Olympic athlete, Noel Chavasse, just like his identical twin brother, fought in the First World War. It was during this time that he was awarded his Victoria Cross and a bar to it.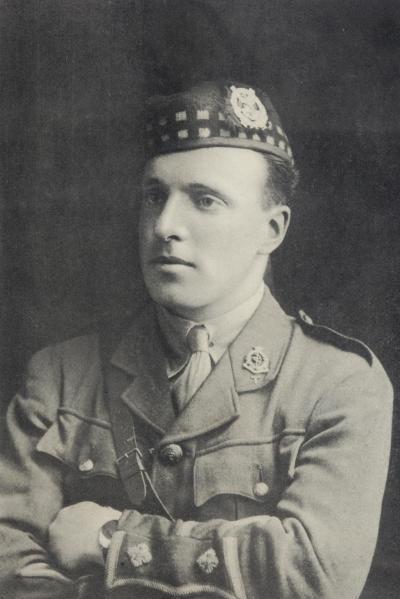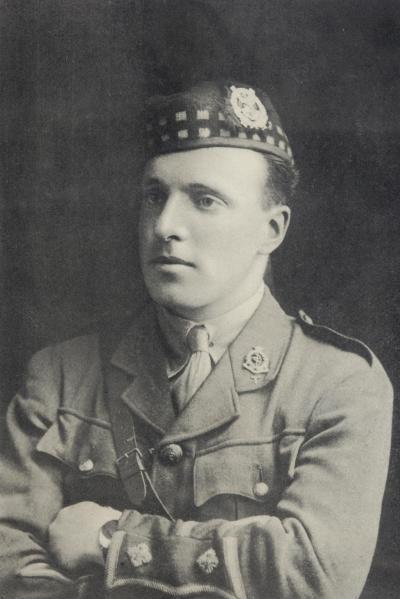 Born on November 9, 1884, Chavasse grew up with a number of successes in both education and sports, ending up as a surgeon by 1913. But with the outbreak of WWI, Chavasse's medical aptitude was taken to the frontline. Having been accepted into the Royal Army Medical Corps, he served with this unit as a captain.
His unit was attached to the 1/10th (Scottish) Battalion of the King's Regiment (Liverpool) where he made a remarkably brave display at the Battle of Hooge, consequently getting rewarded with the Military Cross.
His VC-worthy performance came during hostilities at Guillemont, France.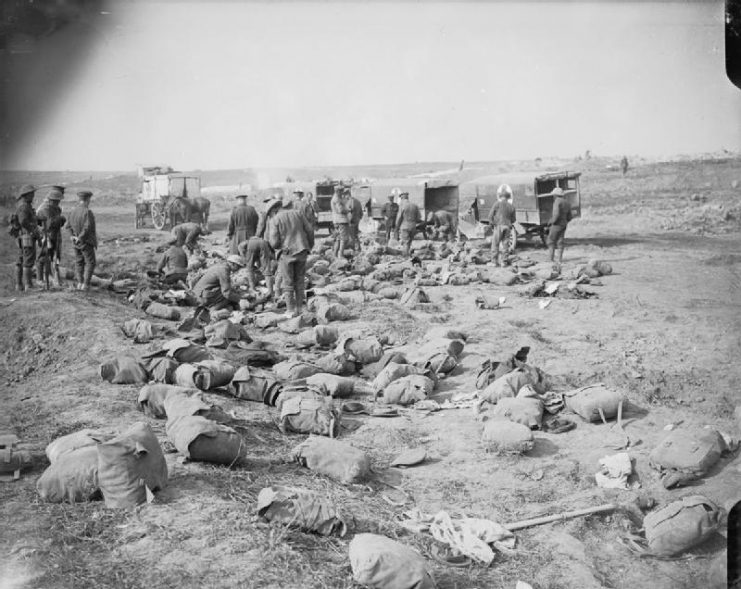 During the attack, German soldiers pulled off one of the grandest displays of the war, fiercely repelling the onslaught of British and French soldiers. Death and injury marched side by side, sweeping through both positions as the two foes threw hell at each other.
Chavasse exposed himself to the showers of shells and gunfire as he worked all day in the open, taking care of the wounded. Most times he did this with the enemy in sight. When night came, he spent four hours close to enemy lines, searching for the wounded.
The next day saw the continuation of the battle, and he went to the furthest trenches with a stretcher bearer. While heavy shell fire rained around him, he carried a severely wounded comrade over 500 yards into safety. In the process, he was himself wounded in the side by a shell splinter.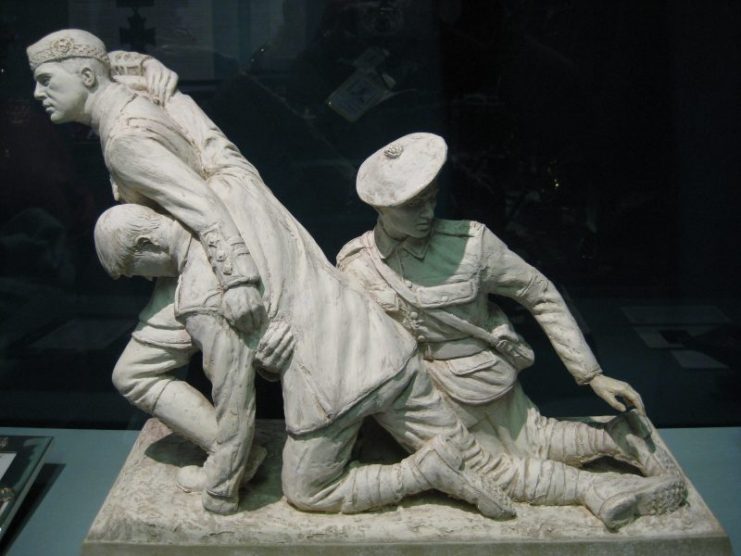 That night, he coordinated 20 men in a search and rescue operation in no man's land. They succeeded in rescuing three men stuck in a shell hole that was barely 25 yards from enemy positions. Against a backdrop of bombs and machine guns, Chavasse buried two dead bodies and collected several discs.
In all, he was said to have saved over 20 badly wounded men, not to mention the several less severe cases that received his aid.
"His courage and self-sacrifice were beyond praise," his first VC citation read.
A second VC-worthy action would come during the Battle of Passchendaele. In this event, Chavasse was involved in hostilities at Wieltje, Belgium, from 31st July to 2nd August. Sadly, he did not come out of this battle alive.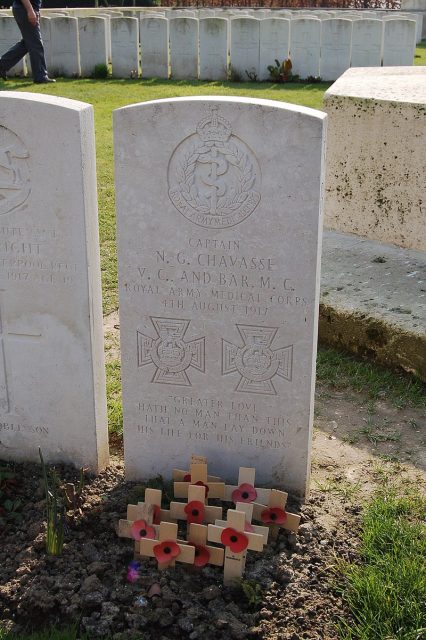 When the engagement with the Germans began, Chavasse continued to play his role, never lacking in motivation. He had been badly injured earlier in the battle while carrying a wounded soldier to a Dressing Station. Despite this, he refused to leave his post to tend his own wounds.
For two days, he continued working, leaving his post to venture into the hostile zones to search for injured comrades. Starving, tired, and in pain, he carried a number of soldiers to safety. During this period, a rain of shells hit him while he was in his dugout, leaving him even more severely wounded.
Attempts to remove the shrapnel from the shell blast proved useless. After holding onto life for as long as he could, he gave up the ghost on the 4th of August.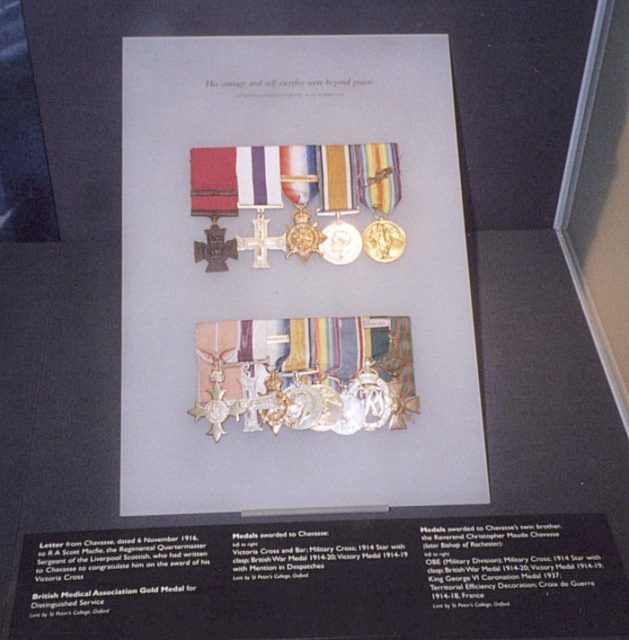 The VC and Bar was privately presented to his father in late 1917.
His military headstone is uniquely adorned with a representation of his two Victoria Crosses.
He is effectively the first person ever to receive two Victoria Crosses for actions in the same battle.
Tough as Nails: Charles Hazlitt Upham
What sets this person apart from the other two above is the fact that this New Zealander is an actual combat soldier.
Born on September 21, 1908, in central Christchurch, New Zealand, Upham grew up as a quiet but strangely determined boy who always stood up to bullies in school.
As the years flew by, WWII came, and Upham, now aged 30, decided to take his fighting spirit to the front.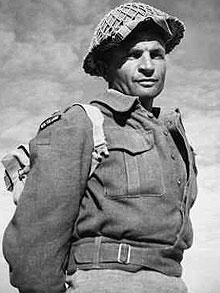 He received his first VC for actions in Crete in May 1941, while his platoon fought in the Battle for Maleme airfield. As his platoon embarked on an advance over 3,000 yards, they encountered severe resistance which held them up three times.
Upham first attacked a German machine-gun nest with a full bag of grenades, killing eight enemy paratroopers. His next stop would be a house hiding another machine gun post. Finally, he crawled, under heavy fire, to within 15 yards of an anti-aircraft gun and effectively silenced it.
After the retreat from Maleme, he helped carry an injured comrade in full view of German soldiers and motivated the other men to help their wounded comrades.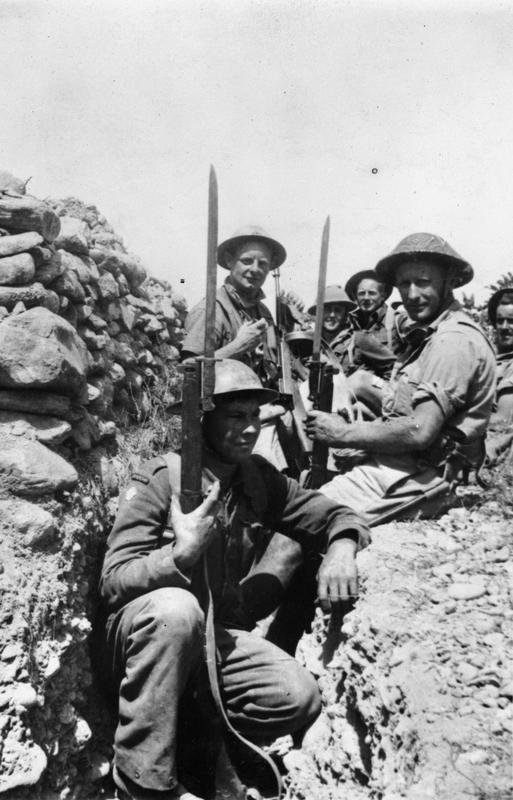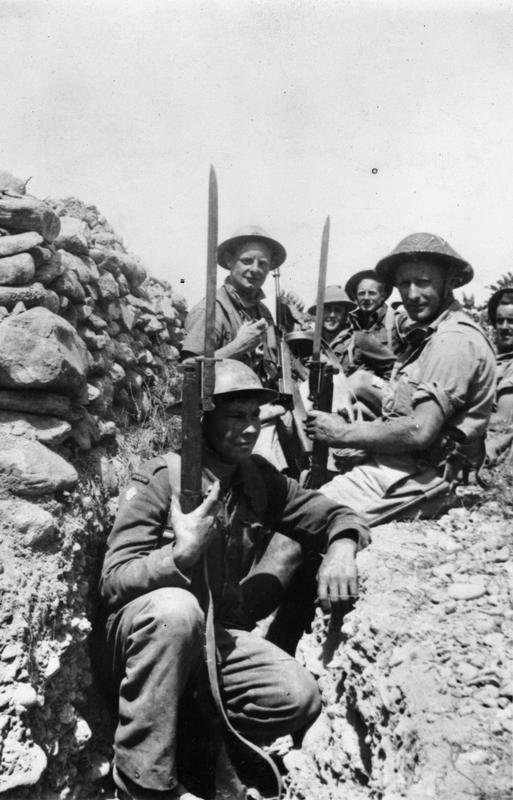 As the solid German defenses continued to flare their fury, a particular company would have been cut off if not for the intervention of Upham who ran with a corporal over 600 yards to their rescue, killing two German soldiers on the way.
In the events that followed, Upham was wounded by a mortar shell and subsequently shot in the foot, but he disregarded his injuries and continued to lead his men.
He proved himself a great terror to his enemies and offered much-needed needed motivation to his men. This was made even more remarkable by the fact that, in addition to being wounded, Upham was suffering from dysentery the whole time and was only able to eat a little food.
"He showed superb coolness, great skill, and dash and complete disregard of danger. His conduct and leadership inspired his whole platoon to fight magnificently throughout, and in fact was an inspiration to the Battalion," his citation read.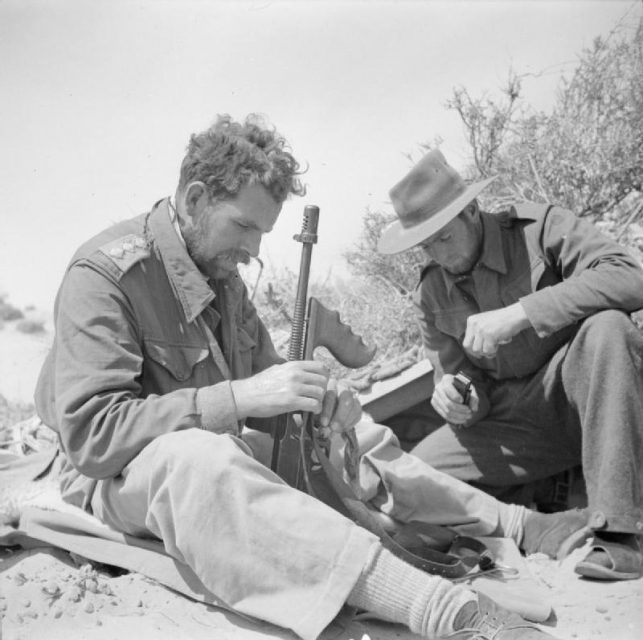 This was not the end, though. Upham went on to pull more spectacular performances in the North African theater. By now, Upham had already established the hand grenade as his weapon of choice. While fighting in Egypt, in the First Battle of El Alamein, Upham, who had already been wounded twice, destroyed a truckload of German soldiers with a grenade attack.
As the war progressed through a series of dramatic events, Upham was again shot through the shoulder by a machine gun, but by that point, he had already destroyed a German tank and several vehicles and guns.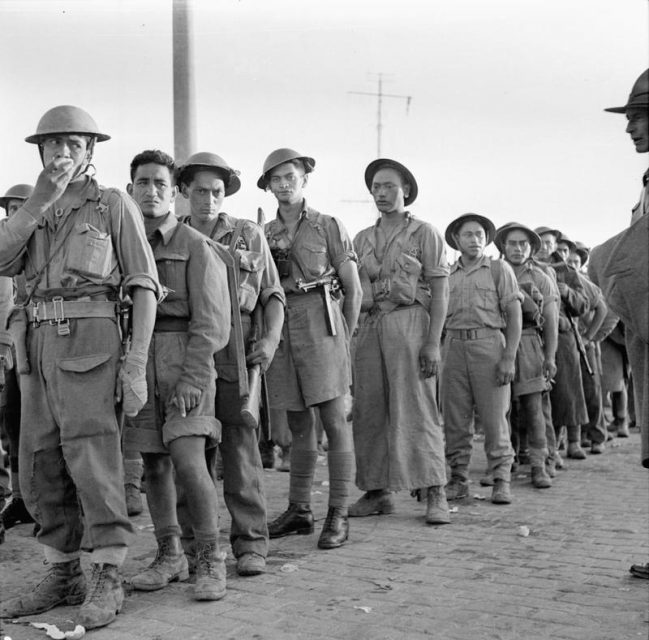 When pain and excessive loss of blood began to have an effect on him, he was removed for treatment. But no sooner had he been treated than he headed back to the battle to motivate and help his men.
Unfortunately, he was injured again. This time, his injuries were even more severe, and he was captured. His company was eventually routed by the Germans, with only six survivors left by the end of the day.
Read another story from us: It Runs in the Blood: Related Recipients of the Victoria Cross
For such an extraordinary show of guts and charisma, he received a bar to his VC on May 11, 1945.
Prior to his award, King George VI did question whether Upham was indeed worthy of the very rare VC a second time.
"In my respectful opinion, sir," said Major-General Howard Kippenberger to the king, "Upham won the VC several times over."