The British are close to commissioning a second Queen Elizabeth-class aircraft carrier. The HMS Prince of Wales, the seventh Royal Navy ship to carry the name, will weigh in at sixty-five thousand tons. The ship is expected to be fully completed in 2023, with sea trials scheduled to begin in 2019 and commissioning in 2020.
There are some impressive statistics associated with a Queen Elizabeth-class supercarrier, like the bespoke crane made for the assembly of the superstructure. It is 223 feet tall, 918 feet long, and 394 feet wide. There are over 155,000 miles of electric cable and nearly 5,000 miles of fiber-optics being installed on board.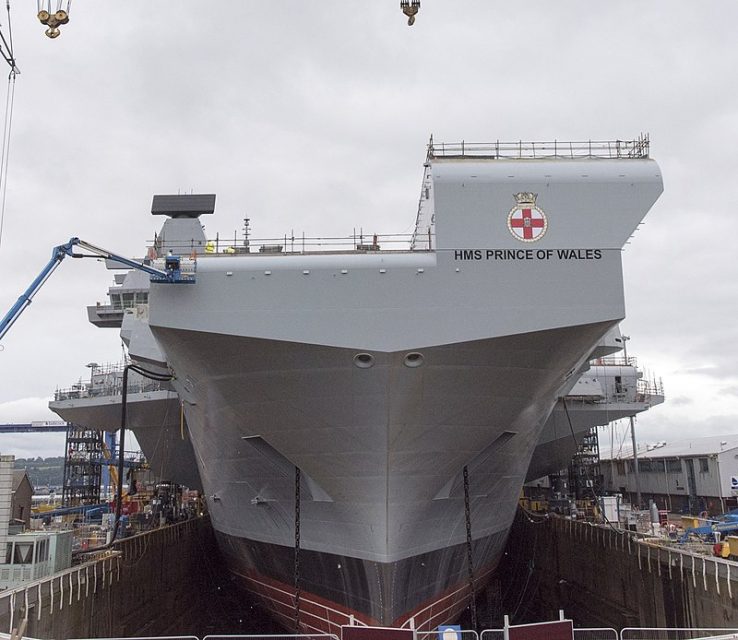 A ship of this size is too big of an enterprise for just a single shipyard to take on, so British engineers have had to parcel up the construction of the carrier.
Although the ship was launched at Rosyth, five other sites were also involved in the project, with more than 11,000 people directly employed. In all it is estimated that the build took more than 51 million man-hours to complete.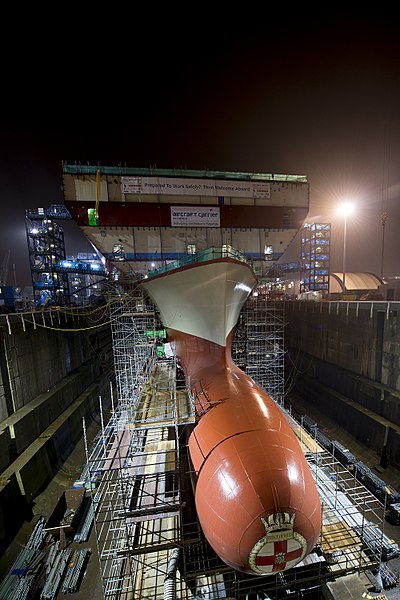 The expertise in designing and building the ship were also divided up among world-leading engineering companies such as Thales, BAE Systems, and Babcock, all partnered with the Ministry of Defense (MOD). As the MOD says on its Navy website, "You wouldn't build a house without talking to a builder."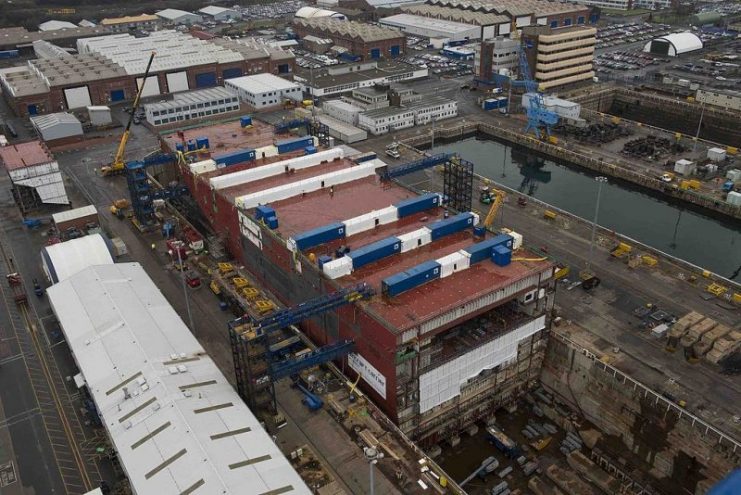 Naturally, with the production centers divided into six parts, engineers had to come up with a way of compartmentalizing the build to simplify final assembly.
A modular method was devised, allowing sections of the ship to be made in isolation before being brought together.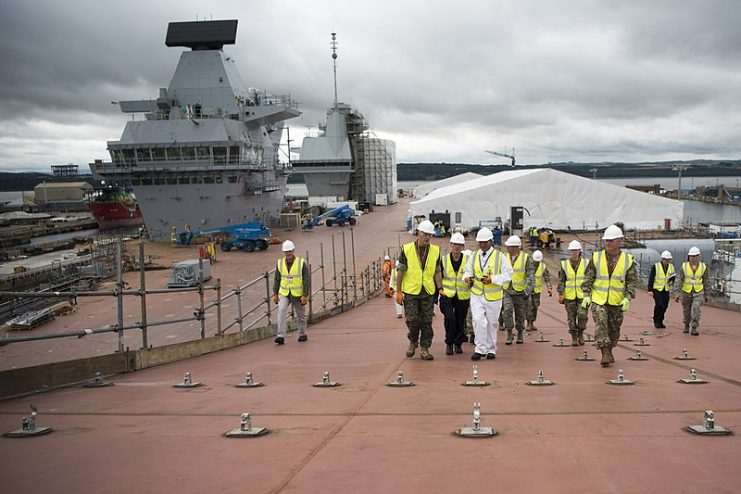 This process for building the carrier has been compared to the assembly of giant-sized Lego pieces, but that underplays the incredible complexity of the construction of Prince of Wales.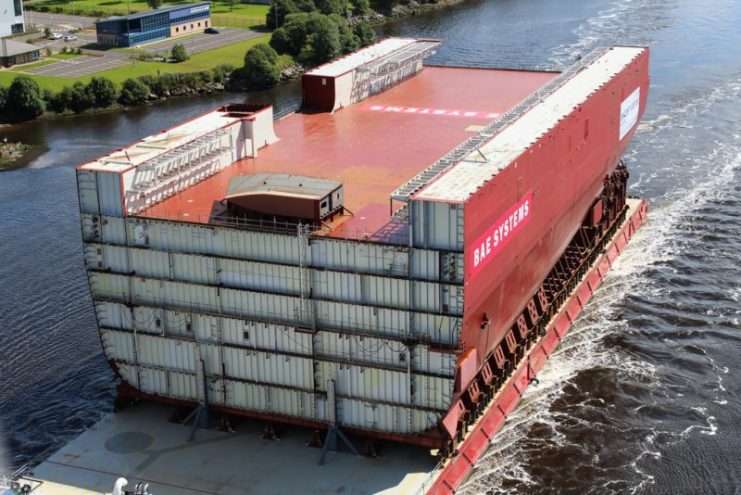 A good example of this is the last big item to be added to the ship, the aft island. It controls the supercarrier's aircraft functions and is 6 stories high, weighing in at 750 tons.
It was constructed in a vast hangar on a mobile deck, which was used to move it to a pontoon barge. It was then moved by tug to the main shipyard at Rosyth, where it was lifted into place by the specially commissioned crane.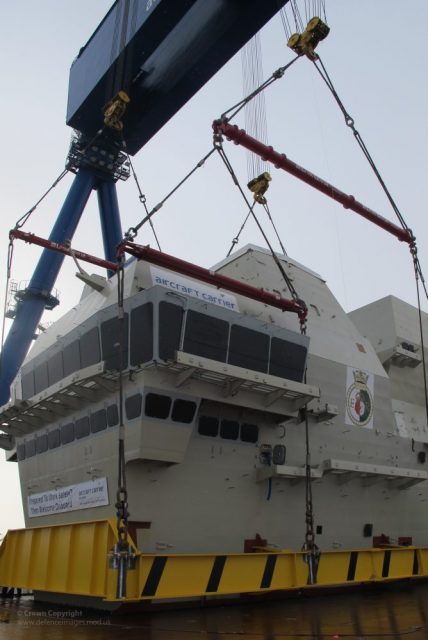 On September 7, 2018 all work stopped for one day in order for the naming ceremony to take place, in line with British naval tradition. The ship was christened by Camilla, the Duchess of Cornwall, accompanied by her husband Charles, the Prince of Wales.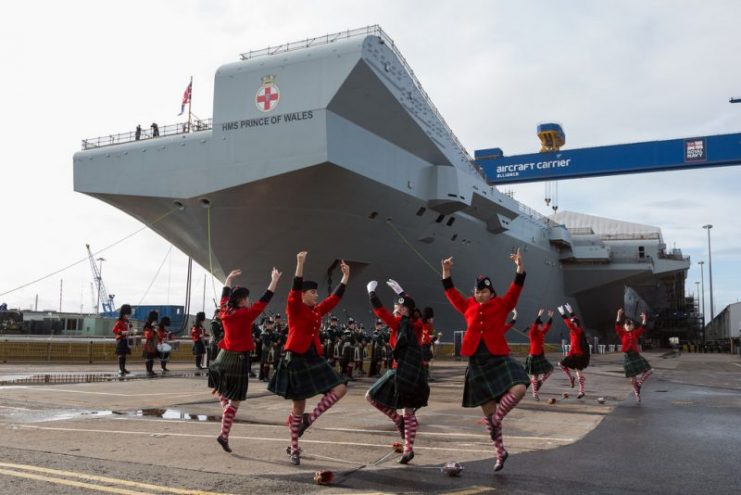 First Sea Lord Admiral Sir Philip Jones paid tribute to the work of the shipwrights, electricians, and engineers involved when he said, "Wherever Prince of Wales travels, at home or overseas, she will draw crowds to the water's edge where they will marvel at your achievement."
Read another story from us: Aircraft Carriers Rule the Seas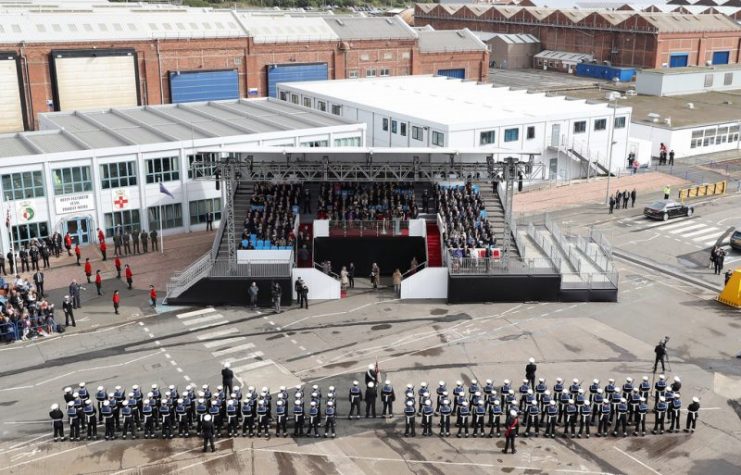 The Prince of Wales' older sibling, HMS Queen Elizabeth, has meanwhile been undergoing sea trials and testing the new F-35 fighter jet in the North Atlantic in association with the US Navy. It is expected to officially go into service in 2020.
We hope you enjoy our content. We think it's important to keep war history alive. If you do too, please consider becoming a supporter. Thanks.
Become a Supporter