The Soviet blockade of Berlin in 1948-49 was a tough time for those living in the German capital. The United States was among the Allied forces to send aid. One pilot, Gail Halvorsen, went a step further by providing much-needed hope and joy to the city's children.
Gail Halvorsen's early life and entry into the US Army Air Forces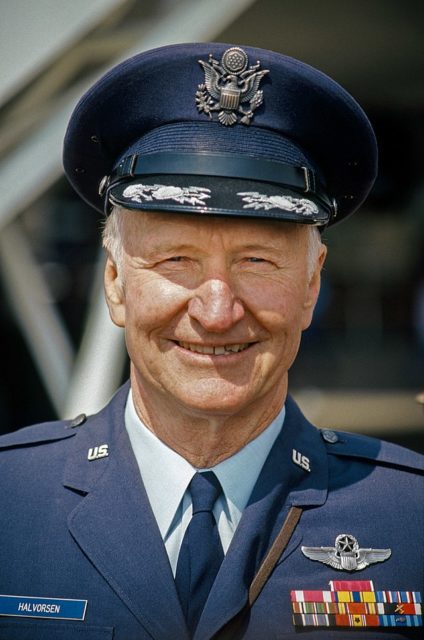 Gail Halvorsen was born on October 10, 1920 in Salt Lake City, Utah. He grew up on farms across the western portion of the US and spent much of his time watching aircraft fly over his family's property. He later recalled that he wished he could be "up there with them."
Halvorsen graduated from Bear River High School in 1939 and briefly attended Utah State University, before joining the Civilian Pilot Training Program. He earned his private pilot's license in September 1941 and joined the Civil Air Patrol (CAP). Just under a year later, he joined the US Army Air Forces.
After training alongside members of the Royal Air Force (RAF) in Oklahoma, Halvorsen was assigned to transport operations in England, North Africa and Italy. He continued this work until the end of the Second World War.
Gail Halvorsen was sent to Germany for the Berlin Airlift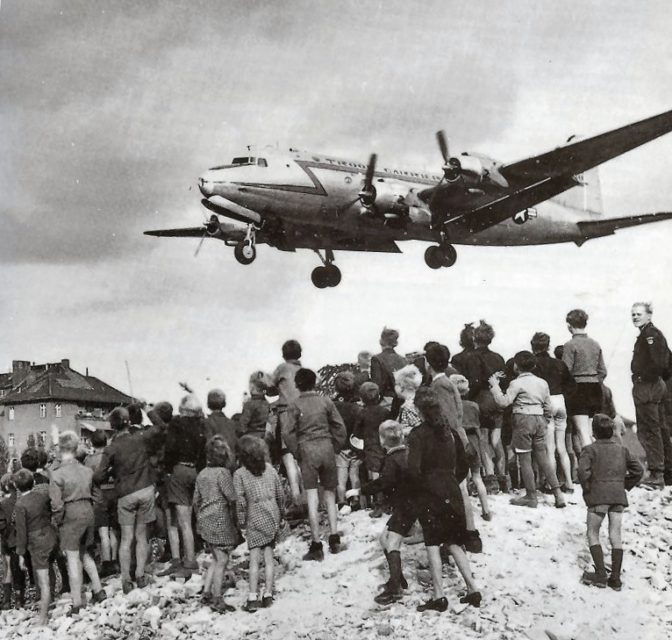 Following World War II, Germany was split between the US, the Soviet Union, Britain and France, resulting in it being divided into two parts: East and West Germany. In an attempt to force the other countries out of Berlin, the USSR set up a blockade, which not only damaged the city's economy, but also resulted in a lack of food and resources.
To ensure those living in Berlin didn't starve or die of illness, the Allied forces began the Berlin Airlift – codenamed Operation Vittles – on June 26, 1948. Over the course of the campaign, pilots flew 278,000 flights over the city, dropping approximately 2.3 million tons of food, medicine, coal and other supplies.
That month, Gail Halvorsen was ordered to Germany to participate in the operation. He questioned why America was helping its former enemy. However, knowing it was his duty as a member of the US Air Force, he agreed and arrived in Berlin in early July 1948.
Initially, the Allied forces lacked enough aircraft to conduct around-the-clock operations. As such, Halvorsen often flew three round-trips each day in a Douglas C-54 Skymaster, only getting seven hours off at a time for sleep. During these flights, he'd fly first to Berlin, before moving deeper into Soviet-controled areas.
'Berlin Candy Bomber'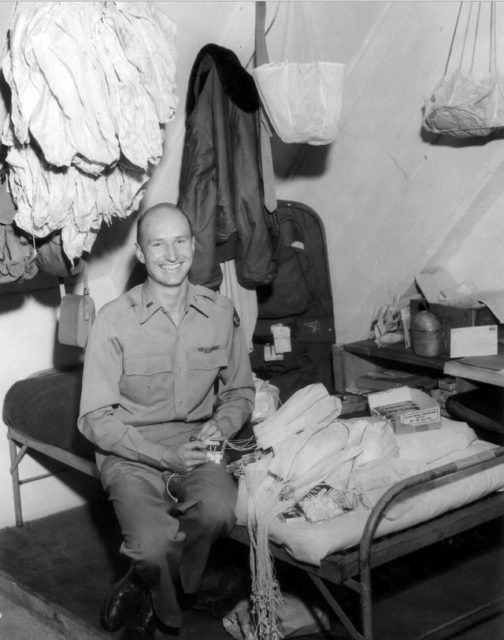 During his days off, Gail Halvorsen traveled around the city and shot footage on his personal camera. During one of these outings, he was filming aircraft take and land at Tempelhof Airport, the main landing site for those participating in the Berlin Airlift.
While at the airport, he noticed a group of children lined up along the fence. Recalling the interaction, he said, "I met about thirty children at the barbed wire fence that protected Tempelhof's huge area. They were excited and told me that 'when the weather gets so bad that you can't land, don't worry about us. We can get by on a little food, but if we lose our freedom, we may never get it back.'"
This struck a chord with Halvorsen, who dug into his pockets and pulled out two sticks of gum. The children broke them into pieces and passed them around. Upset he didn't have more, Halvorsen told them to return the next day and he'd give them more. Even better, he'd drop it from his aircraft. When asked how they'd know which was his, he said he'd wiggle his wings, something he'd done for his parents after getting his pilot's license.
That night, Halvorsen, his engineer and his co-pilot pooled their candy rations and made parachutes out of handkerchiefs, to ensure no one was injured by the falling packages. The next morning, they made the drop and continued to do so once a week for the next three weeks. Each time, the crowd of children gathered along the borders of Tempelhof grew larger.
Operation 'Little Vittles'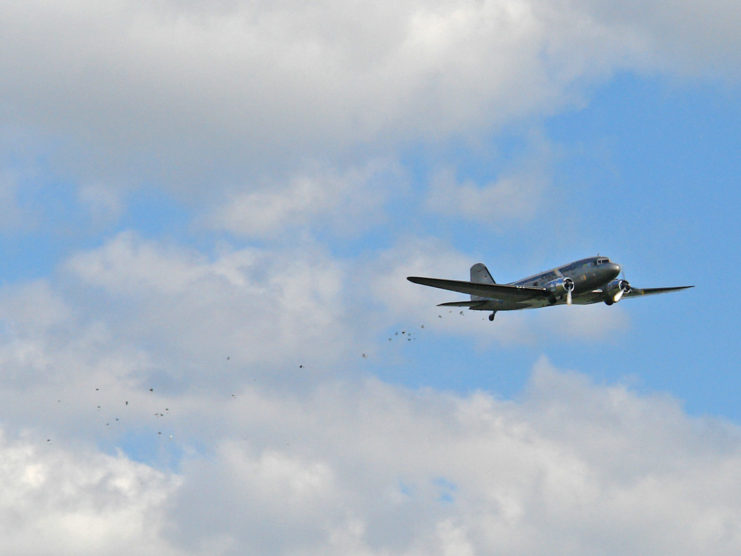 Gail Halvorsen knew what he was doing was against Air Force regulations, and he received a talking to upon his colonel finding out. However, the candy drops were beginning to reach the media in Berlin, prompting the Airlift commander, Lt. Gen. William H. Tunner, to expand them into their own mission: Operation "Little Vittles."
Following news of the operation reaching the US, candy makers and children began donating their own sweets. By November 1948, Halvorsen couldn't keep up with the donations, prompting college student Mary C. Connors to take charge of what was now a nationwide project. Working with the National Confectioner's Association, she prepared the candy for delivery overseas.
Eventually, the pilots involved in "Little Vittles" were dropping candy over Berlin every other day. Their efforts were repaid with artwork and letters of appreciation. They became known as the Rosinenbomber, German for "Raisin Bombers." Halvorsen was given a host of nicknames, including "The Chocolate Flier," "Uncle Wiggly Wings," "The Gum Drop Kid" and "The Chocolate Uncle."
Halvorsen returned to the US in January 1949, passing on leadership of "Little Vittles" to Capt. Lawrence Caskey. It continued until May 13, 1949, a day after the conclusion of Operation Vittles. It's estimated Halvorsen and his team dropped over 23 tons of candy over Berlin during the nearly year-long operation.
Gail Halvorsen's further service in the US Air Force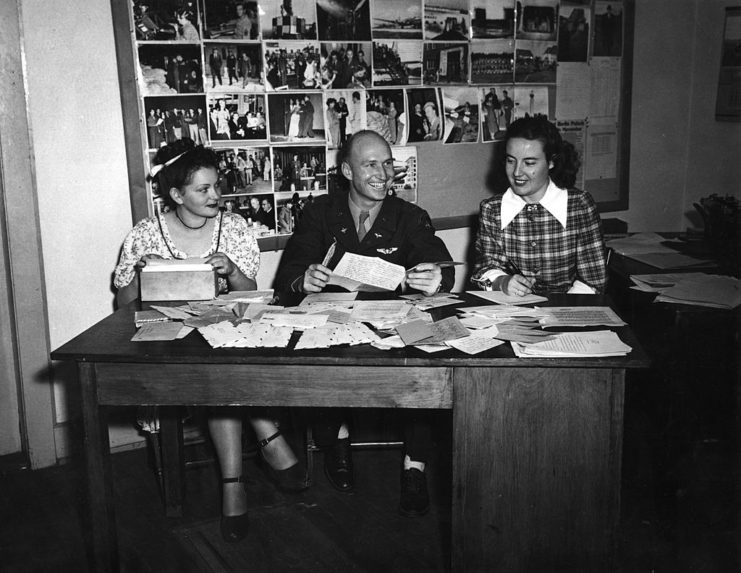 Upon returning to the US, Gail Halvorsen debated leaving the Air Force, but remained after being offered a permanent position with full pay and the promise of schooling.
Between 1951-52, he earned Bachelor's and Master's degrees in Aeronautical Engineering through an assignment from the Air Force Institute of Technology and became the project engineer for cargo aircraft research and development with the Wright Air Development Center at Wright-Patterson Air Force Base, Ohio and Hill Air Force Base, Utah.
In 1957, Halvorsen was assigned to the Air Command and Staff College at Maxwell Air Force Base, Alabama, and, in 1958, was transferred to the Air Force Space Systems division of Air Force Systems Command in Inglewood, California. During this time, he developed a number of space projects, most notably the Titan III launch vehicle.
Between 1962-65, Halvorsen served in West Germany with the Foreign Technology division, after which he was assigned to the Deputy Chief of Staff for Research and Development. After serving as commander of the 6596th Instrumentation Squadron of the Air Force Systems Command Satellite Control Facility at Vandenberg Air Force Base, California, he was given command of the 7350th Air Base Group at Tempelhof Airport. He also served as the service's European Representative in Berlin.
Halvorsen's final position before his retirement was as the Inspector General at Ogden Air Material Center, Hill AFB.
Post-military life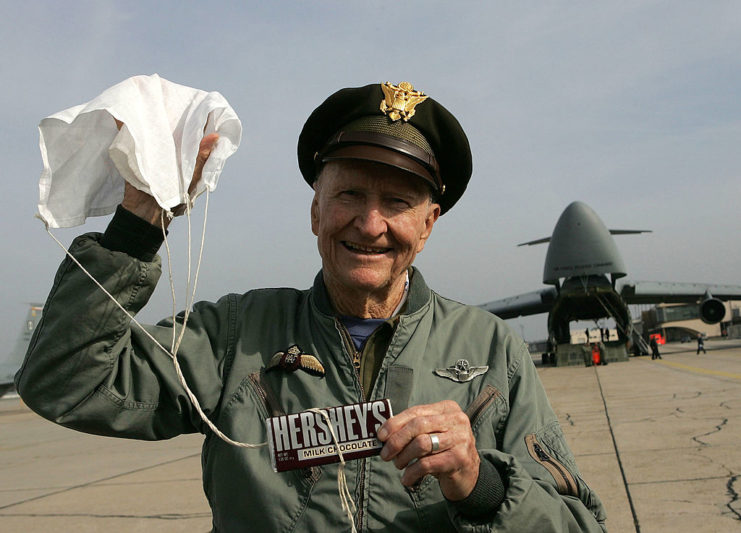 Upon his retirement from the Air Force, Gail Halvorsen had accumulated over 8,000 flying hours. Among the awards he received were the Legion of Merit, the Congressional Gold Medal and the German Order of Merit. He later wrote a memoir about his experiences in Berlin, titled The Berlin Candy Bomber.
Halverson and his wife moved to Provo, Utah, where he served as the Assistant Dean of Student Life at Brigham Young University from 1976-86. This was followed by two stints as a missionary for the Church of Jesus Christ of Latter-day Saints. After his first wife's death in January 1999, Halvorsen remarried.
He maintained ties with Germany, attending celebrations in recognition of the Berlin Airlift and conducting a commemorative candy drop. He also did one over Kosovo. In 1980, he began the Airlift of Understanding exchange program with one of the recipients of Operation "Little Vittles."
More from us: Viktor Belenko: The Soviet Pilot Whose Defection Gave the West Access to the MiG-25
Gail Halvorsen passed away on February 16, 2022, at the age of 101. According to the director of the Gail S. Halvorsen Aviation Education Foundation, he'd been fighting a brief illness prior to his death.