Fear and self-preservation are common human instincts likely found on any battlefield throughout history. Then, there are men like Charles Coolidge.
In 1944, this young man from the mountains of Tennessee was in the hills of France face to face with a numerically superior German force. Outnumbered and outgunned, Charles Coolidge inexplicably asked them to surrender. When they refused – as evidenced by a hailstorm of firepower that rained down upon Coolidge – a four-day battle ensued. With no officers around and as the senior enlisted man of his group, Coolidge took charge. He could be seen moving up and down the line with little regard for his own life.
On the fourth day, the Germans threw two tanks into the mix to dislodge the stubborn Americans. Coolidge charged forward with a bazooka to within 25 meters from the front of the metal beast. When his bazooka malfunctioned, he threw it to one side and calmly asked the tank to surrender. He then dodged 5 point-blank salvos intended to kill him specifically. The Americans eventually had to withdraw but not before Charles Coolidge emerged with the nation's highest military honor.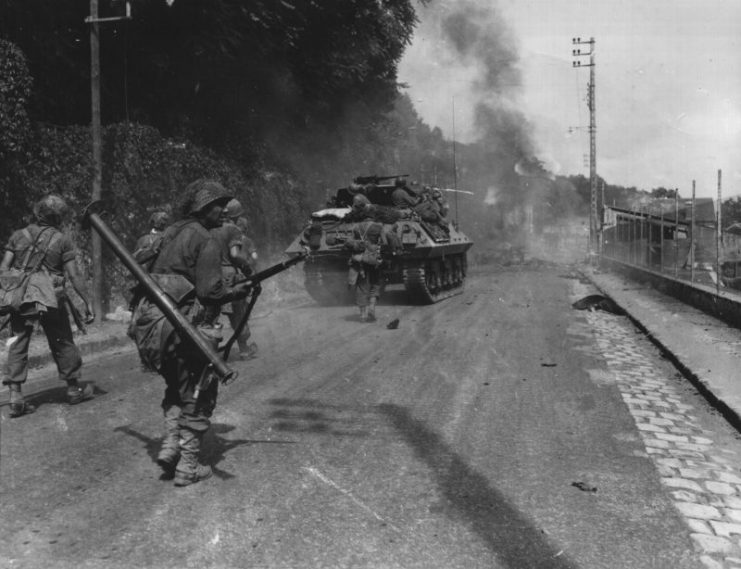 A Tennessee Mountain Man
Charles Coolidge was born in 1921 in Signal Mountain, Tennessee. He graduated from high school in Chattanooga just as the world was erupting into a global war in 1939. Shortly after the United States entered the war, Coolidge was drafted into the US Army in 1942. He joined M Company, 3rd Battalion, 141st Infantry Regiment. If Coolidge was going to make his 1944 rendezvous with military history in France, he was going to have to fight his way there.
Coolidge had his first taste of action in Algeria where he participated in the North African Campaign. He later recalled his first observation of the horrors of war as men with 40-pound machine guns hit the water only to drown before they could even get into the fight. He took part in the grinding campaign through the Italian peninsula where he witnessed first hand the grueling battle at Monte Cassino.
By October of 1944, Coolidge had made it to France where he was leading a group of 30 men armed primarily with machine guns, rifles, and grenades. It was there near the German border where he was tasked with taking his small force of men up a hill east of Belmont-sur-Buttant that he encountered a surprise. Coolidge and another soldier went ahead of the group to survey their position when they met what turned out to be a company-sized element of German infantry. What happened next turned out to be one of the more obscure and unique stories in the halls of military history.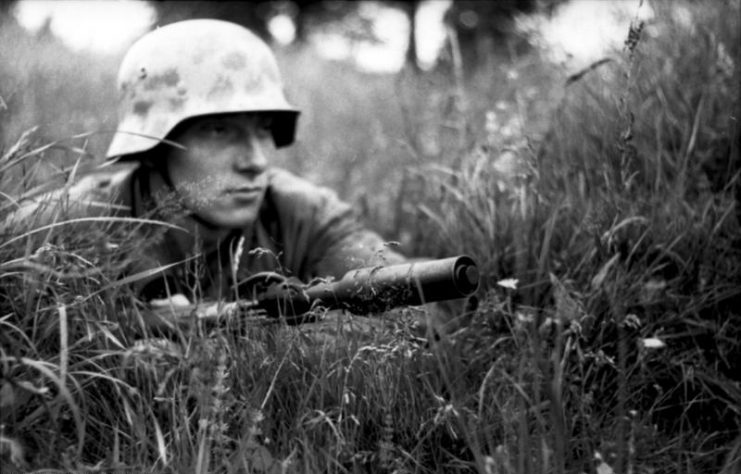 No, You Surrender!
Ahead of the rest of his men with just one other soldier beside him, Coolidge thought to himself what is the harm in asking. In an attempt to bluff the Germans he called out to them to surrender. Their response was a storm of bullets towards Coolidge and his companion. Taking that as a "no"  answer, Coolidge returned fire killing two enemy soldiers instantly before returning to the rest of his men. Knowing they had a serious fight on their hands, Coolidge leaped into action.
For the next two days, Coolidge rallied his men and directed their fire as they refused to give ground to the overwhelming enemy force. Coolidge could be seen moving up and down the line almost defying the Germans to kill him – an end to which the Germans continuously came up short. Most of the 30 men with Coolidge were replacement troops that had just arrived, and it was their first taste of combat. For those rookies, they were following a great example.
On the third day, the Germans decided they needed a little help to dislodge their stubborn enemy and brought two tanks into the action. Realizing the threat, Coolidge grabbed a bazooka and ran to within 25 yards of the tank. Aiming, Coolidge was faced with a serious dilemma when the weapon would not fire. The tank commander called out to Coolidge to surrender.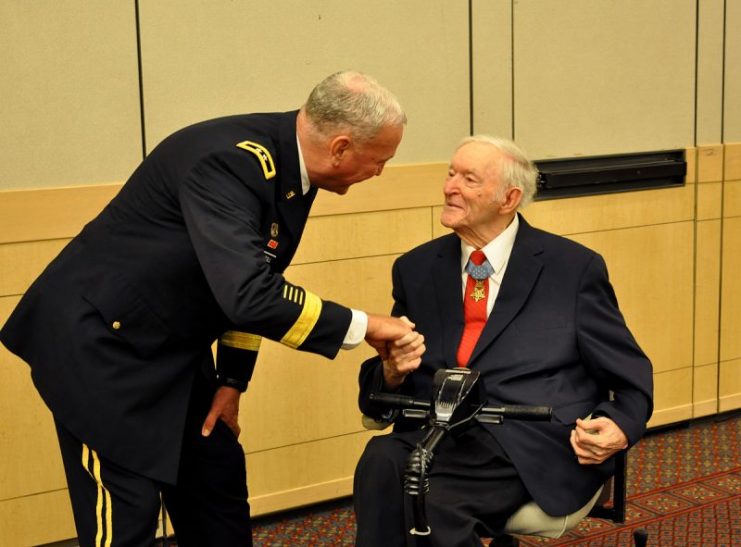 Dodge the Tank
Refusing to do so, Coolidge went into evasive action. Leaping and sliding for cover as the tank fired not one, or two or three 85mm rounds in his direction, but five. Each one was a near miss.
Undeterred, he grabbed every grenade he could and launched them into the advancing German infantry with devastating effect. With the tanks advancing, it was clear the Americans were outgunned and could not hold the position. Rather than surrender, Coolidge organized an effective withdrawal saving countless American lives.
For his actions, Charles Coolidge was awarded the Medal of Honor and the eternal respect of all who witnessed him fight. Remarkably, it seems that father time is as reluctant to take him as the Germans.
Charles Coolidge is still alive at the age of 96. Back home in the mountains of Tennessee, the City of Chattanooga declared August 8, 1945, Charles Coolidge day to honor the hometown boy who made the entire region of East Tennessee proud.