He was a WWII hero adored by millions. So much so that his death was front-page news – especially as he did not die in the war.
Richard Ira "Dick" Bong was born one of nine children to Swedish immigrants on September 24, 1920, on a farm in Poplar, Wisconsin. He was interested in aircraft from an early age and enjoyed making model planes. Growing up he had an unfortunate nickname – "Dick Bing Bong," or "Bing Bong" for short.
In 1938 he attended the State Teachers College and while there joined the Civilian Pilot Training Program and also had private flying lessons. He gained his pilot's license on his 20th birthday.
In June 1941, he joined the US Army Air Forces Aviation Cadet Program where he impressed everyone. Then Pearl Harbor happened. In 1942 he was made a Second Lieutenant and given his pilot's wings.
He was assigned as a gunnery instructor until May 1942 and then became operational with the 49th Fighter Squadron at Hamilton Field, California. Bong flew a Lockheed P-38 Lightning, and he and other ace pilots flew loops around San Francisco's Golden Gate Bridge, buzzed farmers, and waved at office workers while zooming down Market Street.
Bong was grounded by Major General George Churchill Kenney (Commander of the 4th Air Force). Privately, Kenney was impressed. He knew they needed pilots like him.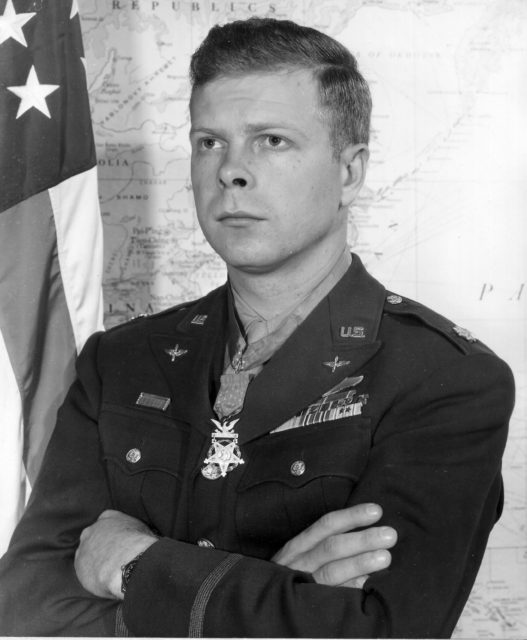 In September 1942 Bong was assigned to the 49th Squadron in Darwin, Australia. Then, while flying on loan to the 35th Fighter Group for combat experience, he made his first kill on December 27 during the Battle of Buna-Gona in Papua New Guinea. Twelve P-38s led by Captain Thomas J. Lynch had joined them. Bong shot down a Mitsubishi A6M2 Zero that was on Lynch's tail, but he was attacked by three more. Everyone was amazed as he dived to about "two inches above the shortest tree in Buna," before pulling up and turning another Zero into a fireball.
On January 6, 1943, the 49th were on their way to bomb a Japanese naval convoy but met the 11th Sentai (Japanese Army Air Regiment). The 49th destroyed six planes, one by Bong, then flew back to their base to refuel. On their second sortie, Bong damaged one and destroyed another. Two days later, Bong became the Fifth Air Force's first Lightning Ace with his fifth kill over Markham Bay.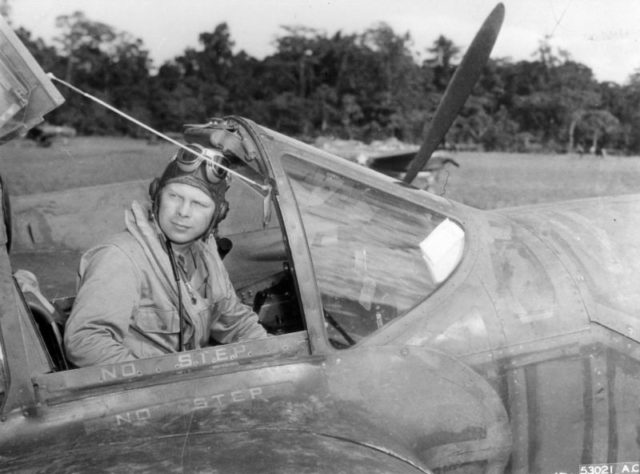 By February, Bong was with the 9th Squadron which was equipped with new Lockheed P-38s. On March 3, Bong destroyed another Japanese aircraft, but there was no time for celebration as the Battle of the Bismarck Sea was in full swing.
Although Japan lost that skirmish, it attacked again on March 11 bombing the 9th Squadron's airfield in Horanda. Bong was in the air when it happened where he damaged one enemy aircraft and destroyed another two. He downed another plane on March 29 during a routine patrol. With his ninth kill, he was made First Lieutenant.
Another hit on June 12 when he shot down a plane of the 1st Sentai over the Allied airfield at Bena Bena. Then on July 26 during a routine patrol in the Markham Valley, he shot down four planes. Two days later, he downed yet another. By August 23, Bong was a Captain with the highest score in the Pacific – 16 kills.
Two more "probables" followed in September, as well as a confirmed killing on October 2 – making him a Commander. Twenty-seven days later, he made another two kills over Rabaul, followed by another two over Rabaul Harbor on November 1. That earned his leave back to the US where he was feted in parades to advertise war bonds.
Bong returned to the South Pacific to fly the new Lockheed P-38J. He named his Marge after Marjorie – the woman he fell in love with during his furlough. Marge's first kill was on February 15, 1944. The next happened weeks later but was not counted as it was a transport plane taxiing on a runway carrying high-ranking Japanese officers.
A Mitsubishi Ki.21 "Sally" bomber did count on March 3, followed by a Nakajima Ki.43 "Oscar" on April 3 – taking his confirmed kills to 25. Nine days later, two more kills over Hollandia made him the highest scoring American ace since WWI. He was made a Major. Following a period of leave, he returned to the Pacific to join Fighter Command.
In his new role, he was not required to fly combat missions, but he continued to do so. On October 10, he was part of the aerial raid on the Japanese oil refineries in Borneo and shot down three more planes – bringing his total to 30.
Next, he joined the invasion of the Philippines. His 31st kill took place over Biliran Island on October 21. The next day, two more followed off Leyte and Masbate. Number 34 was downed over Ormoc on November 1, followed by two more ten days later.
Bong celebrated the third anniversary of Pearl Harbor by downing another two – earning himself a Medal of Honor. Number 39 happened on December 15 over Panubolon Island, while the 40th occurred two days later over Mindoro. Included in his record are seven probables and eleven damaged – all achieved in 500 hours of flight time.
In January 1945 he was sent back to the US where he married Marge in February and began work as a test pilot for Lockheed, California.
On August 6, 1945, a nuclear bomb was dropped on Hiroshima. The same day Bong died testing a new jet. By then, he had earned a new nickname – the "Ace of Aces."