The Danish military has revealed that one of its frigates engaged in a firefight with pirates in the Gulf of Guinea, resulting in the death of four and another pirate suffering undisclosed injuries.
According to a statement released by the Danish military, the HDMS Esbern Snare (F342) was sailing around the Gulf of Guinea, south of Nigeria, when it spotted a fast-moving motorboat near a cluster of commercial ships. After deploying its Royal Danish Air Force MH-60R helicopter to get a closer look, it was determined the vessel was carrying eight individuals and had aboard it equipment associated with piracy, including ladders.
The Esbern Snare eventually got close enough to the motorboat to launch rigid-hulled inflatable boats (RHIBs) with Danish special forces personnel. They called for the boat to halt and permit boarding, and when their call went unanswered fired warning shots.
The pirates subsequently opened fire on the Danish, who in turn shot back, killing four of the assailants and wounding another. None of the special forces personnel were injured. As the motorboat sank, the four pirates still alive were taken aboard, along with the bodies of those who had been killed. The one who'd suffered injury was treated aboard the Esbern Snare.
Denmark's inter-ministerial working group will determine what happens next regarding the pirates.
Speaking about the incident at a news conference, Danish Prime Minister Mette Frederiksen said the special forces personnel's actions "probably prevented concrete pirate attacks against vessels in the region" and that the Esbern Snare "made an important and significant contribution to security in the Gulf of Guinea."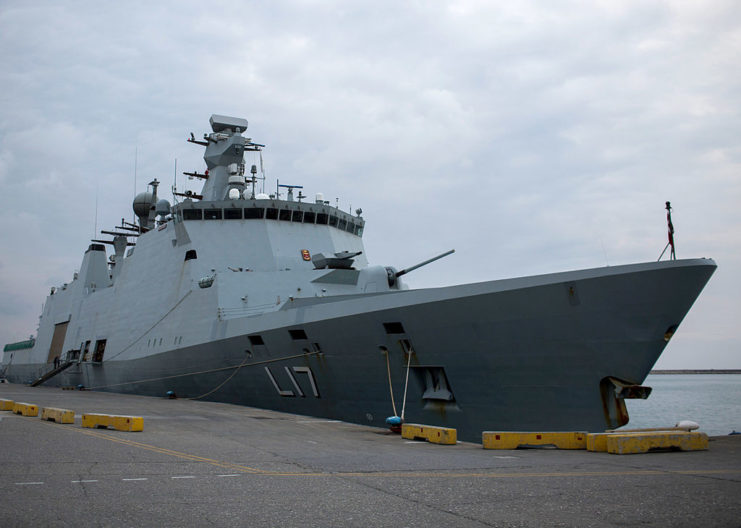 The HDMS Esbern Snare was deployed to the Gulf of Guinea as part of an operation to protect shipping activity in the area, as fears have recently heightened over the security risks pirates pose. Just under a month ago, the Russian Navy rescued a container feeder after pirates went aboard the vessel. Just a day after that incident, reports surfaced about yet another ship being attacked by the same group.
The Spanish, American, Italian, Portuguese and British navies have also sent assistance, training forces and ships to the area to tackle piracy, following a record 130 sailors being taken from boats in the region in 2020.