We are drifting into the world of the tinsel strewn 'C' word. In deluding ourselves that we provide a modicum of a public service, the harsh reality that the man in the red suit is imminent allows the WHO Reviews team to go into our version of seasonal overdrive.
Some of us in England remember a time before the imported vista of trick or treating took hold when we had our own autumnal tradition of Guy Fawkes night – an occasion to be treasured before health and safety laws and ET combined to stuff it up.
Let's face it, burning effigies of a religious fundamentalist zealot who was brutally tortured before being hung drawn and quartered is all healthy stuff. But; there will always be books, which is why we are here, after all.
Having enjoyed my random digression to 1605 let us fast forward to the 20th Century and the German bombing campaign against the Allies during World War I.
This is a campaign of some interest to me. I have visited several handy landmarks to visit where either bombs fell or airships crashed.
I've even been in a couple of cemeteries where Zeppelin crews were buried before they were gathered up after WW2 and moved to a large site for German burials at Cannock Chase in the county of Staffordshire.
There is something intriguing about the bombing campaign because it happened at a point when strides in technology highlighted a frustrating gap in reality.
A modern air power could bomb the home of the world's greatest maritime power at will because there were not the means to do anything to stop the airships. It was a signpost of things to come.
Whereas many books look at the bombing campaign from a British perspective, this excellent book by David Marks considers the German viewpoint by looking at a range of propaganda images and postcards produced to trumpet the glory of German achievements.
The book offers a mix of cartoonish art and some genuinely impressive stuff. Above all the author underlines the truth that there are two sides to every story. I really like war art and this book provides a neat slice of it after a bit of a famine of late.
More importantly we get to learn some of the context and the dimension this adds makes this a substantial piece of work.
There are a few pieces of art in this book I'd happily hang on my wall, while the overall impact encourages me to retain my interest in the Zeppelins and other airships bombing Britain.
It is vital to remember the Germans didn't just attack Britain with their airship fleet. Belgium and France suffered, too, and the Zeppelins ranged out across Eastern targets, as well.
Mr Marks' book is filled with a lot of interesting information and the artwork is often appealing and always fascinating. Highly recommended.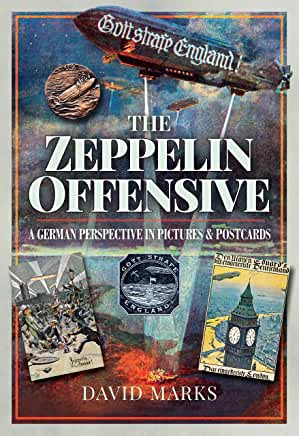 THE ZEPPELIN OFFENSIVE
A German Perspective in Pictures & Postcards
By David Marks
Air World
ISBN: 978 1 52673 719 9
Jump back to a century to the climax of the Napoleonic Wars and the much explored, debated and mythologized Battle of Waterloo.
I spent a few hot summer days on the battlefield last year on what was my first visit to a place I had "known" since I was a kid. Let me tell you, it is a fantastic battlefield.
My mates and I built a tour based on a CD my friend John found in a charity shop. We cruised around in a Fiat pick-up truck stopping here and there and doing all the usual stuff – climbing the Lion mound, walking in awe at Hougoumont and trudging around the disappointment of La Belle Alliance. I'd go again tomorrow.
It's a shame we didn't have this fantastic book by Charles J Esdaile who appears to be one of the luminaries of Waterloo history.
This is one of the finest battlefield guides I have had the pleasure to read. Authoritative and entertaining, it is crammed with information while giving off that pleasingly haughty air that Waterloo historians have in spades.
While we did the trip on four wheels, we quickly realised that walking the fields and tracks on a cooler day would be much more fulfilling.
This book proves us right, but there is nothing in here about getting drunk on gin and absinth in Brussels – so perhaps we need to add a chapter on that ourselves? I digress… Really, guys; if you're contemplating a visit to the battlefield, you have to get yourself this book. Enough said.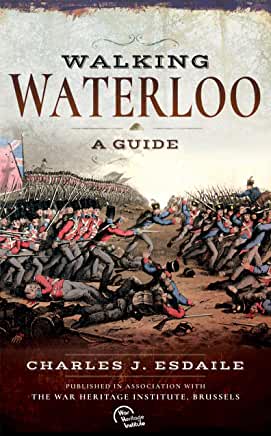 WALKING WATERLOO
A Guide
By Charles J Esdaile
Pen & Sword ISBN: 978 1 52674 078 6
A mate of mine who operates ridiculously high cherry-pickers was doing a job in the wee small hours not far from the Bomber Command memorial in London.
He popped along to take some snaps and his views of the memorial taken in the dark contrast immensely with the usual fine images made in good light. There is something real about Paul's photos, showing the seven-man statue in a light that seems utterly authentic.
Someone who always comes to mind when I see the memorial is Wing Commander Guy Gibson, that icon of Bomber Command who enjoys immortality long after his fiery death in September 1944.
I feel utterly daft sitting at my kitchen table reviewing the famed autobiography of the man. Enemy Coast Ahead is a classic. End of. Nuff said… etc etc.
There are a number of great first-hand accounts of the bombing offensive against the Third Reich and I admit to having read some of them. I got my first copy of Gibson's memoir when I was about seventeen.
That same book currently resides in a storage facility a mile or so from where I sit pending the completion of the new WHO Reviews team bunker. So, I was really pleased to see a new illustrated version of the book available in paperback form.
An interesting thing about this book is its backstory. Gibson's original draft is somewhat different to the version we have here.
Although the fact he did write it is widely accepted, the author received help from no less a figure than Roald Dahl and other hands contributed to the finished article. Wartime strictures and his own sense of self-possession encouraged Gibson to change a few facts and names to colour his story.
But this is the real deal. He appears to have been an accomplished writer in his own way and his book has the knack of taking the reader back to the moment he wrote it as if they are actually with him. Better books there may be, but this one is as authentic as they come.
A recent gem about the Dams Raid by Sir Max Hastings has shone a light on Gibson once more. He is a complicated figure, impossibly brave and not particularly likeable, who achieved so much before his inevitable death aged just twenty-six.
Much reproduced memes on social media used to love reminding us of that story where Gibson attended a party for a group of American airmen who had completed twenty-five missions. Asked how many he had done he revealed an astonishing one-hundred and seventy-three.
The fulcrum of this book is the Dams Raid, itself; one of those stunning events no one can possibly tire of. Max Hastings reminds us that for all the boys own stuff, thousands of people died horrible deaths in the tsunamis that followed. Apres moi le deluge.
Gibson is a talisman for Bomber Command and his story remains as important as ever. His memoir is essential reading.
While this book is correctly billed as an illustrated memoir it is fair to remind yourself there is no apparent holy grail of 'unseen' images of Gibson.
The many well-known images shared here offer a strong collection relating to his life and career, with portraits of some of the men closely associated with him. All-in-all the package lives up to its billing.
Guy Gibson was a lion-hearted but diminutive man who delighted and repelled in equal measure. He was a leader of men who had to become old before his time and it served to take a toll on him.
How so much better it might have been had he survived the war to see old age. We've seen from other fire-eating can do types that the peace that followed offered a different range of challenges they couldn't all cope with.
His plans for a political career were short lived and it is difficult to see what he would have done for fulfilment in a post war Britain.
He was the product of a Royal Air Force brimming with class-conscious types where officers were firmly in a different caste to the other ranks.
Despite the fact I might well have found him difficult to like, he remains a hero of mine.
I happen to think he was quite extraordinary from within the utterly extraordinary mass of men who flew in Bomber Command. Even if he was a bit of a pain in the arse, he was the real deal. Celebrate him and his excellent book.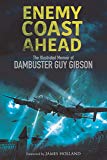 ENEMY COAST AHEAD
The Illustrated Memoir of Dambuster Guy Gibson
Greenhill Books
ISBN: 978 1 78438 490 6
Reviewed by Mark Barnes for War History Online