When you think of Bob Ross, what comes to mind? "Happy little trees," his iconic afro and his soft, gentle voice. It's a stark contrast to his days in the United States military.
For 20 years, he was a member of the Air Force, serving as Bob Ross, drill sergeant, in the snowy mountains of Alaska. He was forced to be a tough guy, which greatly influenced how he approached the later years of his life.
A young, gentle soul
Bob Ross was born on October 29, 1942, in Daytona Beach, Florida. The son of a carpenter and a waitress, he was known for his gentle nature. He spent his time raising injured animals back to health, including an epileptic squirrel and a baby alligator he raised in the family bathtub.
Ross dropped out of school in ninth grade and began working as a carpenter alongside his father. The career is known for its dangers, which the young Ross experienced first hand after a workplace incident resulted in the loss of part of his left index finger. Thankfully, this injury didn't affect his ability to hold a painter's pallet later in life.
Bob Ross, drill sergeant? Enlistment in the US Air Force
When he was just 18 years old, Bob Ross enlisted in the US Air Force. He couldn't train to be a pilot, given his flat feet and height (he stood at six feet, two inches tall), and was assigned work as a medical records technician.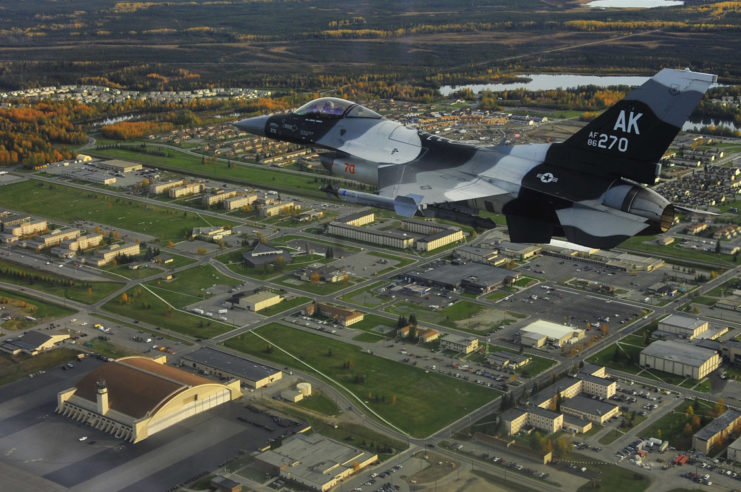 While initially stationed in Florida, in 1963 Ross was sent to Eielson Air Force Base, Alaska, approximately 25 miles from Fairbanks. He was named the first sergeant of the base's clinic. It was here he first saw the snowy mountains that later became recurring themes in his paintings.
Becoming an artist while serving his country
Bob Ross served 20 years in the Air Force and developed his love for painting after attending art classes at the USO club in Anchorage. This was the first time he'd studied art. While he enjoyed the process, he often found himself at odds with his instructors, whom he felt were more interested in talking about painting than teaching it.
"They'd tell you what makes a tree, but they wouldn't tell you how to paint a tree," he once said.
To earn some extra money, Ross took a part-time job as a bartender. It was around this time he discovered The Magic of Oil Painting, a PBS show hosted by German painter Bill Alexander. The famed artist used the 16th-century alla prima painting style – better known as "wet-on-wet" – which allowed him to complete a painting within 30 minutes.
Ross studied and mastered Alexander's technique during his lunch breaks and after his daily duties. To destress, he painted scenes of the world he wanted to live in. "I'd come home after all day of playing soldier and I'd paint a picture, and I could paint the kind of world that I wanted," he once recalled. "It was clean, it was sparkling, shiny, beautiful, no pollution, nobody upset – everybody was happy in this world."
Ross began selling his paintings, initially done on gold mining pans, to tourists who visited the bar. This income eventually earned him more than what he was making from his military salary. He retired in 1981, having reached the rank of master sergeant.
Being a drill sergeant influenced how Bob Ross conducted himself
Throughout his career in the Air Force, Bob Ross was forced to act tough. Speaking with the Orlando Sentinel in 1990, he shared how he disliked raising his voice and had decided that, once he left the military, he would never do so again.
"I was the guy who makes you scrub the latrine, the guy who makes you make your bed, the guy who screams at you for being late to work," he said. "The job requires you to be a mean, tough person. And I was fed up with it. I promised myself that if I ever got away from it, it wasn't going to be that way anymore."
Just because he didn't raise his voice doesn't mean Ross didn't command respect from those he employed. He'd learned discipline while in the military and is said to have run a tight ship. He certainly didn't like it when someone slacked off.
From master sergeant to "happy little trees"
After leaving the Air Force, Bob Ross, drill sergeant, became Bob Ross, Bill Alexander's apprentice. Ross worked as a traveling instructor for his company, Alexander's Magic Art Company. When Alexander retired, he named Ross as his successor.
Ross was soon approached by one of his former students, Annette Kowalski, about launching his own company, and within a year the pair, joined by their spouses, began Bob Ross Inc. They lost $20,000 within the first 12 months, as Ross had difficulty shopping around videotapes of his painting tutorials.
In 1982, a public television station in Falls Church, Virginia decided the concept was worth filming a pilot for, and before long 60 PBS stations had agreed to pick it up. However, the deal fell through. A year later, PBS affiliate WIPD in Muncie, Indiana took a chance on Ross and The Joy of Painting was born. He dedicated the first episode to his mentor, Bill Alexander.
The Joy of Painting ran for 11 years, and despite its success, Ross never earned a dime from the actual TV show. He filmed every episode for free, cranking out 13-episode seasons in just two days. He earned his fortune through his company, which sold art supplies, how-to videos, and which employed had a troupe of traveling artists who taught painting classes.
In 1995, Ross, a life-long smoker, died from lymphoma. Prior to his death, he had created tens of thousands of paintings, including duplicates of those featured on The Joy of Painting. He never sold any of them, opting instead to donate them to charity or keep them with PBS.