The video you will find below was shot using a drone. It shows the very last trip of the US Navy's supercarrier USS Ranger.
This video is considered unique because the drone used for this footage was the last flying vehicle to ever leave the ship's flight deck.
Scroll down for footage
The fate of the aircraft carrier was decided following years of failed attempts to turn her into a floating museum. Thus, on March 5th, 2015, the ship was towed out of Bremerton, Washington, to make her last voyage across 16,000 miles from the west coast down around the tip of South America. She made her very last stop at the port of Brownsville, Texas, where she was dismantled.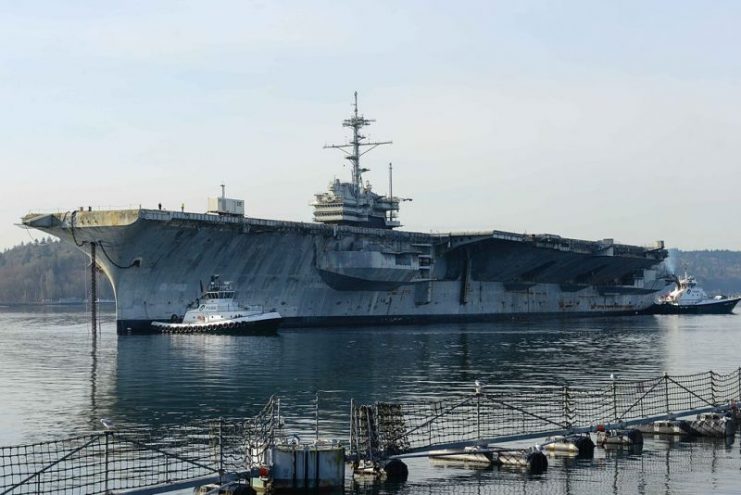 Here's a little history of the ship.
USS Ranger (CV-61) was the third of four Forrestal-class aircraft carriers designed and built in the 1950s for the US Navy. The Forrestal-class carriers were the first supercarriers, weighing 60,000 tons on average and stretching over a length of 1,070 feet.

All four ships within this class were completed with angled flight decks. However, Ranger was the first US carrier to ever be built from scratch as an angled-deck ship. She was commissioned into service on August 10, 1957.
Ranger, just like her sister supercarriers, could attain a speed of 34 knots. Her propulsion was generated by four geared turbines, four shafts, and eight Babcock & Wilson boilers.
Her armament originally comprised eight 5″/54 caliber Mark 42 guns until she was refitted with RIM-7 Sea Sparrow anti-aircraft and anti-missile weapons systems as well as Phalanx Close-In Weapons System (CIWS) Mark 15 guns.
Ranger spent her entire career in the Pacific, proving her mettle in combat with 13 battle stars which she earned during the Vietnam War.
Having been commissioned a little over a decade after the Second World War, previous to her Vietnam service Ranger participated in several exercises and operations in the Pacific which included monitoring French nuclear tests on Moruroa Atoll.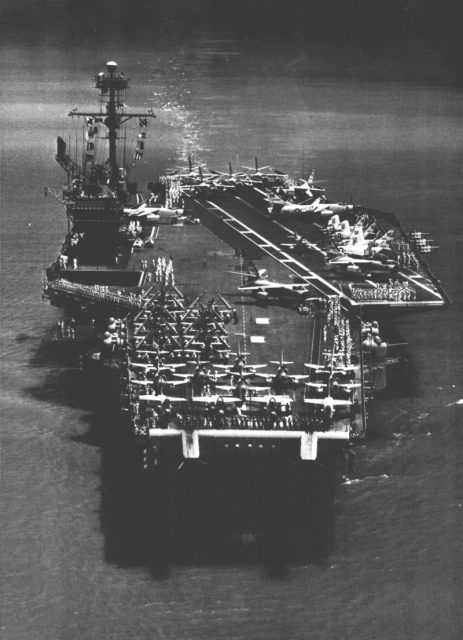 By 1964, the Vietnam War was already in full swing, but the United States would not be fully drawn into the conflict until after the Gulf of Tonkin incident.
This led to the deployment of Ranger to the Far East. Leaving for her duty on August 6th, 1964, she operated within the US Navy's Seventh Fleet in monitoring sea lanes and countering any Communist infiltration by sea.
In the months that saw her in action, Ranger launched planes which scored successful hits on a wide variety of targets including bridges, airfields, military installations, ferries, rail facilities, and others.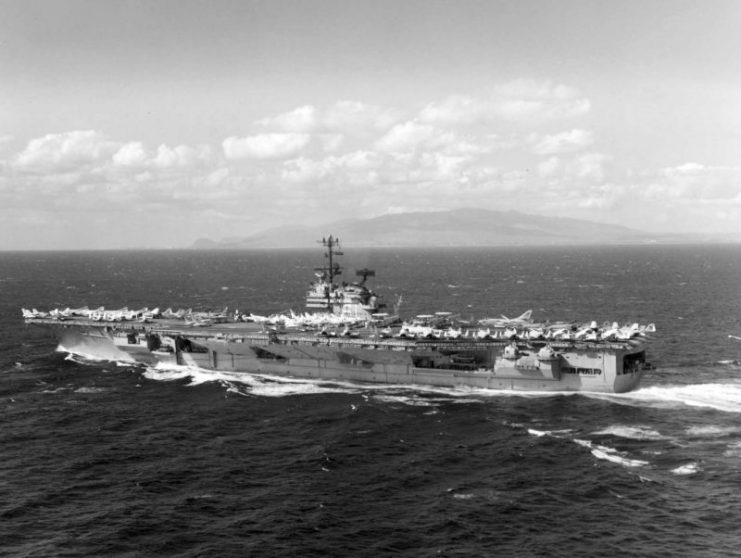 All combat sorties were canceled when the Vietnam cease-fire went into effect on January 27th, 1973. In August 1973 Ranger returned to her homeport at Naval Air Station Alameda in California, where she was promptly readied for repair and refit.
A collision involving Ranger and the Liberian-flagged tanker MV Fortune in February 1979 resulted in the spill of 10,000 tons of crude oil in the South China Sea.
In 1987, Ranger participated in Operation Nimble Archer, in which the US Navy attacked two Iranian oil platforms in the Persian Gulf in response to Iran's missile attack on a US-protected Kuwaiti oil tanker during the Iran-Iraq War.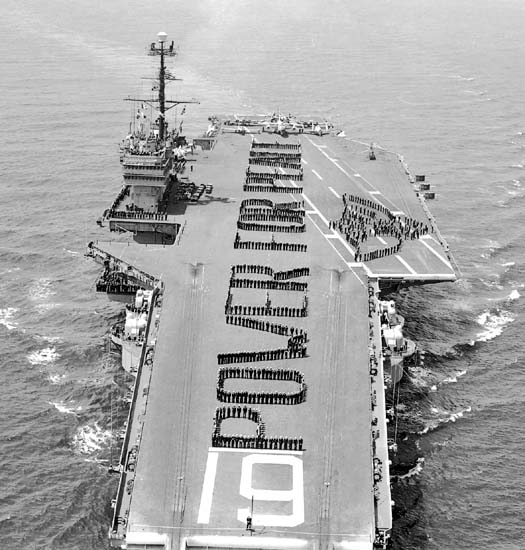 On January 16, 1991, Operation Desert Storm was launched in response to Iraq's invasion and occupation of Kuwait. During this campaign Ranger, alongside Midway, launched 228 sorties in the Persian Gulf.
On August 1st, 1992 Ranger was sent on her 21st, and final, western Pacific and Indian Ocean deployment.
On December 4th, 1992, with situations rapidly deteriorating in Somalia, Ranger departed the Persian Gulf at high speed toward Somalia. There, Ranger was instrumental in Operation Restore Hope, which sought to provide relief for starving Somalis.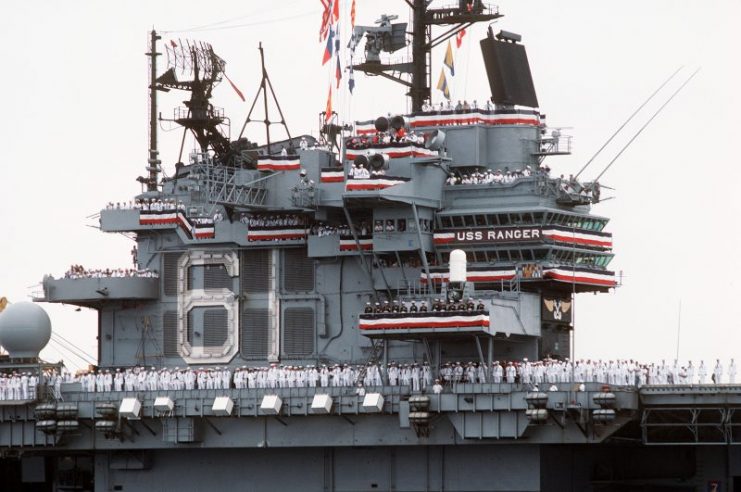 Throughout the operation, Ranger sent a total of 63 digital photographs to the Navy Office of Information. This was the first time digital photographs were ever sent successfully from a US Navy ship at sea.
Ranger was eventually decommissioned on July 10th, 1993, having served 36 years.
Prior to her decommissioning, Ranger is known to have featured in popular Hollywood films such as Top Gun and Star Trek IV: The Voyage Home (standing in for Enterprise). She also made appearances in television series such as The Six Million Dollar Man and Baa Baa Black Sheep.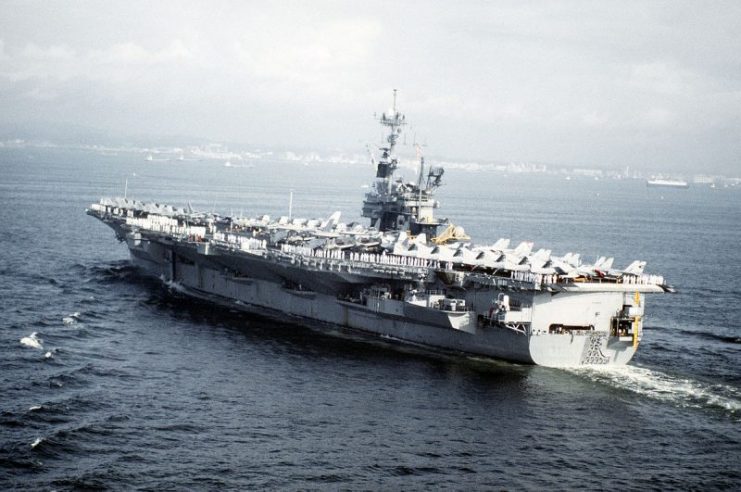 While she rested in the Naval Inactive Ship Maintenance Facility at Bremerton, Washington, a non-profit organization called the USS Ranger Foundation submitted a request for the conversion of the ship into a museum ship. But in 2012 the request was turned down by Naval Sea Systems Command.
Ranger was then scheduled for scrapping in 2014. New attempts to save her came in August 2014 through an online campaign on change.org. Over 2,500 signatures were generated for the cause to preserve Ranger as a museum in Long Beach, California. This attempt, however, was also futile.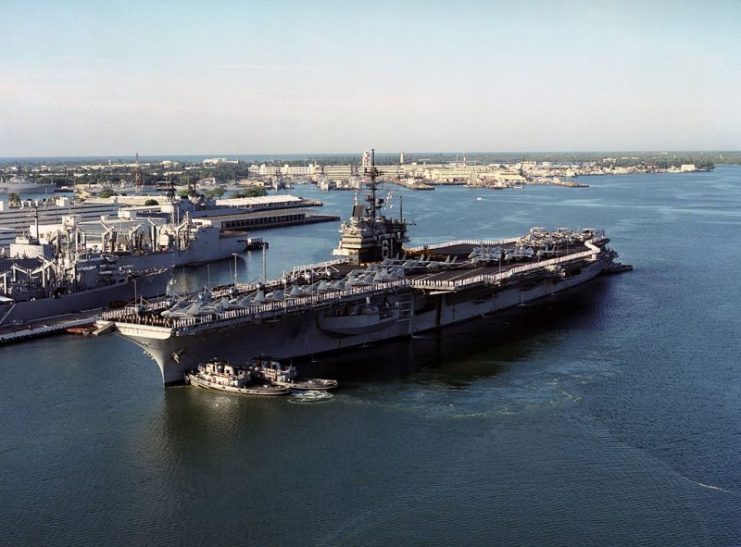 Read another story from us: Repairs at Sea: Floating Dry-Docks of World War II
After all arrangements were made with the scrapyard in Texas, the last voyage of the supercarrier began. The towing commenced on March 5th, 2015, and ended on July 12th with her arrival at Brownsville. The scrapping process ended on November 1st, 2017.
How much did the Navy pay International Shipbreaking of Brownsville to tow and scrap the 56,000-ton supercarrier?
One cent!