Written to his wife Mamie during World War II, this handwritten letter from the Supreme Commander of Allied Forces in Europe mentions that he feels it unauthentic to not write his own personal correspondence. He also denies that women are flying over there, stating "I don't know who they are! Mrs. Roosevelt (TR Jr) came as a Red Cross official- that's all I've heard about."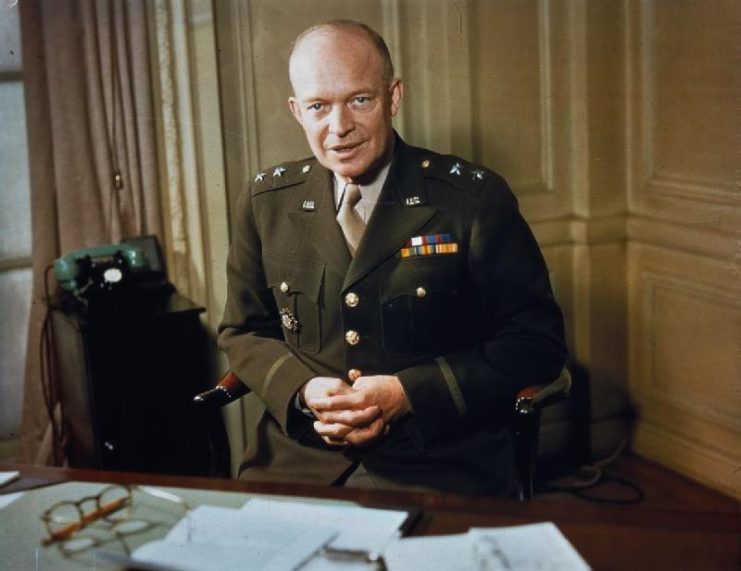 Autograph letter signed: " Your devoted/Ike" in black ink. 2p, 6×8. Written on United States Army Headquarters in The British Isles letterhead.
In full: " Darling, Just this minute your letter, with John's enclosed, arrived at my desk. I'll fire it right back into the hopper in the hope it will catch a plane I know is due to leave this evening. Sorry if you gave Bedell anything to do for me that he may have thought an imposition. I'm informed that he is at last on the way, we'll see him tomorrow, probably. You've been grand about writing. But don't think that I have any 'ghosts' for personal letters — Les answers invitations 9 out of 10 'no' — & Butch takes care of a lot of stuff.
But no one can really tell how another writes his friends, so whatever correspondence I attempt of that kind, I have to do myself. But it's not much. Your mention of women flying over here is news to me. I don't know who they are! Mrs. Roosevelt (TR Jr) came as a Red Cross official – that's all I've heard about. I talked to Tom Handy on the phone yesterday. Said he'd call you! I'm pretty tired, but on the whole, very well indeed! Lots of love – as ever".  Ike.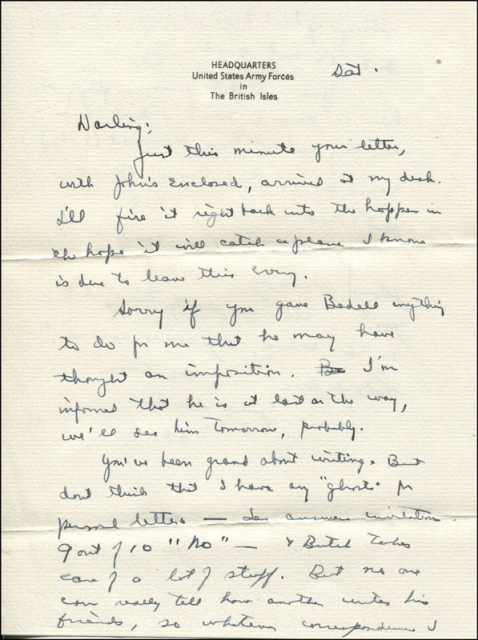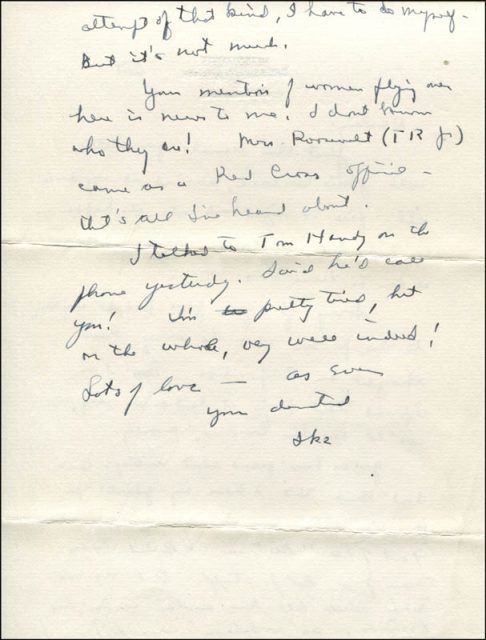 Eisenhower defeated Illinois Governor Adlai E. Stevenson in a landslide in the 1952 election and again in 1956, serving as the 34th U.S. President from 1953 to 1961.
Twenty-nine years after his West Point graduation (1915), Dwight D. Eisenhower (1890-1969) received his fifth star and the rank of General of the Army (December 20, 1944). Only the year before, he had been appointed Supreme Commander of the Allied Expeditionary Forces(January 1944) and placed in command of the Normandy invasion, "Operation Overlord".
An experienced leader, "Ike" had commanded the U.S. Army in Europe from June 1942 to December 1943, during which time he had directed the invasions of North Africa (November 1942) and Sicily (July-August 1943).
On May 7, 1945, Eisenhower accepted the unconditional surrender of Germany at Rheims. During his two terms as 34th U.S. President (1953-1961).
Eisenhower presented his famous "Atoms for Peace" plan to the United Nations (December 1953), issued the Eisenhower Doctrine, which provided aid to Middle-Eastern countries threatened by Communist aggression (January 1957), and dispatched troops to Little Rock, Arkansas to enforce students' civil rights (September 1957).
You can see more here 
Eisenhower's rank of Five-Star General of the Army was restored in 1961, two months after his presidential term ended. Lightly toned. Normal mailing folds. Otherwise, fine condition.