The North American Aerospace Defense Command (NORAD) is an organization run by the governments of Canada and the United States. Its function is to constantly monitor all activities within and around Northern America's airspace, as well as provide effective reactions to any cases that may arise.
Within the control of room of its headquarters, a simple banner hangs above the computers with an inscription: We Have the Watch.
NORAD started out as the North American Air Defense Command. Following a recommendation from the Joint Canadian-American Military Group in 1956 and subsequent approval by the Joint Chiefs of Staff in early 1957, NORAD was declared on the 1st of August 1957. It was formally established on the 12th day of May 1958.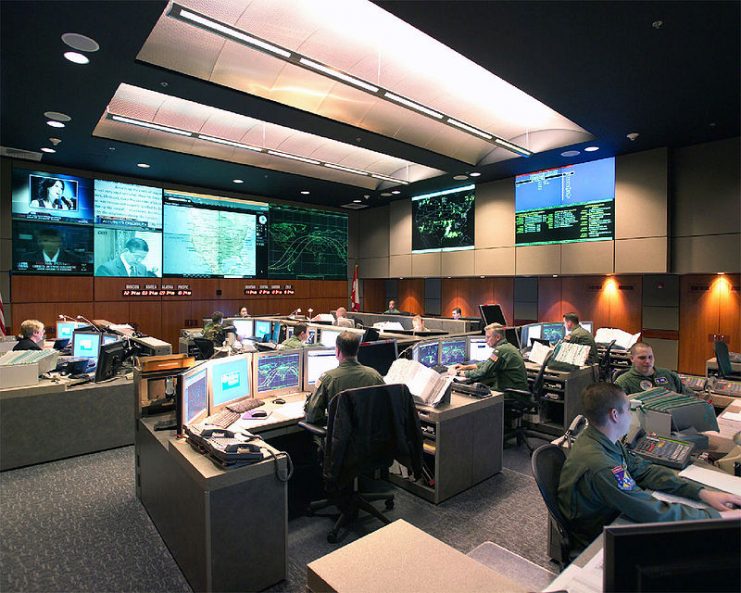 NORAD arose when the Cold War was well underway and the world was facing of the growing possibility of Soviet long-range bombings. The establishment of NORAD sought to serve three main purposes revealed through its motto of 3 Ds: "Deter, Detect, and Defend."
Deterrence was achieved by the public news of NORAD's existence and purpose. Enemy nations, especially the Soviets, would know that any object they might project across the North American skies would inevitably be detected. They could be sure that retaliatory measures would be enforced immediately and so it was hoped they would not readily consider any airstrikes or missile launches.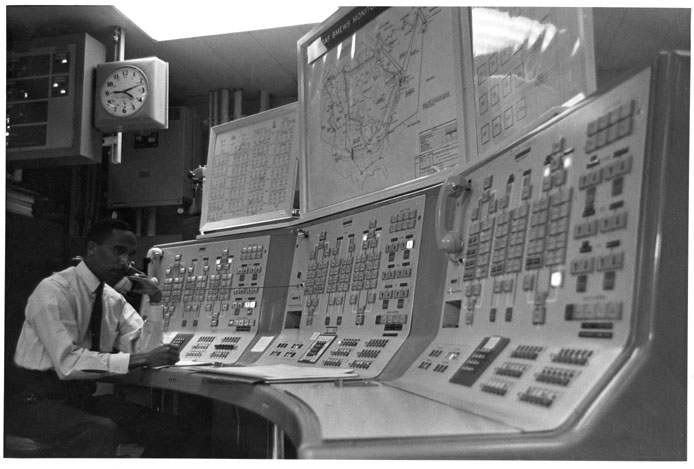 Detection is achieved with the use of several radar systems mounted across the U.S. and Canada. These systems would act as a "radar fence" which would promptly alert the facility when any aerial activity approached or hit North America's Airspace.
Defense is handled by the Strategic Air Command (SAC) comprising special air force squadrons which would meet and engage trespassing enemy aircraft. In situations where a missile gets launched into North America, a retaliatory strike on the enemy's territory will be carried out using intercontinental ballistic missiles. This would ensure mutual destruction.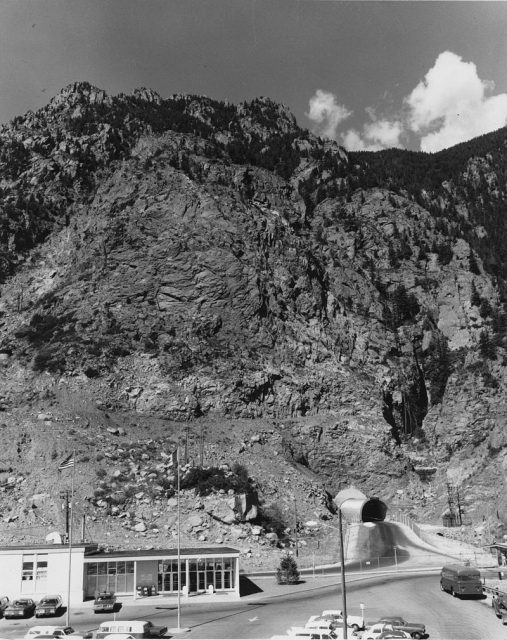 NORAD's headquarters are located in Colorado, at the Peterson Air Force Base, not far from the Cheyenne Mountain Complex which houses the Alternate Command Center. The Cheyenne Mountain Complex was accepted as NORAD's Combat Operations Center on 8th February 1966.
NORAD's administration effectively divides Northern America into three NORAD regions namely: The Canada NORAD Region, Alaska NORAD Region, and the Continental U.S. Region.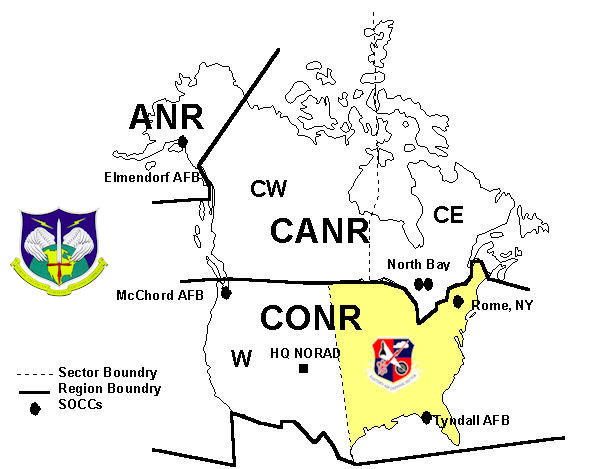 The Canada NORAD Region operates under 1 Canadian Air Division. Alaska NORAD Region operates under the 11th Air Force while the Continental U.S Region operates under the U.S. 1st Air Force division.
Over the years, NORAD has become increasingly essential as its operations have extended to encompass anti-drug trafficking and interior airspace observations against potential attacks.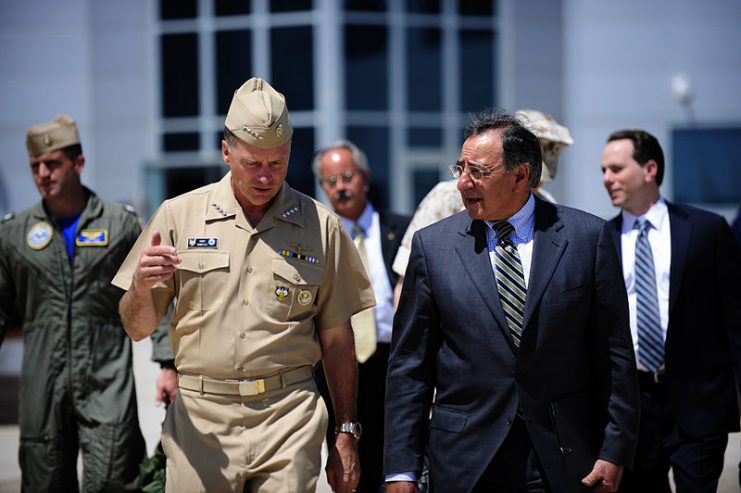 Below are some interesting facts you might want to know about NORAD.
1. The Cheyenne Mountain
The Cheyenne mountain was excavated into a nuclear bunker with NORAD equipment and well over 100 personnel operating within it 24/7. The massive space within this mountain served as NORAD's headquarters until 2006. Now, it serves as NORAD's Alternate Command Center.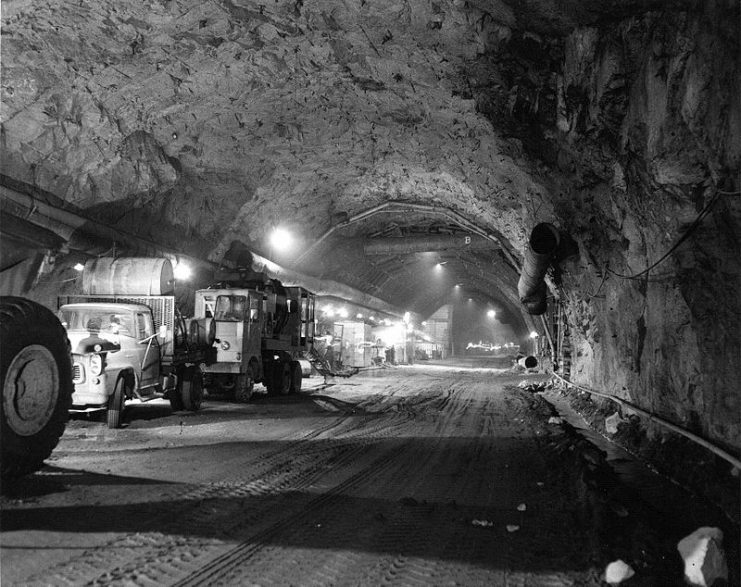 There are 15 free-standing two and three-story buildings within this mountain, about one mile away from the entrance. These buildings rest above more than nine hundred 1000 pound springs. In the event of a nuclear attack, the buildings would bounce but remain unscathed.
Also, there are four lakes within this mountain. One is maintained for drinking, another one was converted into a diesel fuel reservoir, and the rest are used for industrial purposes. The Alternate Command Center supports activities in the headquarters, aiming to ensure there would be no disruption of operations even during nuclear attacks.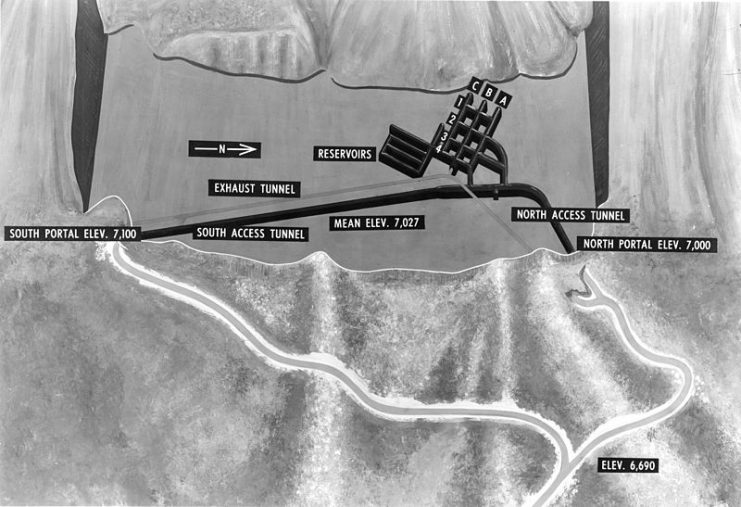 2. America was once on the verge of opening a nuclear war, due to an error from NORAD
NORAD's facility has, on several occasions, issued false alarms which have spread terror briefly across America. In late 1979, a technician had loaded a test tape into the warning system. The tape contained a recording of a realistic training. He had forgotten to set the system to test mode and, as a result, the system dispersed streams of warnings to Continuity of Government (COG) posts and to several military command posts across the world.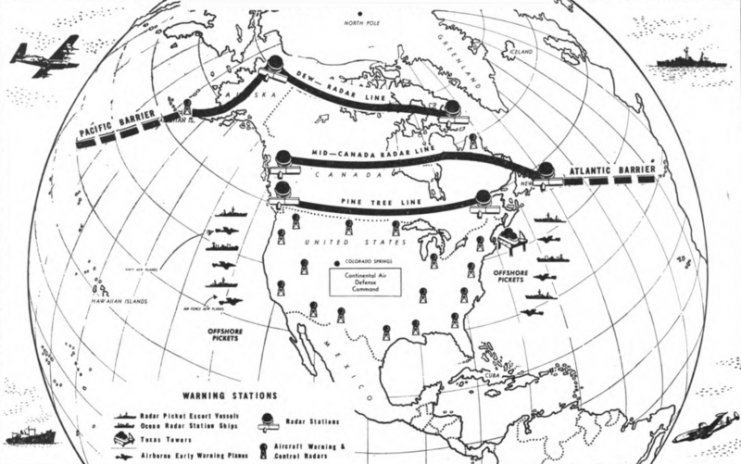 A year later, a false alarm came about due to a fault in the system. A device failure had triggered a flash of warnings indicating the coming of a nuclear strike towards U.S. Air Force command posts. In response, the Pacific Military Command took their aircraft into the air loaded with nuclear bombs. Nuclear missile silos were prepared to launch intercontinental ballistic missiles, and panic ruled for a moment. However, relief came when it was confirmed by the Strategic Air Command that the alarm had been erroneously triggered.
These and other false alarms prompted NORAD to upgrade its communications systems.
3. NORAD Tracks Santa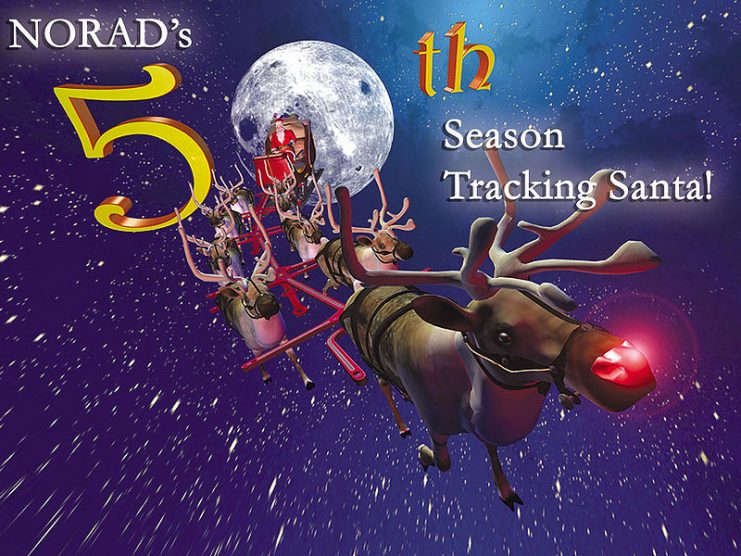 This is a rather light side to NORAD's serious tasks. It is a program held on Christmas Eve during which thousands of children can receive updates about Santa Claus's location from the military-grade facilities of NORAD.
This tradition began as a result of a typographical error. A newspaper ad had announced that kids could contact Santa on a phone number. The number listed turned out to be one of NORAD's lines. On Christmas Eve 1955, Col. Harry Shoup would be made to answer several calls from children asking about Santa.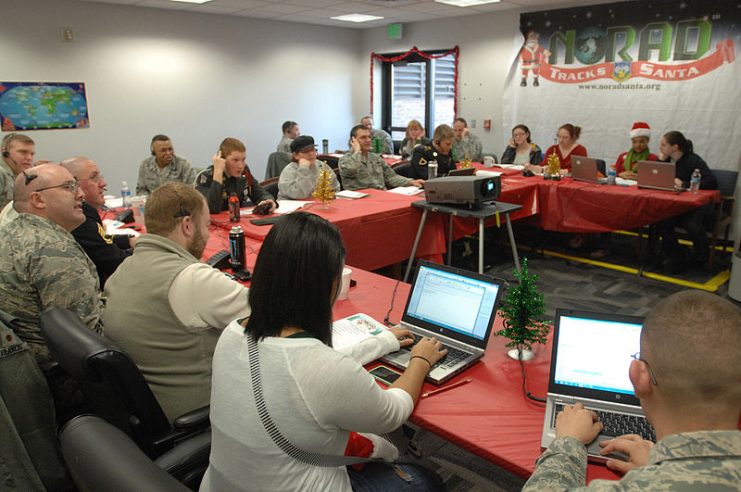 Keeping his cool, he asked his operators to 'locate' Santa on the radar and would inform his young callers of Santa's position. From then on, the tracking of Santa's Sleigh became a tradition for NORAD. With several volunteers helping to make it work, NORAD Tracks Santa reports receiving more than a hundred thousand calls each year from children across the world.
4. Post-9/11
Following the 9/11 attack which saw over 8,000 casualties, NORAD began Operation Noble Eagle to prevent the recurrence of such an event within the borders of North America. By 2006, NORAD had flown 42,000 sorties and responded to over 2,000 potential threats.
The renewal of the NORAD contract between the two pioneering nations in May 2006 saw the incorporation of a maritime monitoring function into the system. The maritime monitoring function carries out constant observation of the countries' maritime spaces alongside the original aerospace functions.
Since 9/11, NORAD has monitored the NASA space shuttle during launches, as well providing cover for the Vancouver Winter Olympics of 2010 and G8 summit meetings.
5. The Eberhart-Findley Building
Although many people continue to refer to the NORAD's headquarters as the Peterson Air Force Base, that isn't, in fact, its name anymore. In 2012, the base was renamed after retired American General Ralph E. Eberhart and Canadian Lt. Gen. Eric A. Findley.
Read another story from us: Air Force Veteran Finishes Career While Commander of 24th NORAD Region
NORAD has continued to adapt to technological changes over the years in a bid to keep up with every form of activity in the internal and external air spaces of the U.S. and Canada, as well as their allies. As their banner proclaims, they keep watching out for us all, day and night.