By Jeremy P. Amick
The Spanish-American War is little more than a footnote in the annals of the nation's military history, eclipsed by its position in time, between the Civil War and World War I. Though largely forgotten, this conflict required the investment of thousands of men and contributions from scores of Missourians, including that of local farmer Jacob Houston.
Born June 6, 1874, Houston was raised in the Rocky Mount area and likely grew up listening to stories about the Civil War. According to a brief history of his family available through the Miller County Historical Society, two of Houston's uncles died in service of the Union Army, while another served with the Confederacy.
Houston's service may have begun more than 30 years after that of his uncles but it has roots extending back many years. As noted in the souvenir book from the 49th Annual National Encampment of the United Spanish War Veterans (USWV), the U.S. began to advocate for freedom on behalf of the people of Cuba—who were living under the colonial authority of Spain—as early as 1865.
"We tried to intervene in a friendly fashion, and early in the year 1898 the battleship Maine was sent to Havana harbor as a friendly mission to that end," noted the Spanish American veterans in their souvenir book. "But on February 15, 1898, a terrible explosion rent (split) the Maine amidships, with great loss of life among our sailors."
During a memorial service held in honor of Spanish-American War veterans  during the USWV's 1947 meeting, John White, the organization's national commander at the time, reminded his fellow veterans of the details behind the events that led them to war 49 years earlier.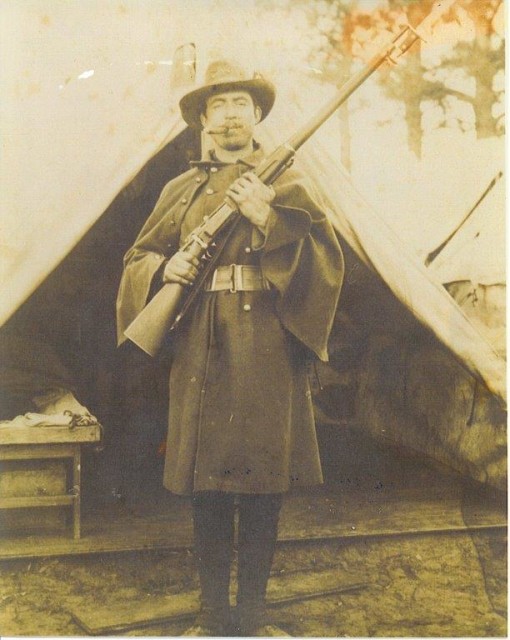 "When it was disclosed that the initial explosion came from outside the hull, and no satisfactory explanations were made by Spanish authorities, war was inevitable and the official declaration by Congress followed on April 25 (1898)," White said.
With a standing army ill equipped to respond to a war with Spain, President McKinley quickly called on the states to provide 125,000 men. In addition to supplying soldiers for both the regular army and U.S. Volunteers, Missouri furnished six regiments of infantry and one battery of light artillery, most of which were formed from existing National Guard units.
Enlisting in California, Missouri, with Company B, Sixth Regiment of the Missouri Volunteer Infantry, Houston began his federal service on July 24, 1898, at Jefferson Barracks, Missouri, as noted on muster rolls obtained from the Missouri State Archives.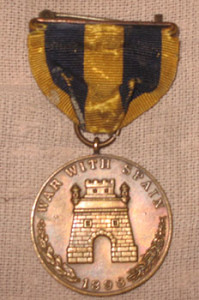 Carl Houston, the grandson of Jacob Houston, has gazed upon his grandfather's military photograph many times throughout the years but does not recall his elder sharing any stories from his service during the near-forgotten conflict.
"It was just something I never remember him talking about," said Carl.
But utilizing several reference sources, one can piece together details of Houston's wartime experiences, including his membership in the only Missouri regiment to serve in Cuba.
The Spanish-American War Centennial Website notes that the Sixth Regiment, comprised of 27 officers and 1,265 enlisted soldiers, spent several weeks in training at Camp Cuba Libre near Jacksonville, Florida, before moving to Camp Onward near Savannah, Georgia., where they boarded transports on December 21, 1898, bound for Havana, Cuba.
Upon their arrival in the embattled island country on Christmas Eve, the Missouri regiment was attached to the Seventh Army Corps commanded by General Fitzhugh Lee, a former Confederate general who had also served as governor of Virginia. Seventh Army Corps spent the next three months performing occupational duties in areas formerly controlled by Spanish forces.
Though units such as the "Rough Riders" (who arrived in Cuba months earlier) saw heavy fighting and incurred combat casualties, the Sixth Missouri lost "one officer and twenty-three enlisted men who died of disease" while another soldier "died as the result of an accident."
The centennial website goes on to explain "One [soldier] was court-martialed, twenty-four deserted, and thirty-two were discharged on disability".
Returning from the war, Houston's grandson notes that the former soldier went on to build a new life – marrying, raising children and tending to a farm in rural Miller County.
"(Houston) married a full-blooded Cherokee woman," said his grandson, Carl Houston. "One day he became very sick and all of his children came by to see him. His wife was rocking in her chair on the front porch and they came out and told her that he had passed."
Calmly, he added, "She just nodded her head and didn't say anything, and they all went back inside. A little while later they came out to check on her and she was dead."
Both Houston and his wife, Laura Ann Holloway, died on May 1, 1957, and were buried in Dooley Cemetery near Eldon. As noted on Laura's death certificate, her passing was attributed to "emotional shock."
Firsthand accounts of Houston's service have forever perished, but the words of memorial shared by Commander-in-Chief John White during the reunion of Spanish-American War veterans in 1947 serve as a petition to remember Houston and the scores of citizens from Missouri who, more than a century ago, rallied to fight on behalf of the oppressed people of Cuba.
"What a tragic thing it is that so many Americans, who have never known oppression and tyranny, calmly accepting all the golden blessings of our American way of living with never a thought to the sacrifices which others made to acquire and safeguard these blessings."
White added, "And as we gather here today to remember the sacrifices they made, let us renew our determination to carry on the fight for principles they held more precious than life itself."
'Safeguard these blessings'
Jeremy P. Ämick writes on behalf of the Silver Star Families of America