When Clary eventually ended up at Buchenwald, one of the most horrific of the Nazi concentration camps, he sang for SS soldiers.
Though it first aired 54 years ago, the television series Hogan's Heroes still enjoys a modicum of popularity.
Why was Hogan's Heroes such a success? It came 20 years after the war at a time when the men who fought in the war were mostly in their forties and fifties. Those men were fully aware of the horrors of WWII.
But they also knew that making fun of someone on a regular basis could show absolute disdain for them and their ideals. Hogan's Heroes fit the bill by turning the Nazis into ridiculous caricatures. It was also a send-off of the many popular movies of the time such as Stalag 17 and The Great Escape.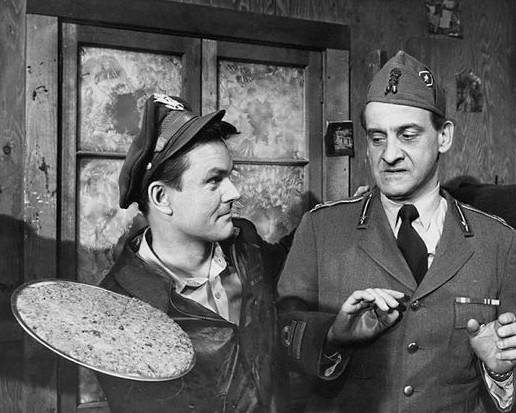 Of course, the setting and premise were outrageous: an elite unit of Allied soldiers posing as POWs in Germany, the better to carry out sabotage and intelligence missions for the Allies.
The ranking Allied officer, Colonel Hogan, oversees a camp within the camp, complete with radios, eavesdropping devices, tunnels, a tailor shop, a working explosives lab, and much more.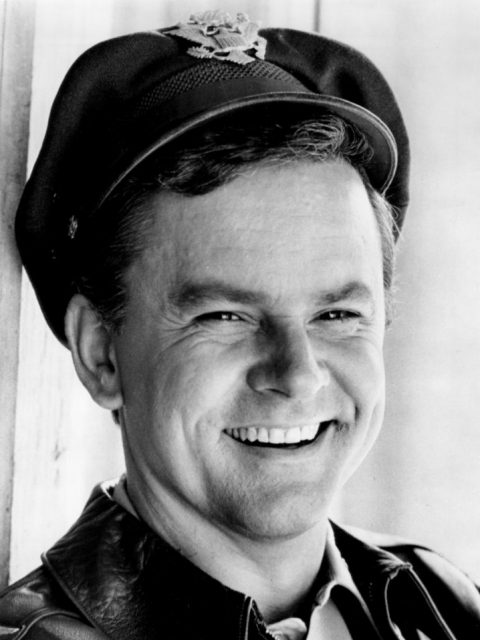 Unfortunately, most people today know the show's star, Bob Crane, from the grisly murder that took his life in 1978 and the sexual addiction that came to light after his death. But according to those who worked with him, Crane was a consummate professional, kind father, and good friend, in addition to being the star of a hit sitcom.
Richard Dawson (who went on to further fame as the first host of Family Feud), comedian Larry Hovis, and Ivan Dixon (who went on to break all sorts of color barriers as a director) rounded out the cast for most of the shows' run.
Then, of course, there's Robert Clary, who played Corporal Louis LeBeau, the Frenchman who is not only skilled in commando-style tactics but is also an excellent chef. Clary, like the actors who played the main German characters on the show, had a deep personal history with WWII and Nazi Germany.
You see, Clary, Werner Klemperer (Colonel Klink), John Banner (Sergeant Schultz), and Leon Askin (General Burkhalter) were all Jewish. Each had a personal history going back to the terrible, dark days of the war.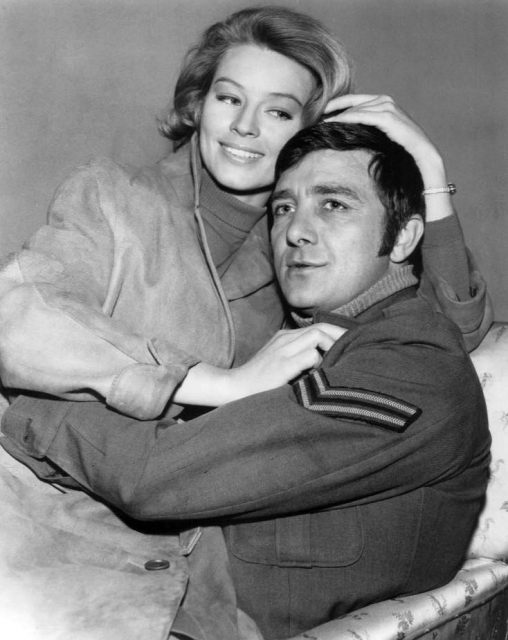 Howard Caine, who played Gestapo major Hochstetter, was an American Jew from Nashville who fought in the Pacific during the war.
Robert Clary is the only remaining major cast member still with us. Born in 1926 to a family of 14 children, Clary was raised in Paris and became involved in show business as a boy, singing on French radio.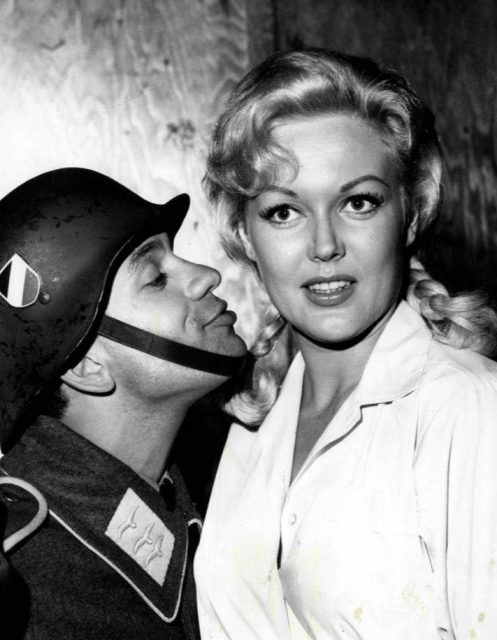 Singing probably saved his life. When Clary eventually ended up at Buchenwald, one of the most horrific of the Nazi concentration camps, he sang for SS soldiers with another inmate who played the accordion.
Clary was first sent to a holding camp, then to Buchenwald. By the time he got there, he had heard rumors of gas chambers being disguised as showers. During his first night at the camp, he and many other inmates were pushed into a large room with showers on the wall.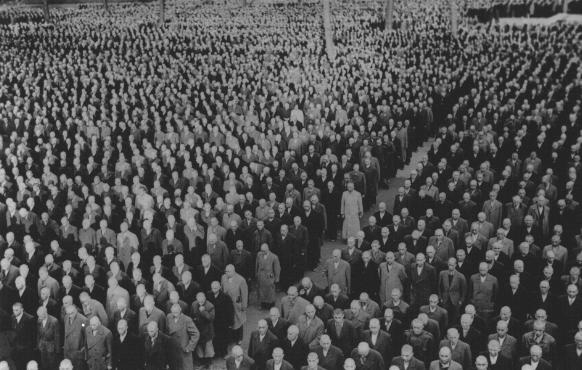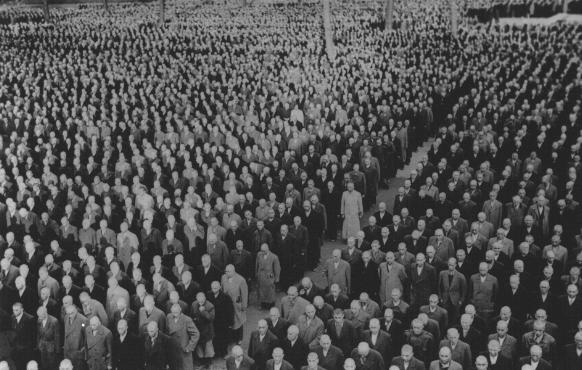 Clary believed he was going to die then and there, but the large room was just what it appeared to be: a dormitory-like room with showers. He spent the next week there without anything to eat. Each morning, he would find out that more people, already weakened by their journeys to the camp, had died during the night.
Clary was "lucky" in that he survived the Holocaust. His parents, some of his siblings and cousins had all been killed at Auschwitz. However, he did find out that three of his siblings had survived when he returned to Paris after the war.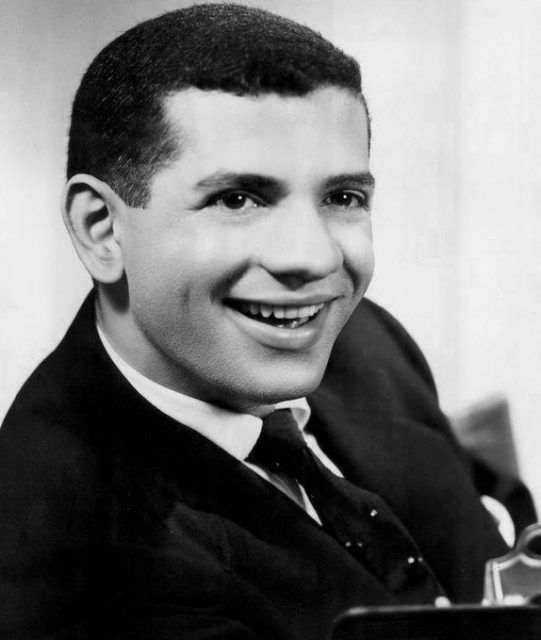 In 1949, Clary came to the United States to promote a record he had made. He wanted to see if he could benefit from the popularity of the famous French singer Edith Piaf, who toured the US after the war. He decided to stay in the States and discovered that in addition to his singing talent, he had a natural comedic talent as well.
Over the next decade and a half, he appeared in a large number of TV shows and movies. In 1965, he was offered the part of LeBeau, and he enjoyed making fun of the Germans.
When asked by fans about any similarities between his experience and that of the show, he told them that, while he did not want to take anything away from the experience of the POWs, there was a huge difference between a POW camp and the Holocaust.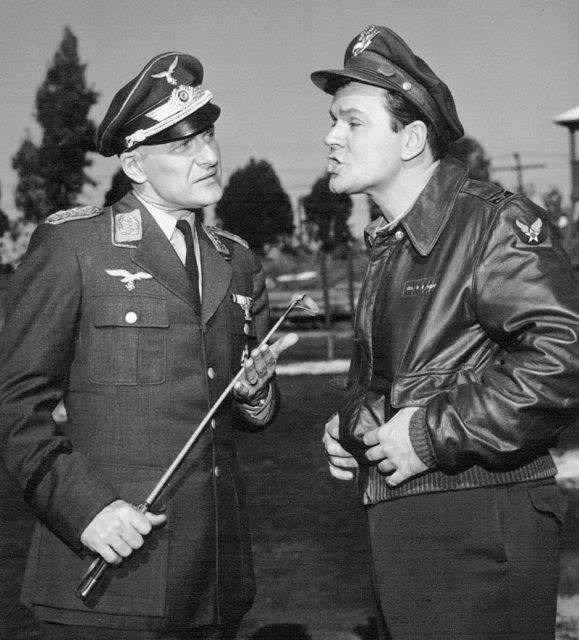 Werner Klemperer, the only one of the cast to win an Emmy for his role on the show, came from a renowned German-Jewish family. His father was Otto Klemperer, one of the most famous conductors in the world and his mother a renowned soprano.
The family fled Germany in 1935 and were fortunate enough to be allowed into the United States at a time when immigration was becoming increasingly difficult for Jewish refugees.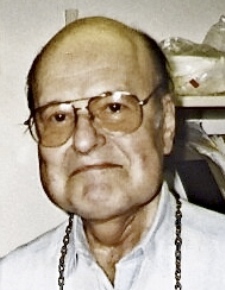 His father became the conductor of the Los Angeles Philharmonic. His cousin, Victor, a respected professor, remained in Germany and survived the Holocaust. Victor's diary is considered one of the best accounts of events in Germany from a Jewish perspective.
Unlike his famous parents, Werner did not have much musical talent, though he played the violin. He did, however, have an artistic bent and decided early on to become an actor.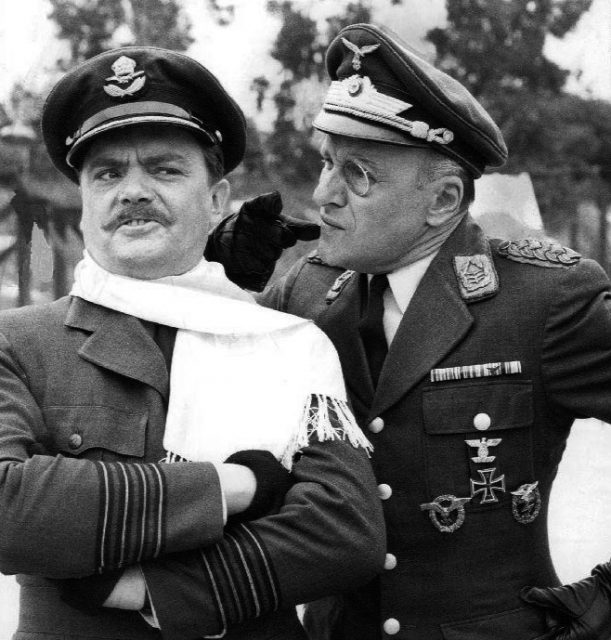 When WWII came, Werner was placed in the Special Services, the branch of the service sent to entertain the troops. When the war ended, he secured a number of roles in the theater and on TV, many times playing a German.
His most famous role before Klink was in Judgment at Nuremberg with Spencer Tracy and Burt Lancaster, in which he played a Nazi judge on trial for war crimes.
When offered the part of Klink, he insisted he would only take it if the German officer was a fool who never succeeded. The rest is history. Klemperer won two Emmys for the role.
John Banner was an Austrian-Jew who had originally studied to be a lawyer but got bitten by the acting bug. He was traveling in Switzerland with an acting troupe when Hitler annexed Austria. He remained in Switzerland and then emigrated to America.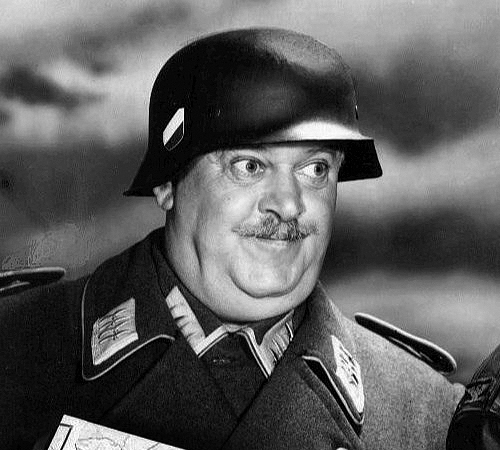 During WWII, he enlisted and became, of all things, a supply sergeant, but he also appeared in films playing Nazi soldiers or Gestapo men. Such roles did not please him as unfortunately, many of Banner's family were killed by the Nazis during the war.
He took the role of Schultz, partly because he liked the role and partly because the show made fun of the Nazis. Schultz's famous line "I know NOTHING!" became one of the first TV lines to become part of popular culture. By all accounts, Banner was as good-natured as Schultz and was loved by everyone that met him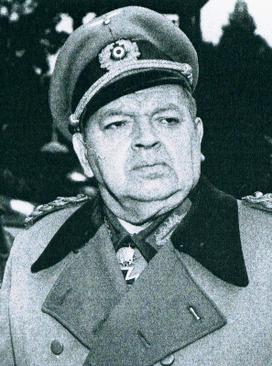 Read another story from us: Did WW2 TV Sitcom Hogan's Heroes Get Anything Right About Life in a German POW Camp?
Leon Askin played General Burkhalter, the stereotypical Prussian officer who is really not much smarter than Klink. Askin, born Aschkenasy in Vienna, started performing at a young age: his first performance came during WWI when he read a poem in front of Austrian emperor Franz Joseph.
Like Klemperer and Banner (all three had appeared together in various TV shows before Hogan's Heroes), Askin fled Austria in 1940, came to the US and served in the Army Air Corps during the war.