Not only was the Battle of the Alamo one of the most famous engagements during the Texas Revolution, it's regarded as one of the most important events in the state's history. Between February 23-March 6, 1836, Mexican and American troops fought each other for control of the area, leading to a staggering win for the Mexican federation. These are the five most famous men who died at the Alamo.
William Travis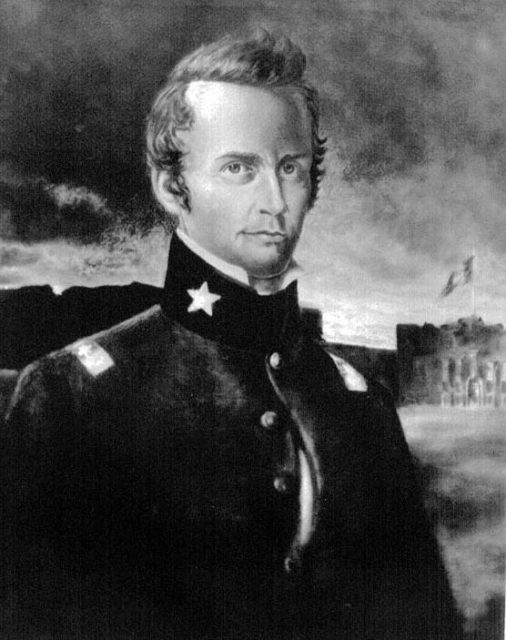 William B. Travis was arguably one of the most important figures at the Battle of the Alamo, serving as the commander for the Republic of Texas.
As a young man, he was educated as both a teacher and lawyer in Alabama. In 1831, he decided to flee to Mexican Texas to set up a law office, leaving his family and wife behind in mounting debt. Well before the Texas Revolution even began, he took it upon himself to lead a group of men to capture Mexican commander Capt. Antonio Tenorio.
Safe to say, Travis wasn't impressed with Mexican rule in Texas. He joined the Army as soon as the revolution broke out and was commissioned as a lieutenant colonel of the Legion of the Cavalry. On January 21, 1836, he was ordered to take his men as reinforcements to the Alamo. When he arrived a week later, he was quickly made commander of all the forces, alongside James Bowie, who led the volunteer troops.
Travis and his men had to take refuge when Gen. Antonio López de Santa Anna arrived with roughly 7,000 troops. They launched heavy attacks against the fortified Texans, who refused to surrender – an action that came at a high cost. According to legend, Travis drew a literal line in the sand during the final meeting, telling all those who wished to fight to cross it. All but one man did.
Despite their bravado, they were overrun within a few hours and Travis was killed.
James Bowie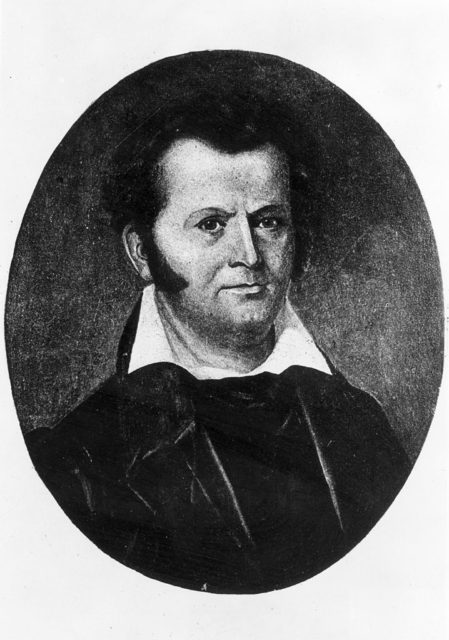 It was James Bowie who stood firm alongside Travis at the Alamo, despite initially ignoring the commanding officer, as he was allegedly the only man the volunteer soldiers would listen to.
Originally living in what's now Missouri and, then, Spanish Louisiana, Bowie moved to Coahuila y Tejas around 1828, after he supposedly killed another man in a duel. Although he set up a good life for himself, he soon grew tired of the strict legislation put in place by the Mexican federation.
When the Texas Revolution began, he was elected leader of a local militia in Nacogdoches, a role he took to with vigor. He and his men were able to catch up with a Texas Army force, joining them as they lay siege to San Antonio. They then took over the area of Mission Concepción, defending it from the Mexican advance.
Bowie was eventually ordered to demolish the Alamo, which he pointedly ignored. Instead, he decided to fortify the area, which he commanded until Travis arrived. The two men were constantly at odds, as Bowie outranked Travis and refused to answer to him. The legendary Davy Crockett eventually arrived and was able to ease tensions. It also helped that they soon fell under Mexican attack, forcing cooperation.
By late February 1836, Bowie fell gravely ill and was confined to his sleeping quarters for the duration of the battle. He did, however, reportedly ask to be carried over Travis' proverbial line in the sand, indicating his dedication to the fight. When the Alamo fell, Bowie was killed where he lay in bed.
Davy Crockett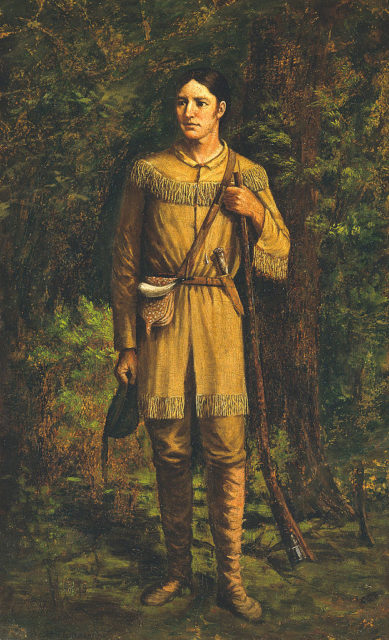 Davy Crockett – "King of the Wild Frontier" – was certainly one of the most legendary figures who died at the Alamo. The child of a pioneer family, he moved around a lot, educated by the frontier and nothing else. He had a lengthy military career, serving as a scout in the Tennessee militia, a third sergeant during the War of 1812 and, then, as a lieutenant colonel. He soon entered into politics, serving in the Tennessee General Assembly and House of Representatives.
Other politicians couldn't get past his early life as a pioneer, making him the butt of their jokes. He wrote Davy Crockett: His Own Story in an attempt to change their views, but was unsuccessful even after promoting it on a national tour. This resulted in him losing his place in Congress, to which he declared, "I told the people of my district that I would serve them faithfully as I had done; but if not, they might go to hell, and I will go to Texas."
Sure enough, Crockett arrived in January 1936, siding with the Texans in exchange for his own land. Soon after, he joined the fighting at the Alamo. Although he proved his use during the battle, putting his shooting skills to work, he was ultimately killed. His cause of death, however, is heavily debated. Some say he went down during the fight, while others say he was taken prisoner and executed by Mexican forces.
James Bonham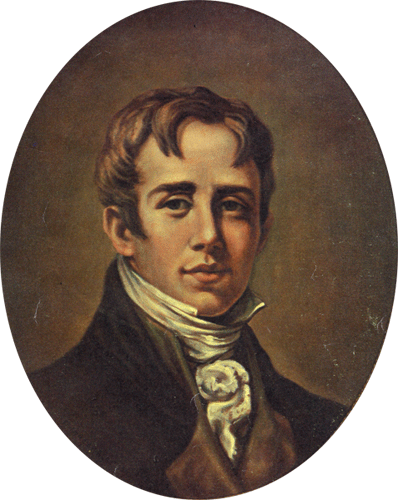 James Bonham is a well-remembered name, not for being a commanding officer at the Alamo, but for his astounding heroics. He was also closely tied to both William Travis, his second cousin, and James Bowie, with whom he traveled.
Even as a young man, Bonham was known to rebel against perceived injustices, organizing fellow students against his school administration in 1827. He went on to practice law in 1830, continuing to be outspoken even then. One account states that, while in court, he hit the opposing counsel with his cane after he insulted his female client, only to then threaten the judge who reprimanded him.
When the Texas Revolution began, Bonham quickly organized a militia force from Alabama and traveled down to Texas, where he met up with Bowie. The pair brought their men to the Alamo. On two separate occasions, he was sent from the fortification through the Mexican lines to seek aid for the outnumbered Texans. Bonham was tasked with convincing Col. James Fannin to send reinforcements, first on February 18, then on February 24. Both times he refused.
Bonham returned to the Alamo on both occasions to relay the news, despite knowing the likely outcome. It's commonly believed he died manning one of the cannons against the oncoming force.
Micajah Autry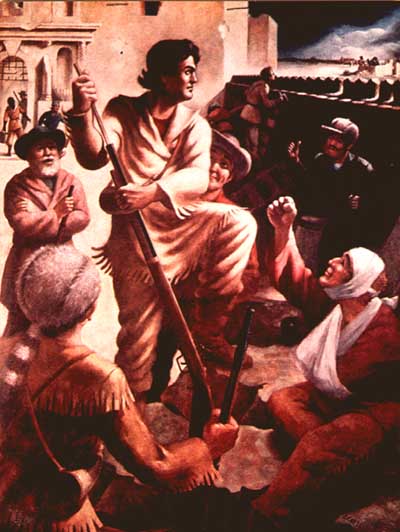 Certainly one of the lesser-known figures of the battle, Micajah Autry was no less important. In fact, he wrote many detailed letters about his time with the Texas Army, as well as poetry for his wife.
When he was just a teenager, Autry saw combat during the War of 1812, after which he moved to Tennessee to start a family. He worked as a farmer and teacher, before becoming a lawyer in 1831.
Autry heard of vast opportunities in Texas around 1835, making the decision to leave his family briefly while he went to check it out. He wrote to his wife on his journey, "I feel more energy than I ever did on anything I have undertaken. I am determined to provide for you a home or perish."
When he arrived, the Texas Revolution was well underway and he enlisted in the Volunteer Auxiliary Corps of Texas. He arrived on February 23, 1836 to serve under Travis and Bowie, and, on March 6, was among those who died at the Alamo.
More from us: Five Myths About the American Civil War That Need to Be Addressed
Although he was never able to enjoy a Texan life with his wife and family, Autry was inadvertently able to provide them with the home he'd promised. In 1846, his wife was gifted 1,920 acres of land in Navarro County by the President of the Republic of Texas, in honor of her husband's sacrifice.