Often in the history of war, the nuances of what leads one man to incredible gallantry are lost to time and personal accounts.  The author of this particular article is a United States Marine himself and served with Captain Brent Morel when he was a Reserve Corporal in a peacetime military.
Fast forward to 2004 Iraq and the Reserve Corporal had risen to become a commissioned officer in the United States Marine Corps.  Leading a platoon in the 1st Marine Reconnaissance Battalion, Brent found himself leading his men through some of the fiercest fighting of the war.  Not long ago he was the Private or Corporal looking to his officers for leadership, but now it was time to take care of his Marines at all costs.
When his Recon Marines came under fire from approximately 40 to 60 insurgents, Captain Brent Morel did what only a man of his particular gallantry could do. He took the fight to the enemy, disrupted the ambush, and paid for it with the ultimate price.  Falling in combat, Captain Brent Morel received the Navy Cross doing nothing less than taking care of his Marines and accomplishing the mission.
The Peacetime Marines
When the author of this article first met Brent Morel, it was the late 90s and the epitome of peacetime military life.  Then serving as a fellow infantry Marine with Kilo Company 3rd Battalion 23rd Marines, Corporal Morel clearly stood out amongst a group of Marines who thought war to be a far off reality.
The Marine Corps is an organization which prioritizes competence above all and to this young PFC it became abundantly clear that Corporal Morel had it.  More than that, it was Brent Morel's passion to become a leader of Marines that would earn him a famed place in Marine Corps history.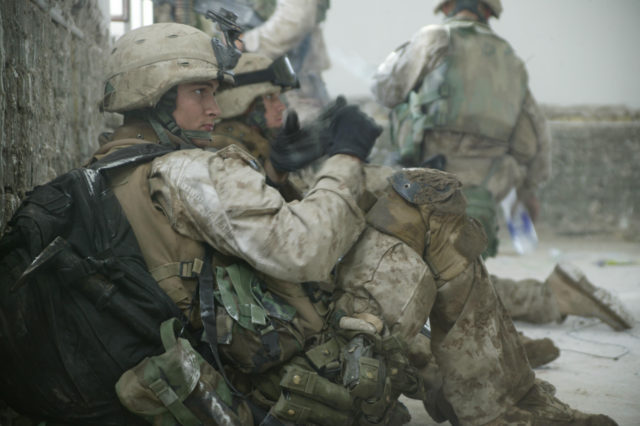 Fast forward a couple of years and this now Lance Corporal encountered recently promoted 2nd Lieutenant Brent Morel.  He was there to talk to his former enlisted brothers about the joy of becoming a Marine Officer.  The sense of duty he conveyed was palpable, and that sense would be called into action after 9-11.  In 2004, Captain Brent Morel now found himself a platoon commander for 2nd Platoon, Bravo Company, 1st Reconnaissance Battalion operating in Al Anbar Province, Iraq.
Living true to his reputation, Captain Morel had gained a reputation among these highly decorated reconnaissance Marines as a leader who knew what it meant to take care of his men.  He was also a leader who knew how to accomplish the mission.  On April 7, 2004, that mission would be to escort a convoy through a dangerous province known to be swarming with insurgents.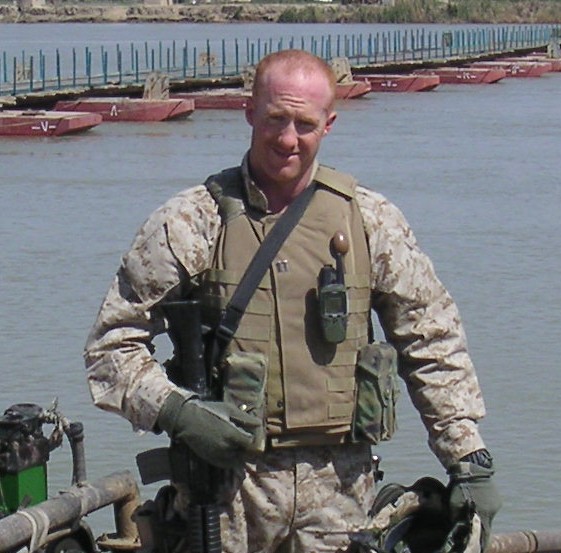 Ambush in Al Anbar
With his platoon escorting the convoy, Brent Morel sat positioned in the 2nd vehicle when he saw a rocket-propelled grenade strike and disable the lead vehicle.  A hail of automatic weapons and mortar fire then ensued; they had driven into a well-planned ambush.  With approximately 40 to 60 insurgents wreaking havoc Captain Morel immediately ordered the remaining two vehicles to take up flanking positions.  In true Marine spirit, he determined the only way to exit this well-planned kill zone was to take the fight directly to the enemy.
Leading a charge across an open field and up a large berm, Morel led his Marines through the ambush and into firing positions.  Shocked by the sheer aggression of the Marine's assault, the initial effort killed several insurgents and sent more running in retreat.  From the relative safety of the berm, Captain Morel looked back to see his Marines continually taking fire.  Issuing the orders to assault through the ambush and taking his usual position from the front, Captain Morel led the charge.  Inspired by his leadership, the Marines pressed forward.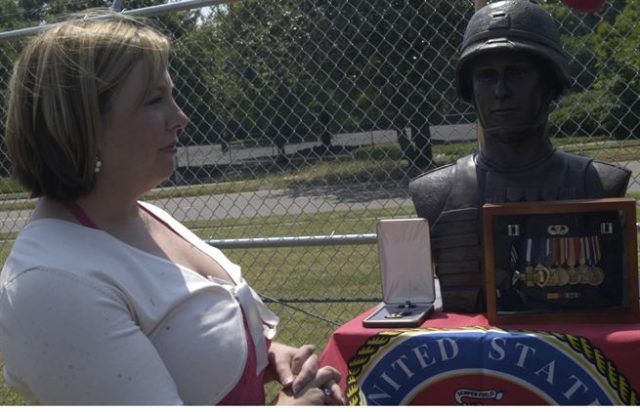 During this final assault, a withering burst of machine gun fire found its mark on Captain Morel, and he fell mortally wounded. When the assault was over, more than 30 insurgents had been killed, and the convoy had survived the ambush.
For his actions that day, Captain Morel posthumously received the Marine Corps 2nd highest honor in the Navy Cross.  Fittingly,  the ceremony for his award took place at the training center for Kilo Company, 3rd Battalion, 23rd Marines.
Where once Private Morel stood and began his journey in the United States Marine Corps, a Captain Morel found his place in the halls of military history.