Much has been written about Operation Barbarossa such that it is hard to see where new or unique information may be presented. Robert Kershaw has not presented any new material, the details of the attack and its challenges are well known to any historian or student of military history. What he has presented, in a comprehensive and illustrative manner, puts more of a human face on the titanic struggle from the perspective of both the Soviet and German soldiers and civilians.
It is hard to imagine in today's age, the massive expanse of the conflict between these two empires; more significantly to the incredible resource and manpower bill, being the psychological assumptions and paradigms underpinning the war. Kershaw has drawn extensively upon personal accounts, recollections, diaries and journals to develop a picture of the thoughts, concerns, fears and confidences of the participants, He has woven this thread throughout his presentation and analysis of the campaign itself. This provides for the reader a much deeper and expansive appreciation of the human dimension of the war.
This is the true strength of this book and what helps it stand out from the myriad of authors and texts relating to the Eastern Front. However, the reader must appreciate that it is difficult to retain a true third person perspective when developing a story line in this manner. Recollections are skewed through emotional and physical bias. Kershaw has presented the recollections as they are without significant interpretation. This is not a bad thing as it adds to the rawness and the power of the narrative; however, it must be understood that these constitute both factual and emotional elements. Additionally, they are very limited in their scope and perspective encompassing only the immediate environs of the writer.
War Without Garlands reflects the deep emotional and physical toll that this campaign took on both the Germans and the Soviets. The period in question 1941-1942, a period when the German military was, for the most part (save the winter debacle in front of Moscow), victorious and the Soviets on the defensive, enhances the impact of the personnel recollections.
This observation is in no way meant to take away from the strengths of this book. Kershaw's writing style is very engaging and his research thorough. I very much enjoyed reading this work and appreciated its operational/strategic discussion and its tactical candor. I recommend that this book be included in any library of Eastern Front operations.
Reviewed by Chris Buckham for War History Online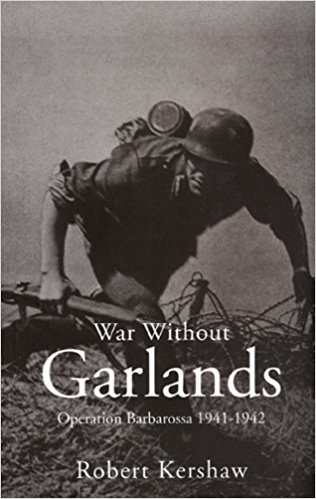 WAR WITHOUT GARLANDS: Operation Barbarossa 1941-1942
By Robert Kershaw
Ian Allan
ISBN: 978-0-7110-3324-5
Major Chris Buckham is an active duty logistics officer in the RCAF who reviews books in his spare time. He maintains a blog of his reviews at: www.themilitaryreviewer.blogspot.com