War History online proudly presents this Guest Piece from Jeremy P. Ämick, who is a military historian and writes on behalf of the Silver Star Families of America.
It could be said of the late John "Otto" Strobel that he was a man that gave of himself in both life and death. Not only did he serve his country honorably during WWI, but after his passing, he donated his entire estate to ensure a perpetual cemetery at St. Paul's Lutheran Church in his hometown of Lohman, Mo.
Yet, depsite all of this benevolence, Strobel is perhaps best remembered for the trips he made to Jefferson City, Mo., to participate in meetings with the local Veterans of Foreign War Post—a 28-mile round trip he made by walking.
"The history of Strobel's walking feat actually got its start on the battlefields of France in 1918," reported The Sunday News and Tribune in their April 25, 1937, edition. "Marching was nothing unusual for the soldiers in those stirring days, and Strobel performed his duties so well he returned to America after the war with five medals for valor."
Prior to the veteran gaining attention because of his lengthy strolls to Jefferson City, his life story begins on a small farm in the Lohman area where he was born on May 9, 1889.
"He spent his entire life in Lohman—except for the time he was in the Army," said Lohman historian Gert Strobel. "He was also very dedicated to his faith and really enjoyed being part of St. Paul's (Lutheran Church)," she added.
Months after America's declaration of war against Germany in 1917, a 28-year-old Strobel made the commitment to serve his country and was inducted into the U.S. Army in Jefferson City on September 20, 1917, leaving his Mid-Missouri home for the first time in his life.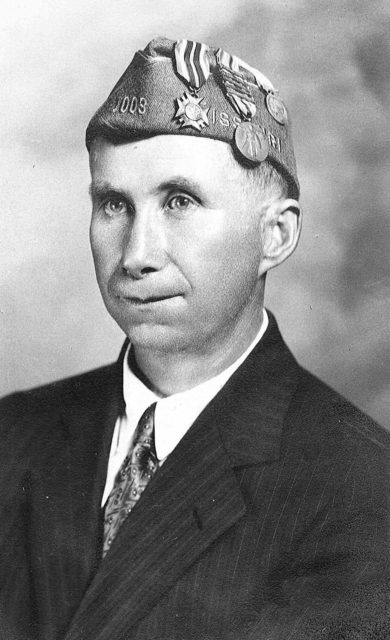 According to his service card accessed through the Missouri State Archives, the recruit spent less than two months at Camp Funston, Kan., where he trained with Company M, 356th Infantry—a company that drafted several men from the Cole County area.
Though he was among acquaintances from the Lohman area during his initial training, Strobel's tenure with the company was brief since he was transferred as a replacement to Battery B, 335th Field Artillery at Camp Pike, Ark., on November 6, 1917.
In March 1918, he again said farewell to whatever friends he had made while at Camp Pike when he joined Battery D, 102nd Field Artillery Regiment and traveled to Camp Merritt, N.J. Shortly after his arrival, he was aboard a troopship bound for service in an overseas warzone.
Now part of the 26th Division, Strobel and the soldiers of the 102nd were members of "the first complete American Division to be committed in France in 1918," as was noted in "The Unit History of the 26th Division," which was accessed through the website of the 26th Infantry "Yankee" Division.
The website also notes that the division took part in six major campaigns of the war and "was cited (for their performance in combat) thirteen times by France, and three times by American Army Headquarters" in addition to spending 210 days fighting—the longest of all the American infantry divisions.
Returning from the war in April 1919, Gert Strobel notes that the combat-hardened soldier lived on his family's farm along with his only sibling—a sister named Antonia. In the years after the war, Strobel gained a reputation as being a hard worker although the community's perceptions of him often limited the type of employment he was provided.
"He was not very good at communicating with people," said Gert Strobel, "which led many people to believe that because of the way he expressed himself, he might have some type of mental impairment." She added, "All he was ever really given was menial work around town, but he was really a very bright man—an avid reader who was truly self-educated."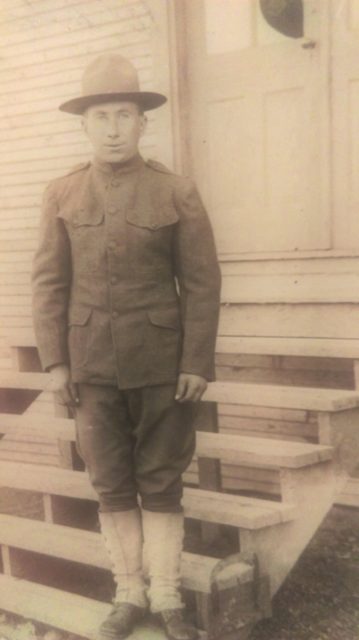 Newspaper accounts note that the former artillery soldier became an active member of the VFW Post 1003 in Jefferson City in the mid-1930s and even served as the post surgeon, although the duties associated with this position were not clearly described.
The most interesting of the veteran's post-war endeavors is his journey to the VFW post's bi-monthly meetings, utilizing the railroad tracks of the former Bagnell Branch of the Missouri Pacific Railroad that once lay between Lohman and Jefferson City.
"Every two weeks for the last 28 months he has awakened around 3 a.m., garbed himself in his uniform cap and trod the 14 miles from his home to the city," as was explained in the April 25, 1937 edition of The Sunday News and Tribune.
The article further noted that Strobel—a self-described "astute student of political science"—would arrive in the city several hours prior to the meeting so that he could spend time at the library reading books in both English and German.
"He loved to talk about his military service and when he got to the VFW, he felt right at home," said Gert Strobel. "After some of the meetings, the people at the Capitol knew he was coming and would let him spend the night on one of the benches inside. The next morning, he would get up and walk back to Lohman along the railroad tracks."
Strobel passed away at the Veterans' Hospital in St. Louis on December 20, 1962, at 73 years of age and was laid to rest in the cemetery of St. Paul's Lutheran Church, where he had been a lifelong member. Even in his passing, this often-misunderstood veteran was able to help provide for his community.
"He and his sister never made a lot of money in their lives but they never spent anything either—if they had ten cents they would save nine cents of it," said Gert Strobel. "When both he and his sister died, they gave their entire estate—a pretty good sum of money—to the church so that a perpetual cemetery could be established."
She continued, "Nobody ever paid much attention to him but he gave a lot to both his country and this community. Since neither he nor his sister ever married or had any children, there has really been no one to carry on his memory, and that is a shame considering what he did for the community and his service in the war."