Retired farmer came of age during Second World War
By Jeremy P. Amick
It takes one only a few minutes of mild conversation with Henry Nilges to realize the full breadth of historical experience and knowledge possessed by the former soldier.
Having come of age during a tumultuous and profound moment in our nation's history, the retired local farmer—after he was pulled from his rural surroundings—was thrust into the center of a war waging in Europe and came face-to-face with a world not easily understood.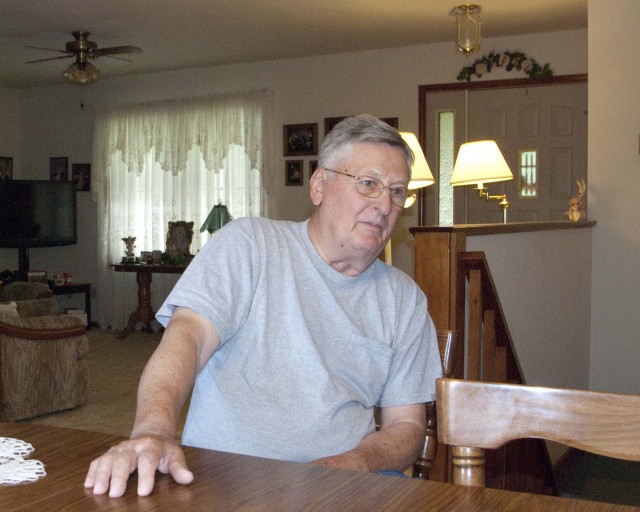 Born near Loose Creek, Mo., in 1925, Nilges was the proverbial country youth who recalls, "walking about four miles to school."
Graduating from eighth grade in 1939, Nilges left school to remain home and begin his career working on the family farm.
"Back then, there really weren't any jobs in town … unlike there are now" Nilges remarked.
However, his developing agricultural endeavors were soon interrupted when he received a draft notice in December 1943.
He reported to Jefferson Barracks (a historic U.S. Army post founded in 1826 and located in south St. Louis, Mo.) for his physical examination and in processing, and was officially inducted into the U.S. Army in January 1944.
"I was selected to serve in the infantry," Nilges recalled. "I don't know how they decided where a person would serve; I guess they just went by their physical, education and where they were needed."
The young farmer then traveled to Camp Blanding, Fla., to complete his basic combat training.
"We were supposed to complete 20 weeks of training," Nilges explained, "but they cut it down to 17 weeks because replacements were needed to serve overseas."
Nilges then travelled to Camp Shelby, Miss., where he was assigned to the 65th Division, where he and his fellow trainees began receiving instruction in infantry tactics and troop movements.
"It was terribly hot at Shelby," explained the veteran, "and they made us eat salt tablets regularly."
The division prepared for their deployment in December 1944 by packing all of their equipment on rail cars destined for New York. Nilges and his fellow soldiers then boarded a troop train to meet up with their equipment.
Once in New York, the division boarded the troop ship USS Monticello, and spent 14 days in transit to the port in Le Havre, France. Upon arrival their January 1945, they were loaded on military trucks and driven to Camp Lucky Strike near Le Havre, France, which served as one of the many staging points for the thousands of soldiers preparing to enter combat in Europe.
"It was colder than heck there," noted Nilges, "and they took us to this field where there was about a foot of snow."
All members of the unit were then issued a cot, picked up three "K-Rations" and set up their tents in certain areas of the snow-covered field.
Due to logistical complications associated with the overall war effort, the unit was unable to link up with their supplies and their food stores quickly diminished.
"We quickly ran out of food to eat," said Nilges. "It got to the point where he only had a spoonful of carrots and a cup of coffee daily…whatever they could find."
But it would be a fortuitous visitor from back in Missouri who would soon locate Nilges and help to ensure the young soldier's stomach found some relief from the extended lack of nourishment.
"My brother Gus heard that I was at Camp Lucky Strike and tracked me down while I was there," Nilges smiled.
With a more reliable source of supplies, Gus' unit was fortunate to have regular meals. He quickly invited his brother over to share dinner with his unit.
Leaving the camp at the end of February 1945, Nilges and the division received their introduction to combat when they were assigned to relieve the battle-worn 26th Division.
"The Germans had dug in on the Saar River along the Siegfried Line," Nilges explained. "They (26th Division) had driven the Germans back to the river but it had become something of a stalemate and nothing was moving."
According to Nilges, the Germans were so well entrenched that mortar attacks had little—if any—effect on their defensive positions. The division was waiting until the weather broke in spring to move in on the Germans' location.
Eventually, the Army broke through in the north and was able to drive the Germans back.
The 65th Division fought across Germany where Nilges continued to serve as a gunner in the third platoon. In May of 1945, their wartime journey took them into Austria and eventually into Czechoslovakia, during which time the war in Europe officially ended.
Throughout his journey, Nilges recalled hitting what he describes as "action spots," where Hitler's trained SS troops resolved not to surrender but instead to fight.
After the Germans' surrender, Nilges returned to Austria and worked for a brief time processing residents from other nations who had been conscripted to serve in the German military.
"We would take displaced soldiers turned loose by the Germans after the war and gather them in one location," recalled Nilges. "Once we got a truckload of people together from one country, we would haul them back to their homeland," he added.
From Austria, the war veteran was sent to Germany and spent some time guarding an ammunition dump. Shortly thereafter, the 65th Division was dissolved and Nilges was assigned to the 9th Division and his squad was moved into the Bavarian Mountains to guard the border.
Remaining in Europe for several months after the close of the war, Nilges received notice that he would be going home. In May 1946, he received his discharge from the Army.
The combat veteran returned home to help his family work the farm in Loose Creek. In 1959, he took over the farm and continued to work it until his retirement in 1989.
With a timbre of mild humility, Nilges recalled of his military service: "I was in the Army until the end of the war and saw enough to know what a lot of veterans went through. I was just a greenhorn when I was drafted and had never been any farther than Jefferson City."
He quickly added, "A lot of folks don't understand what happened during the war and I don't think that it is taught right in school, but I am sure proud to have been part of the experience."
Jeremy P. Ämick writes on behalf of the Silver Star Families of America
Jeremy P. Ämick
Public Affairs Officer
Silver Star Families of America
www.silverstarfamilies.org
Cell: (573) 230-7456