It's a fact. Once relatively lowly priced and overlooked WWII collectibles, perhaps even considered worthless in their time, are fetching considerable prices today – prices previously reserved only for the finest ancient arms and armor.
While the majority of the WWII collectibles market is made up of very affordable pieces, there is a top-end to the WWII market frequented by wealthy collectors and museum buyers. Supplies of top-end items are very limited – but rarity is not on its own enough to drive prices high. The pieces are highly collectible which means plenty of interest and buyer competition in acquiring them.
At this end of the market are the items of significant historical merit, those unique pieces that collectors aspire to own because of the significant events, men or women associated with them. These are genuine historical artifacts; ownership brings the custodian closer to the history, and it is part of a learning experience. It is no surprise, therefore, to see that six of the top ten are items associated directly with the commanders and leaders of the opposing WWII forces.
For those of us who enjoy browsing militaria stores online, markets and fairs, aspiring to own one of these top-end antiques is perhaps the closest we will ever get to actually owning one. If we are lucky, such items are bought by a museum or private collector willing to one day put them on display for us to see.
Here are our top ten items sold. Thanks to wikicollecting for the info:
10. Churchills snuff box $18,000
In tenth place of the top ten most expensive WWII items auctioned is Winston Churchill's silver snuff box, presented to his House of Commons doorkeeper in 1941 after the doorkeeper lost his own snuff box in the blitz. Sold by Sotheby's in July 2006 for a relatively modest sum.
9. Churchill type script $26,000
Next, we have more Churchill memorabilia. A typescript with handwritten revisions by the man himself following the invasion of Sicily and three days after the overthrow of Mussolini. Sold by Sotheby's in July 2003.
8. Peter White Archive $40,000
In the eighth spot are the remarkable letters of infantry platoon commander Peter White. The package included his handwritten diary covering 1944-1945, along with over 730 drawings in pen and ink, newspaper clippings, photographs, the typed and handwritten manuscript of his published work With the Jocks, his regimental KOSB Glengarry, 4 medals, a Kodak camera taken from a German prisoner in Holland with photographs developed from the film, and several sketchbooks. Sold by Christie's in June 2007.
7. Mussolini's Order of Courage Medal $100,000
Taken from him on the day of his arrest in Rome, this military medal was owned by Mussolini and sold by La Galerie Numismatique in March 2012. They noted that the sale reflected a growing interest in artifacts relating to the dictator.
6. Hitler's 'Night Guard' Luger Pistol, $125,000
Next, we have a rare Luger with a flashlight attachment. These pistols were used with tracer ammunition by officers in constant patrol around the Fuhrer. This particular pistol was sold by Rock Island Auctions on April 2012.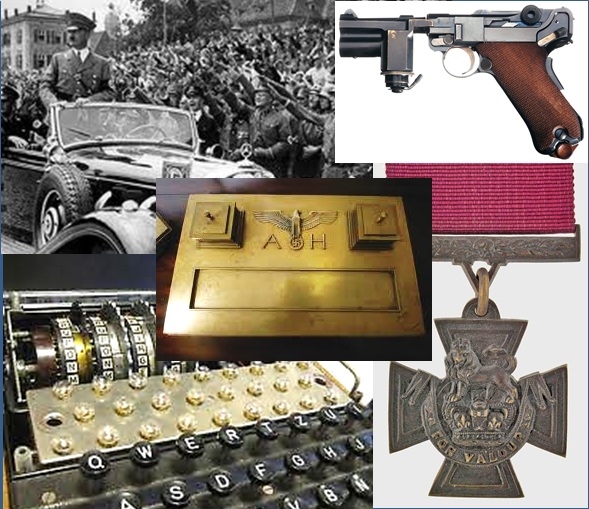 5. Anne Frank's Letters $130,000
Fifth on our list and hitting the £100k mark are the pen-pal letters sent by Anne Frank and her sister to two girls in Iowa in 1940, just before the German invasion of the Netherlands sealed the Frank family's doom. The unusual correspondence, verified by the director of the Anne Frank Center in Amsterdam, consists of two letters, a postcard, two passport-size photographs of the Jewish girls, and the envelope in which they arrived in Danville, Iowa, nearly a half-century ago. The package of items was auctioned by Swann Galleries.
4. Enigma Cipher Machine $175,000
Next, we have a highly collectible three-rotor British Enigma cipher machine in its original wooden box, dated circa 1939 and in excellent working condition. It achieved the world record price by Christie's in September 2011.
3. Hitler's Ceremonial Brass Writing Desk $330,000
Used by Hitler at the signing of the Munich Pact which preceded the Second World War, the desk is inscribed with the initials 'AH' and includes inkwells and the Nazi crest of an Eagle and Swastika. The desk was liberated from Hitler's Munich office by 2nd Lieutenant Jack McConn in 1945. Sold by Alexander Autographs in December 2011.
2. Victoria Cross Medal, $440,000
Private Edward Kenna of the Australian 2/4th Battalion was involved in action near Wewak, New Guinea in 1945. During the fight he exposed himself to heavy fire, killing a Japanese machine gun crew and making it possible for his company's attack to succeed. For his actions, he was awarded the Victoria Cross. His VC was subsequently sold at auction by Spink & Son in July 2011.
1. Hitler's Mercedes Benz Großer 770k: $8 million
Coming in at the number one spot is an armor-plated 1935 Mercedes 770A Kompressor Cabriolet believed to have been used to shuttle Adolf  Hitler through throngs of adoring Germans leading up to and during WWII. Connecting the car to Hitler required careful study of historical photographs and revealed the 770 carrying number plate: 1A 148461 was clearly shown in photographs with Hitler on board. The sale was to a Russian Billionaire, brokered by German classic car dealer Michael Frohlich.