War History online proudly presents this Guest Piece from Jeremy P. Ämick, who is a military historian and writes on behalf of the Silver Star Families of America.
In mid-July 1965, Jefferson City, Missouri native Don D. Pittman arrived at Bien Hoa Air Base, Vietnam, where the recently promoted lieutenant colonel served as operations officer for the 429th Tactical Fighter Squadron (TFS). The 39-year-old Air Force pilot had already accrued more than 22 years of military service during which he made the transition from flying transport aircraft to jet fighters.
Although this might have posessed the makings of a completed career for many, it was for Pittman the tipping point of what would become a military adventure exemplified by his two tours as a command pilot during the Vietnam War.
As was transcribed in a small book chronicling the Vietnam War service of the 429th TFS, as early as two days following their arrival in Vietnam in the summer of 1965, the squadron, their pilots, support crew, and the eighteen F-100s prepared for a "steady, destructive grind" of air missions in the skies over a hostile land.
During the early weeks of their overseas duties, Pittman continued to function as the operations officer for the 429th TFS while also flying missions in the F-100D Super Sabre—a variant of the supersonic jet fighter that had been developed to carry ordnance for air-to-ground delivery.
The men of the squadron soon discovered the threats existing for even the most seasoned pilots. On August 9, 1965, Lt. Richard Goudy's F-100 "was scrambled to aid in defense of a relief convoy which had been ambushed while going to the aid of the beleaguered Vietnamese fort…," reported the Salina Journal on August 23, 1966.
The newspaper went on to explain that the Kansas aviator's F-100 became so "severely damaged by hostile machine gun fire that he was forced to eject." The brave pilot then parachuted into an area near hostile forces and was initially able to evade capture for three hours. Sadly, in a final encounter, he was mortally wounded by an enemy soldier.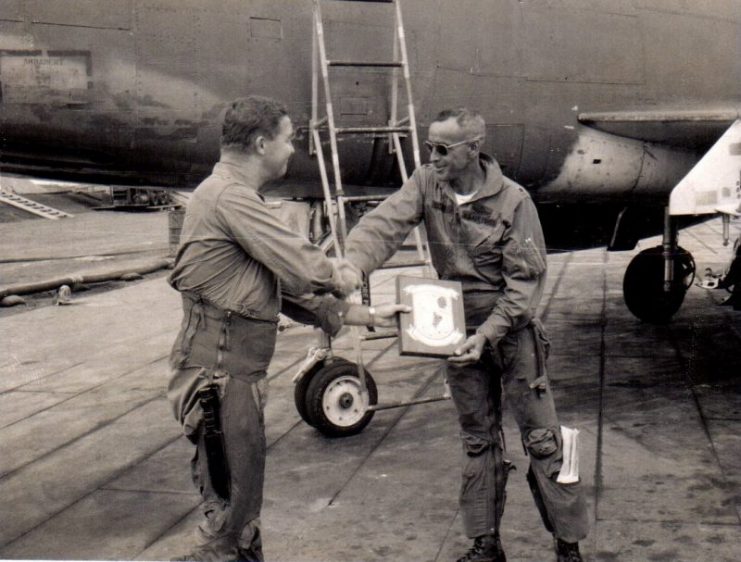 Several weeks after the loss of Lt. Goudy, Pittman was placed in command of the 429th TFS. During the period of his transition into his new leadership role in early October 1965, the squadron suffered the loss of another aviator, Lt. Gary P. Offut—a Missouri native who was shot down during a strafing mission in South Vietnam.
Following their deployment, the squadron's "(p)ilots were credited with destroying at least 1,035 structures in both South Vietnam and North Vietnam," reported the Albuquerque Journal in December 14, 1965. A "Field Grade Officer Effectiveness Report" for Pittman noted his "leadership and constant attention to detail enabled his unit to fly 1,627 sorties and 2,167 hours of combat flying with outstanding effectiveness" during this period.
The 429th TFS returned to their home station at Cannon Air Force Base in New Mexico, in December 1965 and was soon deactivated. Pittman then took command of "the 481st Tactical Fighter Squadron and in May 1967 assumed a second responsibility as deputy commander of operations (for the) 27th Tactical Fighter Wing," noted his biography available through the Air Force website.
An experienced combat aviator, Pittman deployed a second time to Vietnam after assuming command of the 416th Tactical Fighter Squadron. Stationed at Phù Cát Air Base in southern Vietnam in July 1967, Pittman and the aviators under his command continued to provide aerial support to the troops on the ground.
The command pilot carried upon his shoulders the burden of leadership and, though spending much of his time engaged in managerial and administrative matters, continued to fly missions and faced the same threats as those under his command. He distinguished himself on several occasions, including a flight that occurred on November 19, 1967.
It was on this date that his flight was "scrambled from alert at Phu Cat Air Base in response to a request for immediate close air support by two U.S. Army units in heavy contact with an unknown size NVA force southwest of Dak To," noted the citation for an award Pittman later received.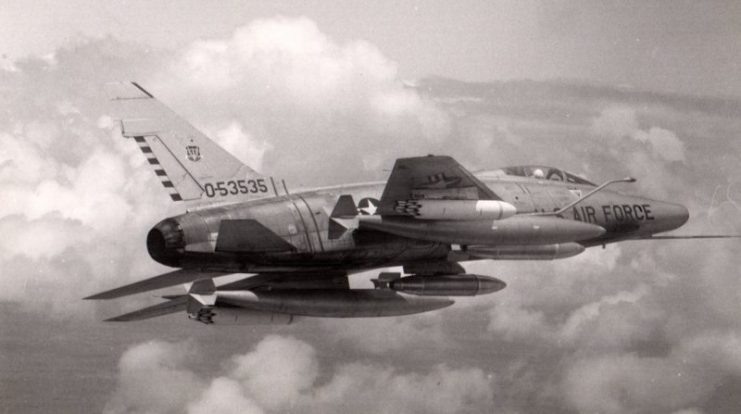 Along a ridge, defending a hill was a North Vietnamese force in bunkers who had pinned down approaching American forces with an onslaught of automatic weapons fire. To complicate matters for the aerial assistance sought from the F-100s, the American ground forces were situated approximately 150 meters from the bunkers and a 3,000-foot ceiling blanketed the intended target area.
Pittman was limited to a single approach to the target area and despite a barrage of hostile automatic weapons fire that had spelled doom for previous aviators, he made five low angle and close range strafe passes, delivering all four of his 750-pound bombs on the enemy bunkers. Once his ordnance was dropped and he departed the area, the opposing fire was suppressed and the American units were able to secure the ridge.
On May 1, 1968, Pittman transferred command of the squadron and returned to the United States, having completed 277 combat missions in his F-100 aircraft during his two tours in Vietnam. Additionally, his service during the war resulted in several accolades including the Distinguished Flying Cross, Bronze Star and a number of Air Medals.
In the years after the war, Pittman achieved the rank of major general and completed a 35-year Air Force career in 1978. He passed away in 2001 but through the scores of photographs, flight records and historical documents left behind, he has preserved for future generations the details of his prestigious military career.
As Colonel Frank M. Haynie observed of Pittman's performance shortly after returning from Vietnam, "His superior professionalism, leadership, and exemplary courage have been an inspiration to his subordinates and created the highly motivated, mission oriented attitude of his men."
He added, "(Pittman's) exceptional foresight, managerial skill and sound judgment have sustained the squadron's combat capabilities through unusually trying circumstances in a hostile environment."