About Jecinci
Jecinci is 34 years old, architect & 3D Artist from Romania, with a passion for colorizing black & white photos. And he is quite skilled in doing it!
As he says: For me, colorizing black & white photographs, is a hobby that opens a vibrant and dynamic window into the past, through which memories become a vivid reality.
He started this hobby 2 years ago, after seeing a tutorial, by chance, on YouTube. His first "work" was a photo of his grandparents and then he continued with other members of the family.
"The next step was to improve my skills, and, with the help of some of the best artist in the field ( Olga S, Doug B, Dragos A, Florin R, Patty A, Jared E & others, that I would like to say a BIG "Thank you!" to ), I managed to do that ( and will continue to do so, I hope 🙂 )."
After a while, he started to concentrate on portraits until he managed to get a good grasp on themThis improved his photoshop "technical" skills and gave him the courage to tackle other types of images like landscapes, war scenes, cars, city life and all sorts of miscellaneous subjects.
"I like to colorize images that intrigue me and my imagination, images I'm curious to see in color, besides portraits of important or less important figures, some more or less known, some more or less controversial. I like to give the people that follow my works, images that (like they do for me) will set them on a path of discovery and a bit of knowledge, will put a smile on their faces or make them remember a part of history. Doing this, I also share with them a bit of myself, a bit of what interests me ( I can get lost for hours in Google image searches).
I would like to thank the people that follow my work for their support, and I hope that I will be able to keep them interested in the future with the images I have not yet colorized."
And we would like to thank Jecinci for the awesome work he's doing! Here you may find his Facebook page, with a lot more photos, not only restricted to war history.
Colorized photographs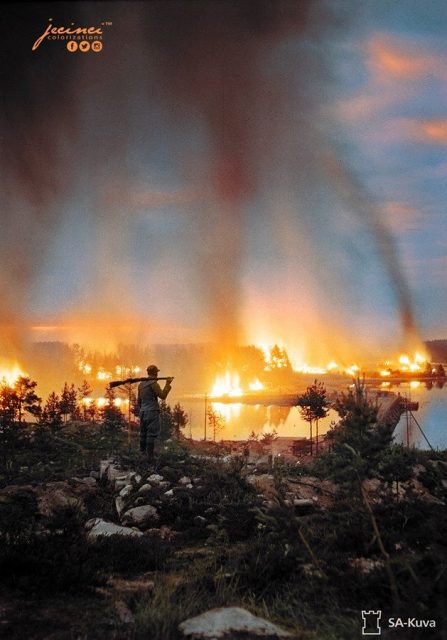 Finnish soldier looks at a burning town, 1944. This photo was most likely taken during the Continuation War (25 June 1941 – 19 September 1944), in which Finland was at war against the Soviet Union. Fins lost over 60 000 men in that conflict, while Russians over 300 000. Finland lost the war but survived as the independent state.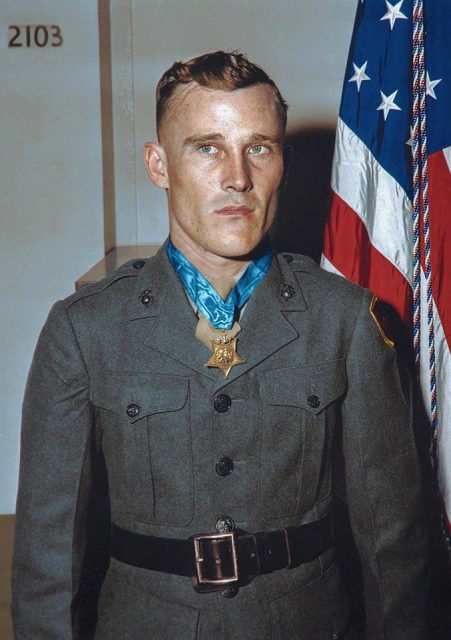 Wilson Douglas Watson (1922-1994) was a United States Marine Corps private who received the Medal of Honor for his actions on Iwo Jima during World War II. Citation of his Medal of Honor presented by Harry S. Truman:

"For conspicuous gallantry and intrepidity at the risk of his life above and beyond the call of duty as Automatic Rifleman serving with the Second Battalion, Ninth Marines, Third Marine Division, during action against enemy Japanese forces on Iwo Jima, Volcano Islands, 26 and 27 February 1945. With his squad abruptly halted by intense fire from enemy fortifications in the high rocky ridges and crags commanding the line of advance, Private Watson boldly rushed one pillbox and fired into the embrasure with his weapon, keeping the enemy pinned down single-handedly until he was in a position to hurl in a grenade and then running to the rear of the emplacement to destroy the retreating Japanese and enable his platoon to take its objective. Again pinned down at the foot of a small hill, he dauntlessly scaled the jagged incline under fierce mortar and machine-gun barrages and with his assistant automatic rifleman charged the crest of the hill, firing from his hip. Fighting furiously against Japanese troops attacking with grenades and knee-mortars from the reverse slope, he stood fearlessly erect in his exposed position to cover the hostile entrenchments and held the hill under savage fire for fifteen minutes, killing sixty Japanese before his ammunition was exhausted and his platoon was able to join him. His courageous initiative and valiant fighting spirit against devastating odds were directly responsible for the continued advance of his platoon and his inspiring leadership throughout this bitterly fought action reflects the highest credit upon Private Watson and the United States Naval Service."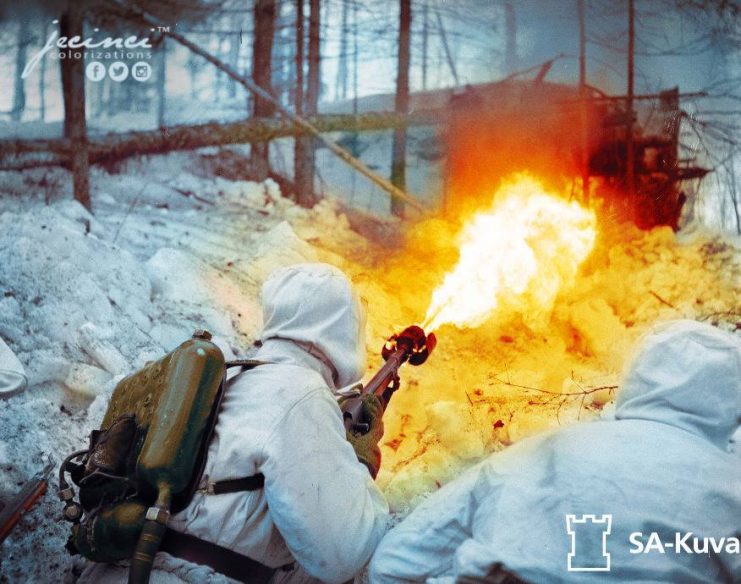 Finnish soldier operating a captured flame-thrower ROKS-2. The photo was taken is Aunus Carelia, March 1943, also during the Continuation War.The Finnish designation for captured ROKS-2 units was liekinheitin M/41-r. Captured Soviet flamethrowers saw some use by Finnish forces during the Continuation War. They were operated by two-man teams of combat engineers. They were well regarded by the Finns, although flamethrowers of all kinds saw little use by Finnish forces.
During the Second World War, a Douglas Dakota of BOAC is silhouetted at Gibraltar by the batteries of searchlights on the Rock, as crews prepare it for a night flight to the United Kingdom. During World War II the Rock was strengthened as a fortress. he naval base and the ships based there played a key role in the provisioning and supply of the island of Malta during its long siege.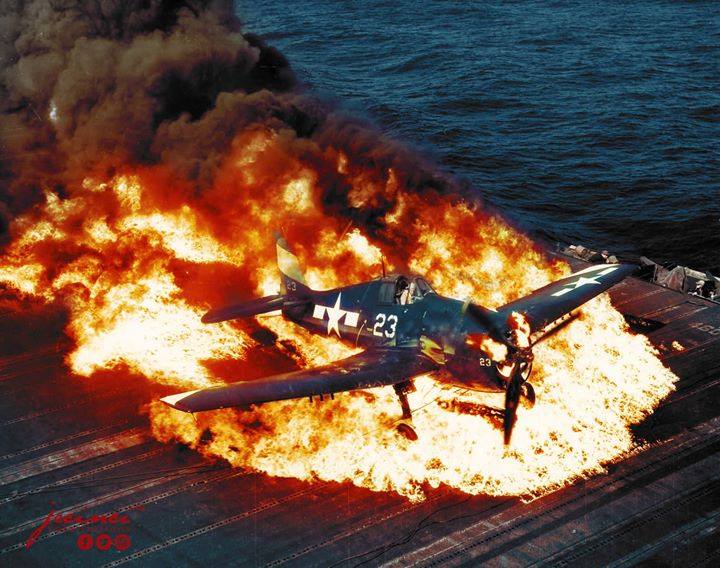 Burning F6F-5 Hellcat white 23 from VF-9 USS Lexington (CV-16), 25 February 1945. The fighter pilot Ardon Ives survived the crash,but was killed in a dogfight with Japanese fighters on May 22 of the same year. He was 23.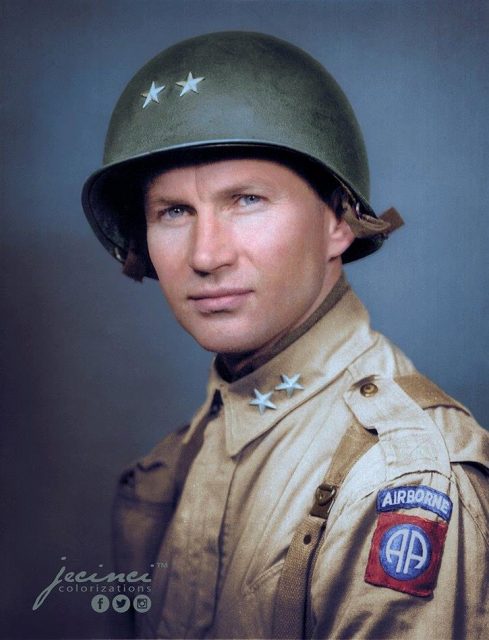 James M. Gavin, pictured here as a major general (1907 – 1990), the youngest major general to command an American division in World War II. During the war, he was often referred to as "The Jumping General" because of his practice of taking part in combat jumps with the paratroopers under his command; he was the only American general officer to make four combat jumps in the war.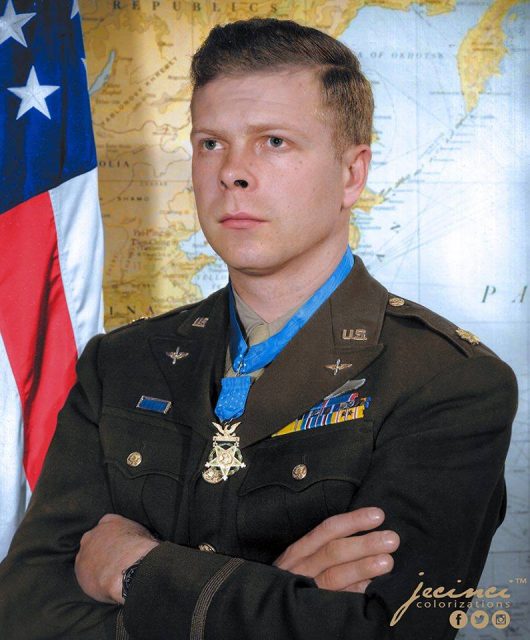 Major Richard I. Bong (1920-1945), Medal of Honor recipient. One of the most-decorated fighter pilots and the United States' highest-scoring air ace in the war, being credited with shooting down 40 Japanese aircraft (all of these victories were in the P-38 Lightning fighter. He died in California while testing a jet aircraft shortly before the Japanese surrendered and the war ended.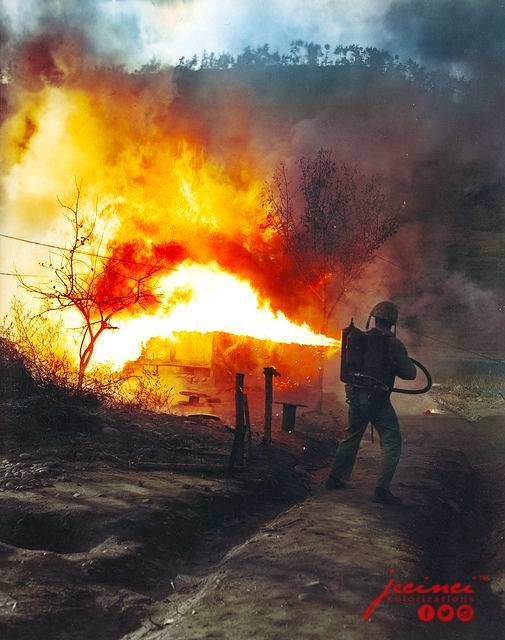 Fiery Destroyer – As the First Marine Division advances in Korea, the flamethrower is used to deny communist infiltrators a hiding place, 5 May 1951. Beginning in early 1951 the division participated in several UN (UN) offensives in east-central Korea.
This was followed by defending against the Chinese spring offensive composed of over 500,000 troops. By June 1951 the 1st Marine Division had pushed northward and secured the terrain around the Punchbowl and then settled into a defensive line 11 miles long.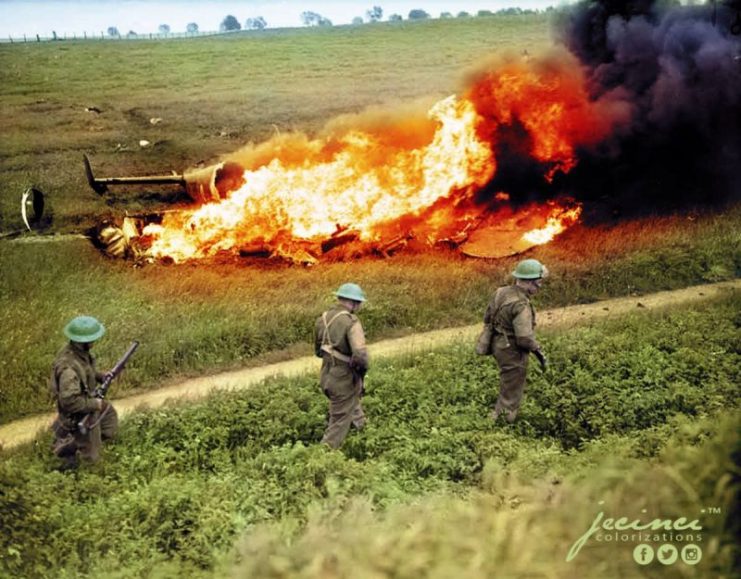 Troops file past the burning wreckage shot down while bombing a Belgian town, 14 May 1940. Soldiers of BEF were in the Western Europe until 25 June 1940 (Operation Ariel), and following the military collapse in the Battle of France against Nazi Germany they were forced to evacuate via Dunkirk.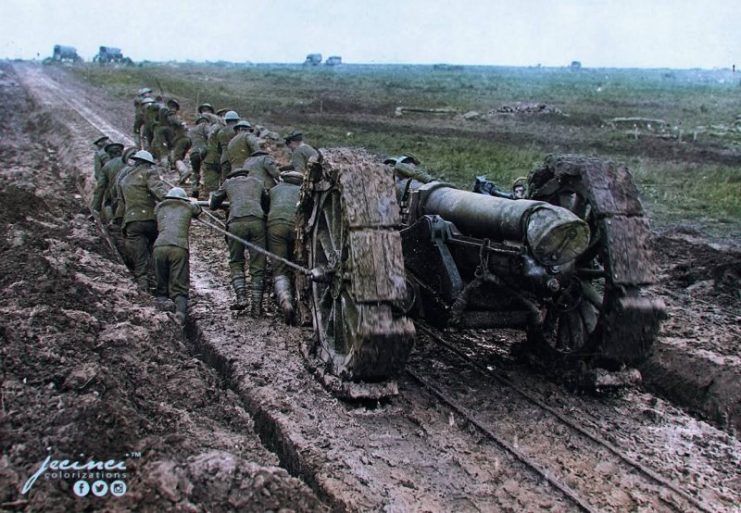 Soldiers struggling to pull a big gun through the mud. The gun has been placed on a track created for a light railway. The soldiers are pushing a device, attached to the gun, that possibly slots into the tracks. Some of the men are in a ditch that runs alongside the track, the rest are on the track itself.
A makeshift caterpillar tread has been fitted to the wheels of the gun, in an attempt to aid its movement through the mud. The surrounding landscape is bleak and desolate, with only a few trucks visible in the distance. The mud and flooding at the Front not only created mobility problems for the men, it was also extremely hazardous, with men and animals often becoming trapped in the quagmire.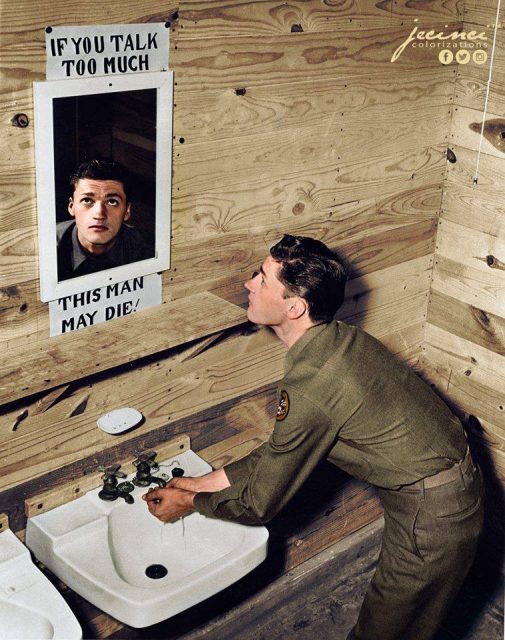 U.S. soldier looks into washroom mirror with a sign around it reading "IF YOU TALK TOO MUCH THIS MAN MAY DIE!". Encouragement of not spreading information which might be sensitive in the War effort during World War II.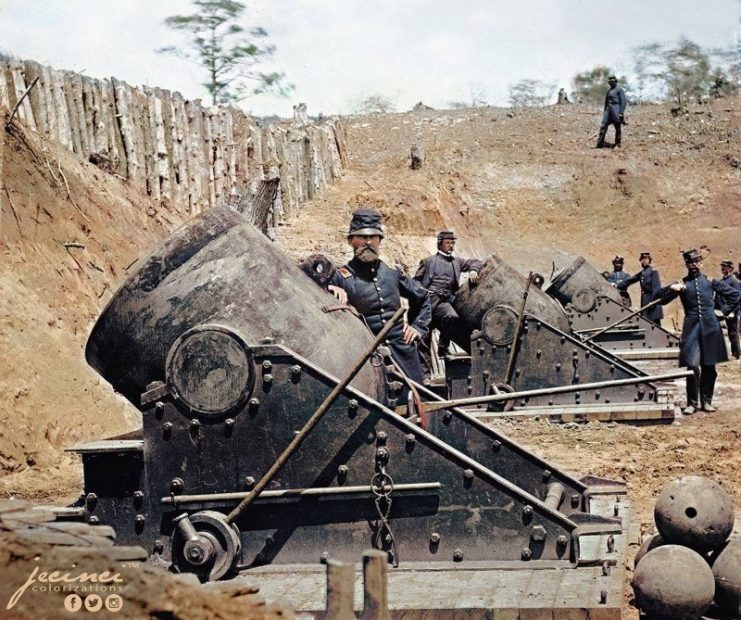 Battery No. 4, 1st Connecticut Heavy Artillery with 13-inch seacoast mortars, Model 1861, during the Siege of Yorktown, Virginia, 1862. The Siege of Yorktown was fought from April 5 to May 4, 1862, as part of the Peninsula Campaign of the American Civil War. Result of the battle was inconclusive.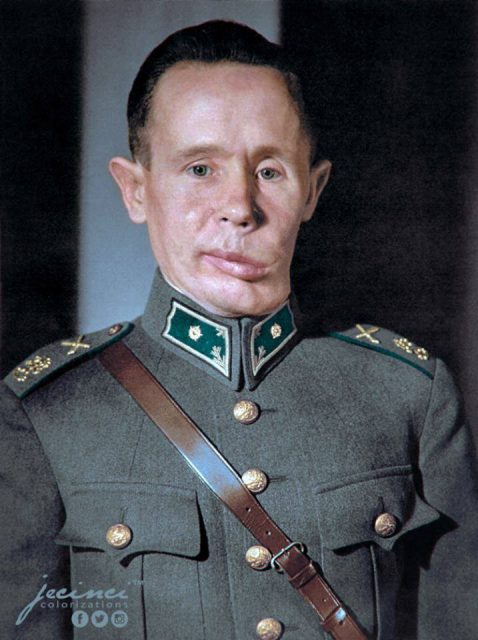 Simo "Simuna" Häyhä (1905-2002), nicknamed "White Death", was a Finnish sniper in World War II with some terrifying stats. He was credited with 505 confirmed kills of Soviet soldiers in only 100 days during the Winter War. On 6 March 1940, Häyhä was hit in his lower left jaw by an explosive bullet fired by a Red Army soldier, but he did not die.
It took several years for Häyhä to recuperate from his wound. The bullet had crushed his jaw and blown off his left cheek. Nonetheless, he made a full recovery and became a successful moose hunter and dog breeder after World War II, and even hunted with the Finnish President Urho Kekkonen.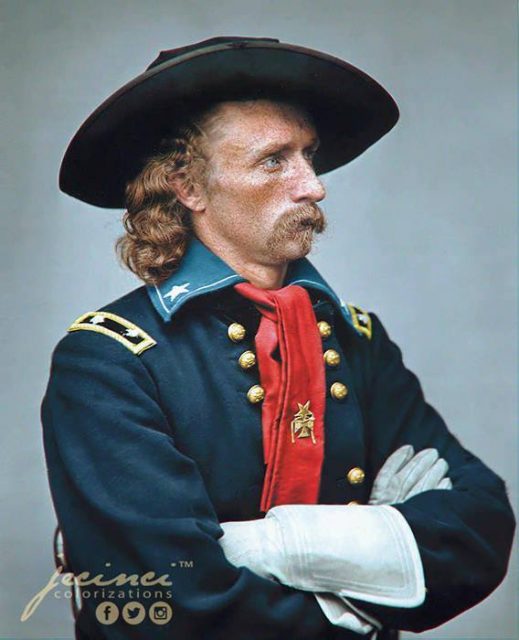 George Armstrong Custer (1839-1876), United States Army officer and cavalry commander in the American Civil War and the American Indian Wars. Photo taken c. 1865. He was killed during the Battle of the Little Bighorn that has come to be popularly known as "Custer's Last Stand".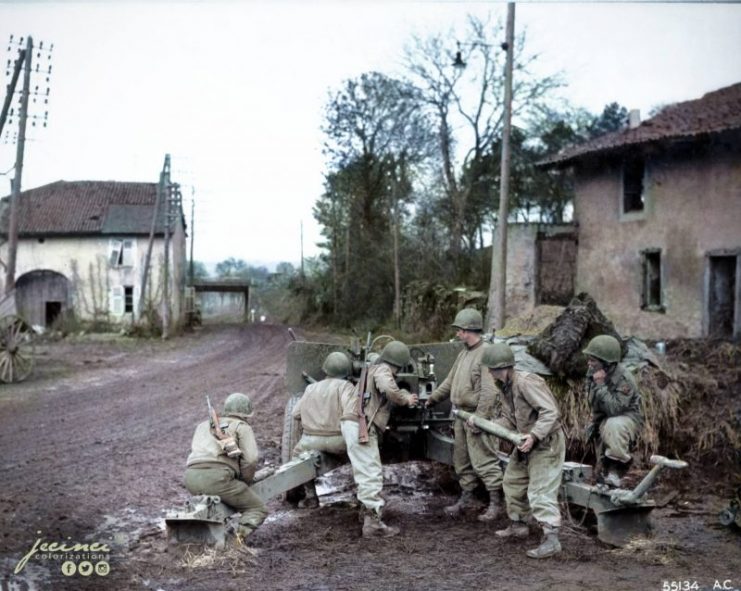 Members of the 607th Tank Destroyer Battalion (attached to the 95th Infantry Division) load their 3-inch M5 anti-tank gun on one of the approaches to Metz.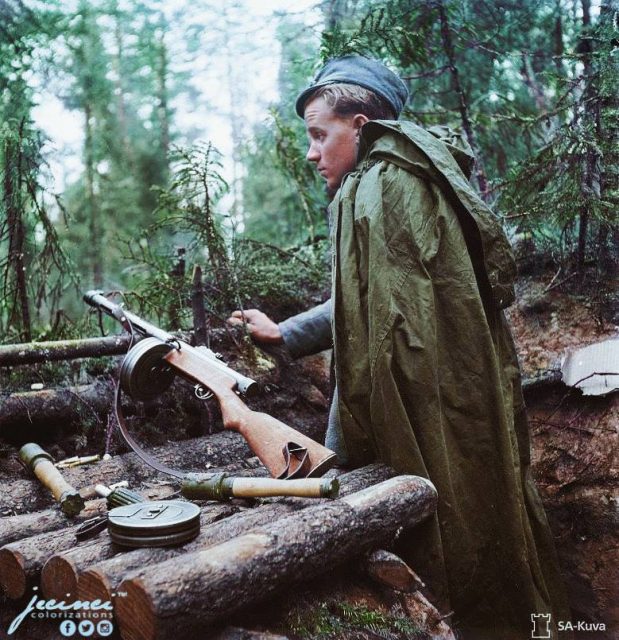 A finnish soldier with Suomi KP during the Continuation War, 1944. The Suomi KP/-31 is regarded by many as one of the most successful submachine guns of World War II, also the soon developed 71-round drum magazine was later copied and adopted by the Soviets for their PPD-40 and PPSh-41 submachine guns. Total number produced was approximately 80 000.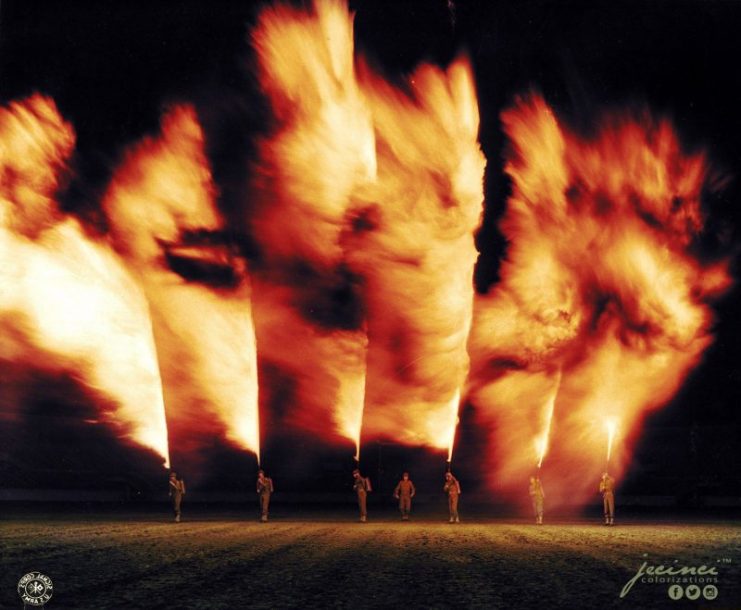 Flamethrowers at New Orleans Louisiana in the Army War Show November 27, 1942. In the Pacific theatre, The U.S. Army used M-1 & M-2 flamethrowers to clear stubborn Japanese resistance from prepared defenses, caves, and trenches. In cases where the Japanese were installed in deep caves, the flames often consumed the available oxygen, suffocating the occupants.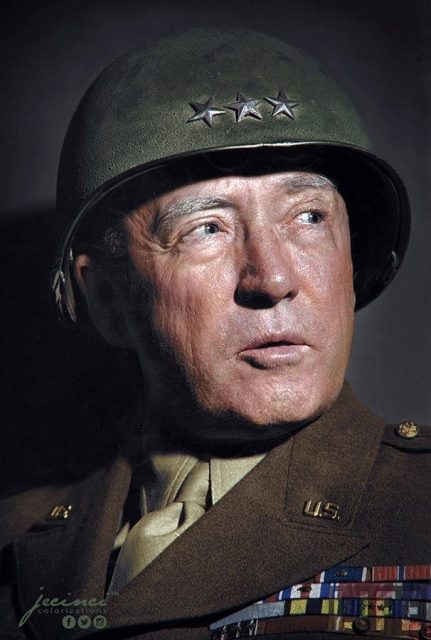 General George Smith Patton Jr. (1885-1945), the commander of the U.S. Seventh Army in the Mediterranean and European theaters of World War II, but is best known for his leadership of the U.S. Third Army in France and Germany following the Allied invasion of Normandy in June 1944. Nicknamed "Old Blood and Guts", but also "The Old Man" and "Bandito". He died in his sleep on 21 December 1945, following his car crash accident. At one point he commented his presence in hospital: "This is a hell of a way to die."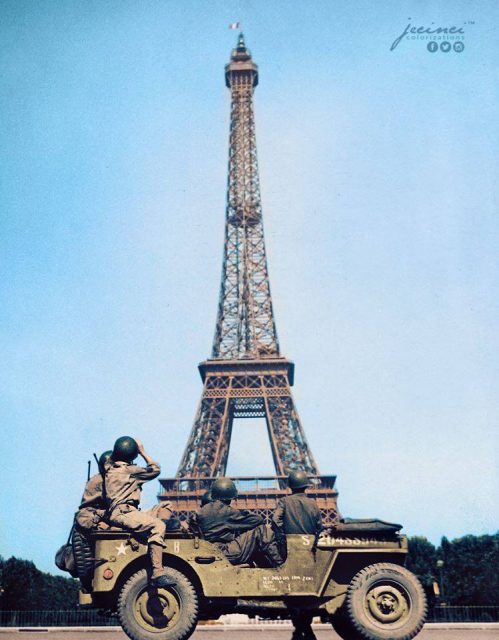 American soldiers watch as the Tricolor flies from the Eiffel Tower again, 25 August 1944. The liberation began on 19 August, when the French Forces of the Interior staged an uprising against the German garrison upon the approach of the US Third Army, led by General George Patton.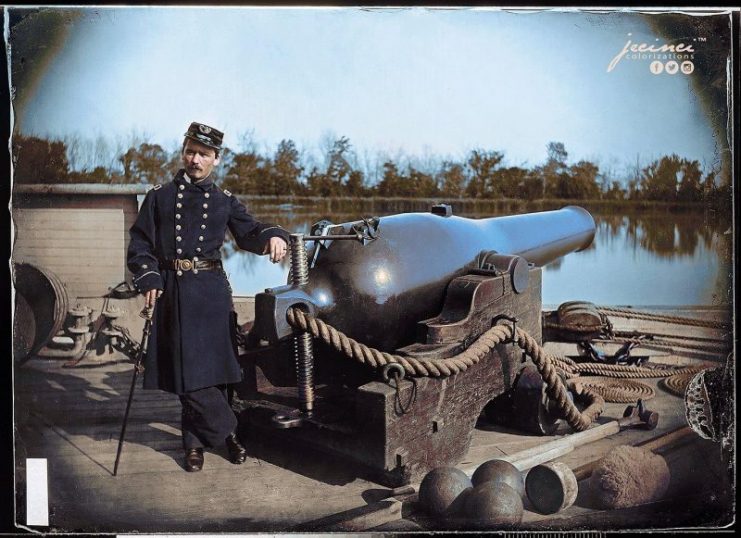 Deck of the USS Hunchback, a side-wheel, steam-powered gunboat, on James River, VA, 1862, U.S. Civil War. Decommissioned on 12 June 1865, and a month later the ship was sold to the Brooklyn and New York Ferry Company for civilian use. The boat was renamed the General Grant and remained in civilian use until approximately 1880, when she was retired and scrapped.