War History online proudly presents this Guest Piece from Jeremy P. Ämick, who is a military historian and writes on behalf of the Silver Star Families of America.
Editor's note: This article is the fourth in a five-part series highlighting the life and military career of Maj. Gen. Don D. Pittman.
The Korean Peninsula burst into a hotbed of interest for the United States shortly after the Second World War. Since that time, U.S. troops have operated along the 38th parallel and in locations throughout South Korea to serve as a presence in an unstable region, which consequently provided for one local veteran the unique setting for several fascinating Cold War interactions.
When Don D. Pittman first left Jefferson City to enlist in the U.S. Army Air Forces in 1943, he likely never predicted the trajectory of his career as a command pilot. During a lengthy career that carried him to several interesting locations, he achieved the rank of major general in the Air Force.
According to his official biography on the Air Force website, Pittman "assumed duties as commander of the 314th Air Division at Osan Air Base, Republic of Korea, in August 1975." The author of the bio added, "In that capacity, he also served as commander of the Korean Air Defense Sector; commander, Air Forces, Korea; and Air Force advisor to the senior member of the United Nations Military Armistice Commission."
His duties as a general officer included formal activities such as the ribbon cutting for the new barracks on Osan Air Base in April 1976. Pittman would also play host to high-ranking U.S., and Korean military officers, governmental officials and dignitaries, the foremost of which was former South Korean President Park Chung Hee.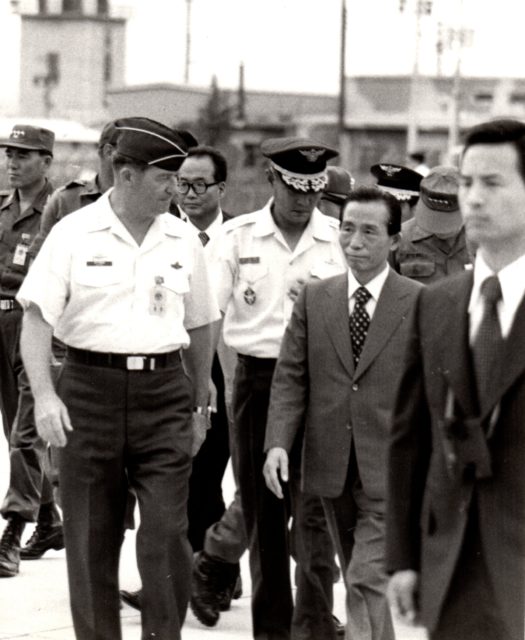 "By the time Park came to power in 1961, holding a strong anti-communist line, Korea had become an indispensable part of U.S. security policy in the region, especially following the Korean War (1950-53)," wrote Hyung-A Kim in the book "Korea's Development under Park Chung Hee."
Park's ascension to the presidency was achieved through a military coup he led on May 16, 1961. Although as president he was able to accomplish many popular and successful economic reforms, he essentially became an autocrat by later declaring himself president for life.
Pittman was certainly advised by his staff of the South Korean president's checkered past, but since he was considered an ally to the United States, President Park was afforded every presidential courtesy during his visit to Osan Air Base in June 1976. Accompanying the president on his tour was the late U.S. Army General Richard G. Stillwell—a decorated soldier who was at the time serving as commander of United States Forces Korea.
Three years following the visit to Osan AB, "Park was assassinated by his close confidant, the director of the KCIA (Korean Central Intelligence Agency)," reported the Daily Press (Newport News, Va.) on November 25, 1979. The paper went on to explain that prior to his assassination, Park and the KCIA director were in disagreement over how to handle dissident elements within the government.
Park's daughter, Park Geun-hye, became the first woman to be elected president of South Korea in 2012. Earlier this year, she was impeached and removed from office amid a corruption scandal.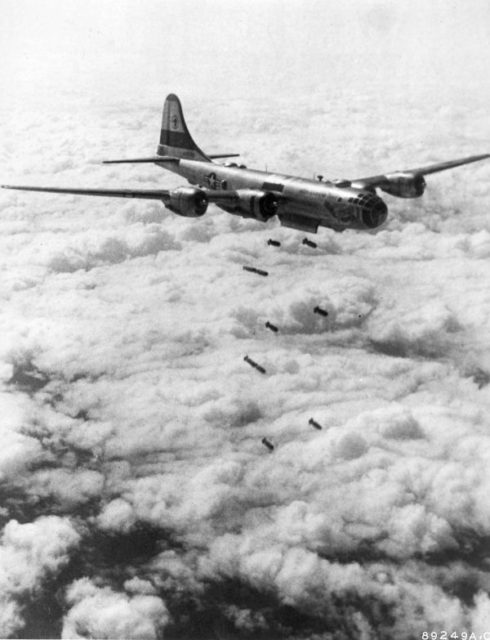 Major General Pittman would play a prominent role in yet another unique event in the months following the visit of President Park Chung-hee to Osan Air Base—a grisly attack against U.S. soldiers that resulted in a coordinated response known "Operation Paul Bunyan."
In the village of Panmunjom, where the armistice was signed in 1953 to end the fighting in the Korean War, is a "Bridge of No Return" that crosses the demilitarized zone (DMZ) between both North and South Korea. On August 18, 1976, "a modest security team and work crew, conveyed out in a work truck to trim (a) tree" that obstructed the view of a North Korean checkpoint," wrote Mark Dake in his book "South Korea: The Enigmatic Peninsula."
What happened next was entirely a shock to United Nation forces in the region as two U.S. officers, who were overseeing the trimming of the poplar tree, were hacked to death by 28 hatchet-wielding North Koreans. Additionally, four U.N. enlisted men and four South Korean soldiers were injured during the attack.
"Two days later, on August 19 (1976), Operation Paul Bunyan was approved by official channels in Washington," wrote Dake.
The United States and Korea soon established war footing and Major General Pittman led many of the planning sessions to help develop an aviation response appropriate to the situation.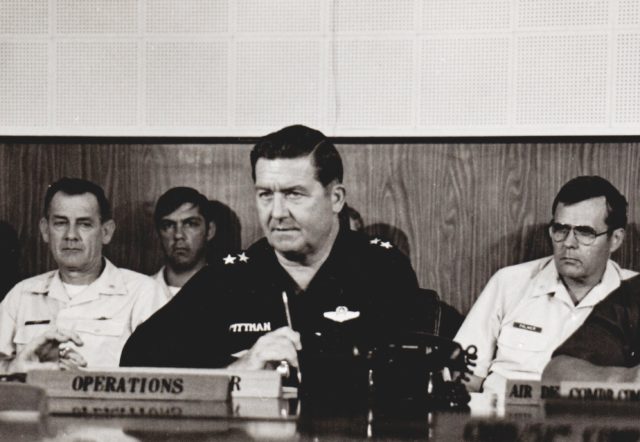 "The poplar was later chopped down (on August 21, 1976) in 'Operation Paul Bunyan,' in which a platoon of flak-jacketed soldiers moved in on the tree while attack helicopters, fighter planes and B-52 bombers roared overhead and the carrier USS Midway took position off the coast," reported the Arizona Daily Star in their August 26, 1987 edition.
Tensions were high and the situation could easily have reignited war between several nations, yet the U.S. response of cutting down the tree—while backed by a high level of force—was met with no opposition by the North Koreans.
Though Major General Pittman has since passed and cannot provide first-hand insight regarding the details of his Korean service, an interview appearing in the December 6, 1976 edition of the Sunday News and Tribune confirmed Pittman's belief that each day in the military "brings new challenges and offers an individual the chance to put forth his ideas and solutions."
He added, "If a person wants excitement, progression, reward and self-satisfaction, join the United States Air Force."