War History online proudly presents this Guest Piece from Jeremy P. Ämick, who is a military historian and writes on behalf of the Silver Star Families of America.
Editors note: This is the final installment in a five-part series highlighting the life and military career of Maj. Gen. Don D. Pittman.
Jefferson City native Don D. Pittman entered the twilight of his Air Force career in the spring of 1977, when appointed as commander of the 24th North American Air Defense (NORAD) Region—a position that seemed the ideal ending for a Cold War career that began in earnest with his service during the Berlin Airlift in the late 1940s.
Having recently left Osan Air Base in the Republic of Korea where he was commander of the Korean Air Defense Sector and received promotion to the rank of major general, Pittman was now poised to finish out his illustrious career closer to home.
At the time of Pittman's command, the 24th NORAD Region headquartered at Malmstrom Air Force Base in Great Falls, Montana, was one of eight such regions and "covered the states south of Montana and north into Central Alberta, Saskatchewan and Manitoba," notes the book "NORAD and the Secret Nuclear Threat: Canada's Secret Electronic Air War."
The book goes on to explain that NORAD's "first responsibility was to deter the USSR by showing that a unified North American Defense Network was in place and would respond immediately to any threat by informing the Canadian and U.S. governments of that threat. The USA then had the full force of the Strategic Air Command at its disposal to respond as necessary."
It was not the general's first time at Malmstrom AFB since he had visited the base while in command of the 14th Air Division at Beale AFB, California, several years earlier. The stateside assignment also became a homecoming of sorts for his wife, Arlene, who lived for many years in Billings, Montana, "and received her elementary education and part of her secondary education in that city," an Air Force newspaper reported.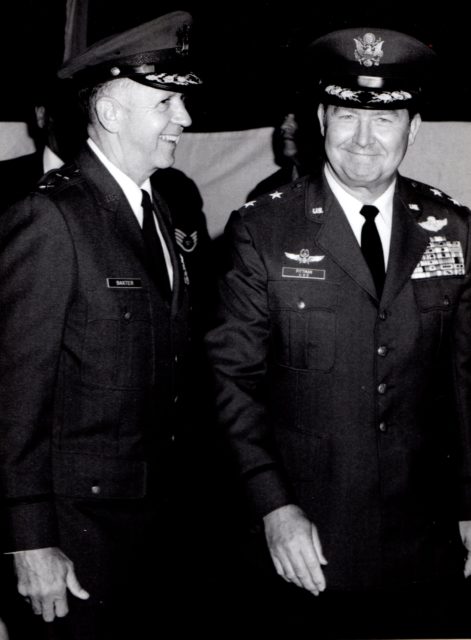 For the next 17 months, Pittman was not only responsible for overseeing seven American stations and had operational command of seven Canadian stations, but he also found time to embrace the local recreational environment. In the June 7, 1977 edition of the Great Falls Tribune, he was quoted, "People are warm and friendly here. … I like it and I plan to do some fishing."
Although several notable events occurred during Pittman's brief tenure with NORAD, one of the more interesting was the transfer of control from the Army to the Air Force of the Perimeter Acquisition Radar Attack Characterization System (PARCS) site at the Cavalier Air Force Station, N.D.
Originally part of the Army's anti-ballistic missile defense program, General Pittman accepted responsibility for the missile detection radar site from Brigadier General John G. Jones, the Army's Ballistic Missile Defense Program manager during a ceremony in October 1977.
His career success, said Debbie Pash-Boldt, Pittman's second cousin, was partly attributable to the efforts of his wife, Arlene.
"My mother always said that Arlene was one of the reasons Pittman made it as far as he did in his career," said Pash-Boldt. "She was always very supportive in his career and they worked together well as a couple," she added.
During a change-of-command ceremony that took place at Malmstrom Air Force Base on September 29, 1978, Pittman's 35-year career ended when he turned over command of 24th NORAD Region to Major General Walter H. Baxter, III. At the time of his retirement, Pittman had accrued more than 11,000 flight hours in 42 types of aircraft.
The Pittmans eventually settled in Gold River, California; however, they refused to idle in their golden years and enjoyed worldwide travel. Scores of scrapbooks also demonstrate Pittman's passion for photography, thus inspiring his setting up an irrevocable trust to the National Cowboy Hall of Fame and Heritage Center, which established the yearly Major General and Mrs. Don D. Pittman Wildlife Art Award in his honor.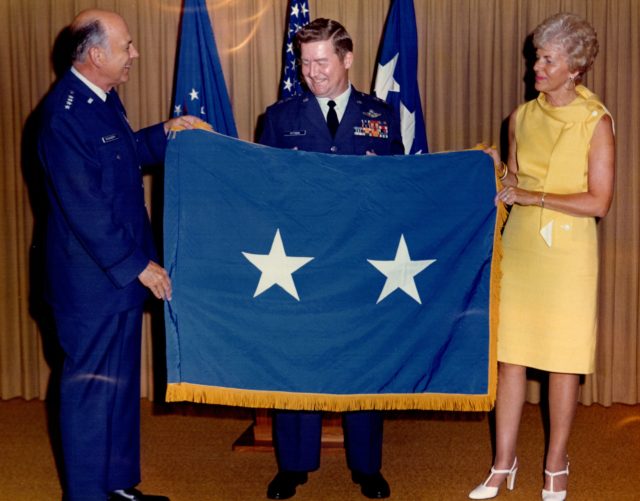 Additionally, noted Pash-Boldt, the former Air Force general never forgot the Catholic education he received while a youth living in Jefferson City and, in his later years, donated to a scholarship fund at Helias Catholic High School.
As the years passed, Arlene Pittman's health began to suffer following her diagnosis with Parkinson's disease. Sadly, while on a car trip in Wyoming in 1999, "Arlene began to choke on a piece of hard candy and by the time Pittman was able to stop the car and open the passenger door to assist, she had passed away," explained Pash-Boldt. "It was a very traumatic experience for Pittman."
On September 11, 2001, Pash-Boldt said, Pittman was sitting in his living room viewing the news of the terrorist attacks in New York when he received a telephone call from a neighbor asking if he was watching the events unfold.
"The neighbor said he got the impression that Pittman was ready to get in a plane and go take care of business," she said. "Later that afternoon, the same neighbor noticed Pittman had not gotten his paper and went over to check on him." She solemnly added, "He found him dead on the floor and people speculate that his heart couldn't take watching the Twin Towers collapse."
The Pittmans had no children to carry forth their legacy; however, Pash-Boldt stated that she had made a promise to her second cousin that she would preserve the memorabilia relating to his armed forces career so memories of his service would not fade away.
"I don't know if Pittman ever intended to make the military a career when he first enlisted, but he certainly was a patriot. He often put himself in great danger for his country and I am grateful for his service and that of everyone who serves in the military."
She added, "For me, keeping the promise I made to Don Pittman means to make sure his story is shared with other generations."