War History online proudly presents this Guest Piece from Jeremy P. Ämick, who is a military historian and writes on behalf of the Silver Star Families of America.
Raised on a farm near the rural Central Missouri community of Wardsville, Mo., Paul Rodeman recalls working around farm equipment at a very young age; so upon graduating from Helias High School in 1966, he believed the best option for his future was to pursue a career in diesel and auto mechanics.
"I enrolled in Bailey Technical School (in St. Lous) in September of 1966," said Rodeman, 67, Wardsville. "Diesel was really coming on strong and I had worked on equipment on the farm all of my life, so I thought this is what I needed to get into."
Following his graduation from technical school the following summer, Rodeman began working for the Nooter Corporation in St. Louis, but soon received a letter that necessitated serious considerations.
"When I came home from work one day—in early October of 1967—I had a draft notice waiting for me at my apartment," he said. "I turned around and drove back to work and told my boss, who said that I didn't have to go because I still had four years left in my apprenticeship program."
He added, "But the more I thought about it, I figured the war wouldn't be ending anytime soon and that I'd rather deal with it when I was 19 years old instead of 23."
Inducted into the U.S. Army on November 14, 1967, the young draftee graduated from basic training at Ft. Leonard Wood in February 1968, then boarded a bus bound for Ft. Huachuca near Tuson, Ariz., to begin his communications training in Morse code.
"I had no idea what Morse code was," Rodeman grinned. "But as an incentive, we were told during class that if anyone could send and receive 15 words a minute by the end of three weeks, they would send us to Ft. Gordon for advanced training."
At the end of the second week, Rodeman explained, he met the challenge and was on his way to Ft. Gordon to complete nine weeks of advanced communications training in radio teletype.
But by August 1968, the soldier was on his way to Vietnam and would never again see the radio teletype equipment he had worked with while in training.
Arriving in Long Binh, he was processed into the country and transferred to the 14th Transportation Battalion near the city of Nha Trang.
"Despite the name of the outfit, it wasn't a trucking company … it was all helicopter maintenance," he said. "And we were located near a beautiful seacoast town that was also the home of the 5th Special Forces."
Rodeman said that he would use landline telephones to coordinate with different military companies to locate and acquire parts for the aircraft his battalion supported. However, five months into his initial assignment, he was offered an opportunity in Pleiku.
"I accepted a job at Camp Holloway near Pleiku," the veteran said. "I received a promotion to the rank of sergeant and was basically doing the same job … only it was much worse," he added.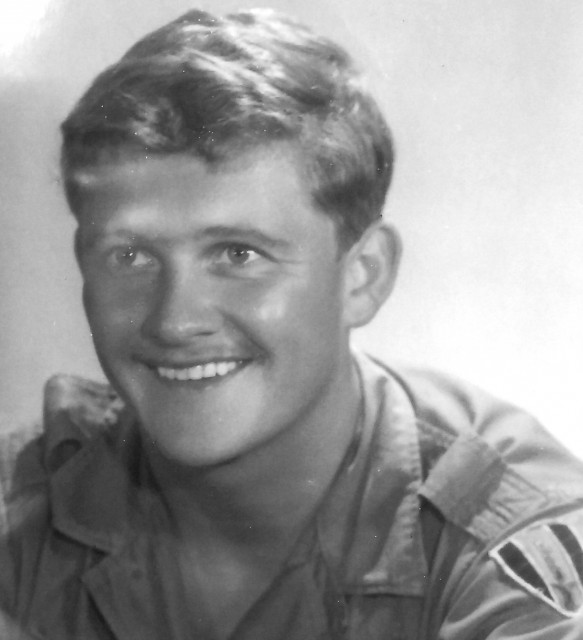 Providing support to the 4th Infantry Division, Rodeman recalled that
Camp Holloway had received the designation as "rocket alley" because of the enemy's intense efforts to damage or immobilize the helicopters on the base.
"They made me the commo (communications) sergeant and I was the only person who didn't have to pull guard duty," he said. "That's because," he clarified, "when trouble hit the fan, you'd better be ready to get your butt to the common bunker to coordinate communications."
Rodeman noted that when he arrived at Camp Holloway, it was a network of bunkers that communicated via wires strung across the ground, which, he added, were frequently damaged by vehicle traffic and enemy artillery explosions.
"I took a helicopter to Nha Trang and Quin Hon and did some bartering," Rodeman grinned. "
With the utility poles he was able to acquire, Rodeman installed the cabling for communications on telephone poles, which helped mitigate the loss of communications that often accompanied a rocket attack.
In August of 1969, Rodeman completed his tour of duty and returned to the United States. For several years, he worked jobs in Texas but returned to Mid-Missouri in 1973.
The veteran received the opportunity to purchase a steel pallet cleaning company in 1978, which he operated for the next quarter-century until selling the business in 1993. He later became the owner/operator of his own dump truck, retiring completely in 2010.
Despite the stresses of war and readjustment issues Rodeman experienced when returning from Vietnam, he affirms that there were also some valuable observations that he obtained while serving in a combat zone.
"One day you're a soldier in combat and the next you're a civilian at home," he said. "It was all a little strange for me when I first came back because there was no longer that adrenaline rush that you get when you're getting mortared by the enemy.
"And though I didn't fully understand the scope and consequences of the Vietnam War while I was there—all the political side deals going on and such—when looking back … well, it makes you realize that people in this country just don't realize how good we've got it."