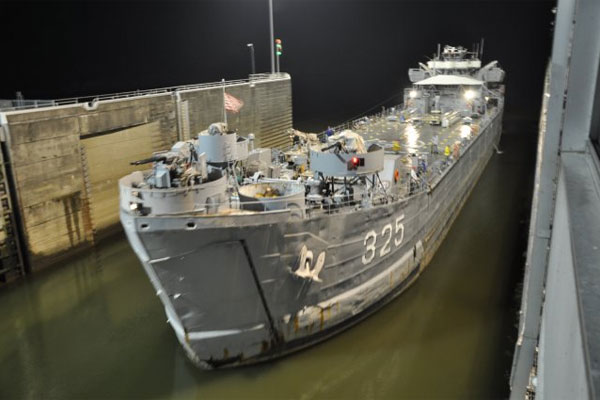 After the Second World War, many ships that were not sold for scrap metal, were transferred to allied countries.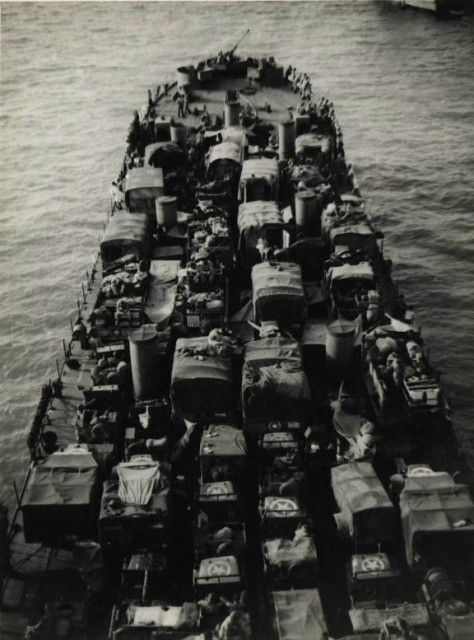 One of those vessels, the LST-325 (Landing Ship Tank), which was built in 1943, was given to Greece in 1964 and remained until decommissioning in 1993 in the ranks of the Hellenic Navy.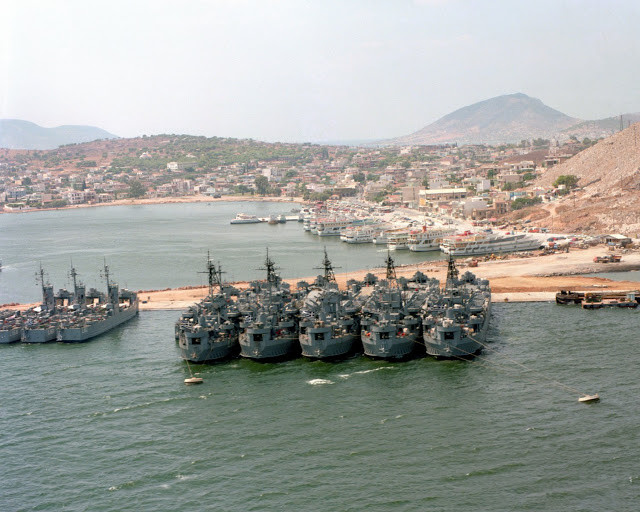 Vessels of the Greek Navy at Salamis, August 31, 1979
From left to right:
Ex- USS LSM-399 – Lieutenant Roussen (L-164)
Ex- USS LSM-45 – Lieutenant Grigoropoulos (L-161)
Ex- USS LSM-102 – Lieutenant Tournas(L-162)
Ex- USS Potter County (LST-1086) – Ikaria (L-154)
Ex- USS Page County (LST-1076) – Crete (L-171)
Ex- USS Boone County (LST-389) – Lesvos (L-172)
Ex- USS Bowman County (LST-391) – Rhodes(L-157)
Ex- USS LST-325 – Syros (L-144)
The ship was purchased in 2000 by The USS Ship Memorial, Inc.
This specific type of vessels is extremely rare, as only two of her type are surviving in the US, although some are still in service with various… contemporary navies of the world.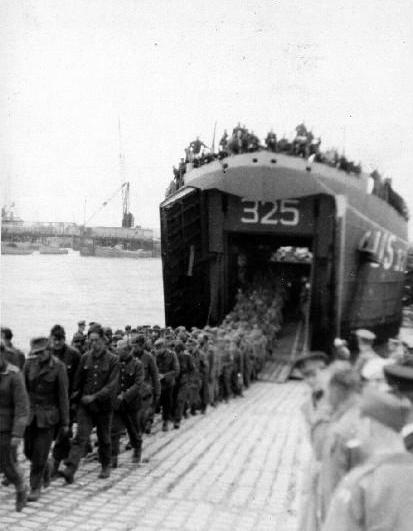 LST-325 was again reactivated in 1963 and transferred to Greece in May 1964. Named Syros (L-144) she served in the Greek Navy until December 1999 when she was decommissioned for the third time.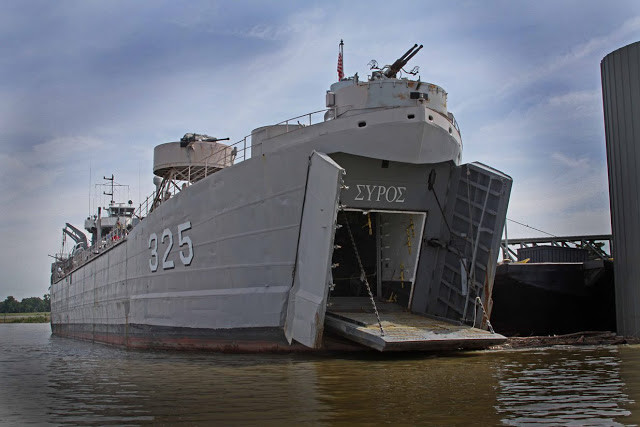 In 2000 she was acquired by The USS Ship Memorial, Inc., and sailed back across the Atlantic for the final time, arriving in Mobile, Alabama on 10 January 2001.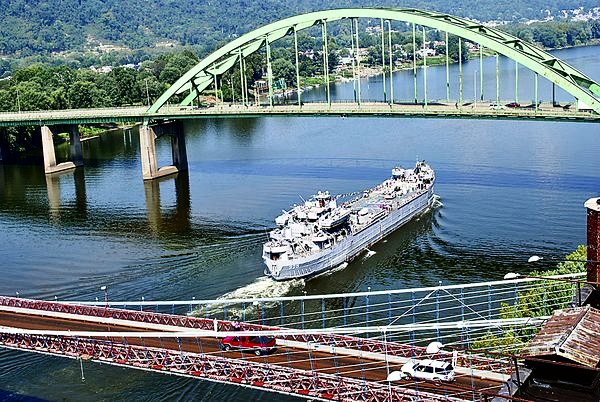 One of only two World War II LSTs to be preserved in the United States, LST-325 is currently docked in Evansville, In. She has become a museum and memorial ship to the men who bravely served their country aboard LSTs.
LST-325 was launched on 27 October 1942, at Philadelphia, Pennsylvania.
The ship operated in the North Africa area and participated in the invasions at Gela, Sicily and Salerno, Italy. On 6 June 1944, LST-325 was part of the largest armada in history by participating in the Normandy Landings at Omaha Beach.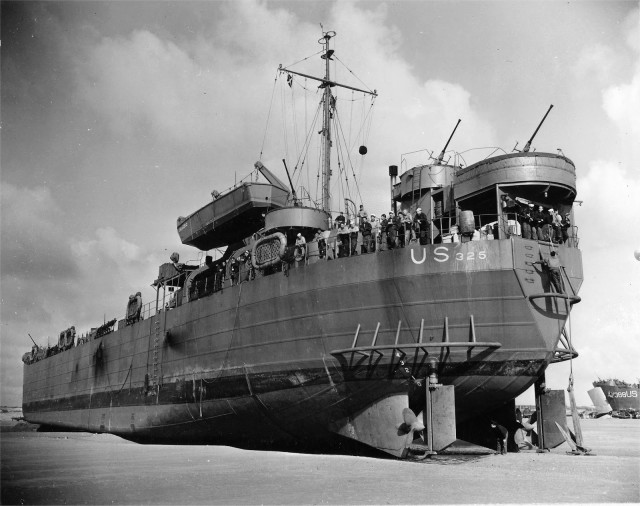 She carried 59 vehicles, 31 officers and a total of 408 enlisted men on that first trip. On her first trip back to England from France, LST-325 hauled 38 casualties back to a friendly port.
Over the next nine months, Navy records show LST-325 made more than 40 trips back and forth across the English Channel, carrying thousands of men and pieces of equipment needed by troops to successfully complete the liberation of Europe.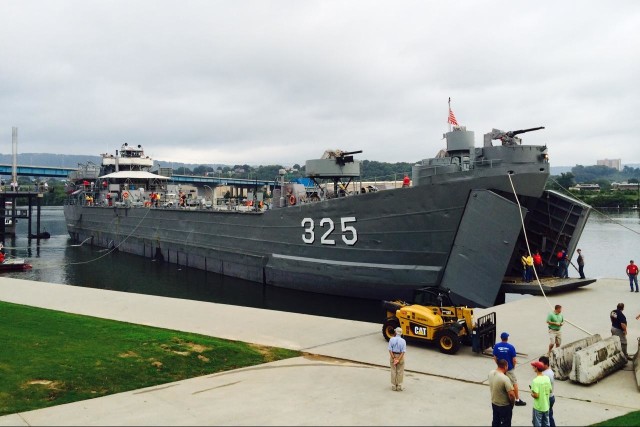 The ship continued to run supply trips between England and France before returning to the United States in March 1945. LST-325 was decommissioned on 2 July 1946, at Green Cove Springs, Florida, and laid up in the Atlantic Reserve Fleet.
The ship was placed in service with the Military Sea Transportation Service in 1951 as USNS T-LST-325, and took part in "Operation SUNAC" (Support of North Atlantic Construction), venturing into the Labrador Sea, Davis Strait, and Baffin Bay to assist in the building of radar outposts along the eastern shore of Canada and western Greenland.

Struck from the Naval Vessel Register, on 1 September 1961, T-LST-325 was transferred to the Maritime Administration (MARAD) for lay up in the National Defense Reserve Fleet.
LST-325 was sent to Greece on 1 September 1964, as part of the grant-in-aid program. She served in the Hellenic Navy as RHS Syros (L-144) from 1964 to 1999.
By Pierre Kosmidis / pierrekosmidis.blogspot.gr