By Jeremy P. Amick
For nearly three years, Lt. Col. Donald "Ray" Ferguson has served as professor of military science for the Reserve Officers' Training Corps (ROTC) program at Lincoln University (Jefferson City, Mo.), molding young students into potential officers for the United States Army. Though he has already enjoyed an extensive military career of his own, he notes that the Virginia community where he was raised first served as his inspiration to enlist.
"I grew up in Martinsville, Va., and graduated from Carver High School in 1987," said Ferguson, 46, Jefferson City. "I went straight from high school to the Army because my hometown was full of manufacturing work and I really wanted to do something different with my life."
With a grin, he added, "I was also infatuated by the 'Be all you can be,' commercials that were on the air back then."
Ferguson's mother did not wish to sign the enlistment papers for her then 17-year-old son, but since he enlisted as a "medical specialist"—a position "she equated with a doctor," she conceded to her son's request, he said.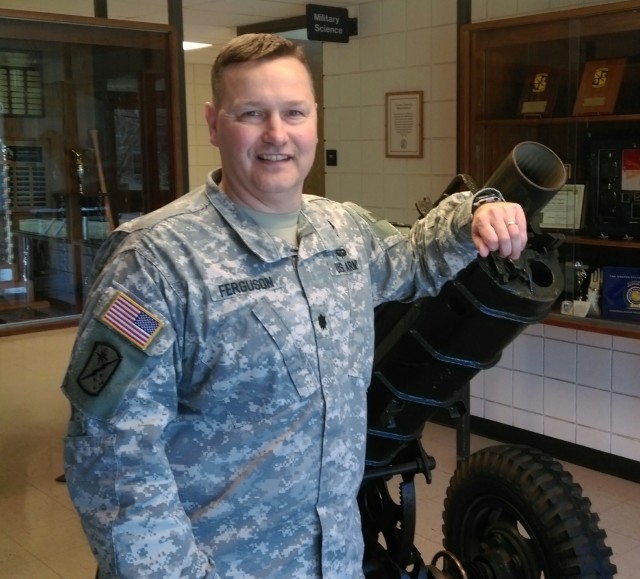 Completing his basic training at Ft. Bliss, Texas, in the summer of 1987, he transferred to Ft. Sam Houston for several weeks of medical training, learning to administer an IV, splint fractures and to treat various types of injuries and wounds. He then completed airborne training at Ft. Benning, Ga., earning his "jump wings" after qualifying with five parachute jumps.
"The heights … I was terrified of them," he admitted, when discussing his airborne training. "But it is something that I really wanted to do; I conquered my fears and just did it … and that's a lesson that has always stayed with me."
The budding soldier admits that the next three years were rather lackluster following his transfer to Ft. Polk, La., engaging in a cycle of training while attached as a medic to a cavalry unit.
In 1990, after completing his enlistment, he chose to leave active duty and returned to Virginia, joining an Army Reserve unit and attending classes at a local community college.
"After three months with my reserve unit, I began hearing rumors of a possible deployment," Ferguson said. "We were sent to Saudi Arabia during Desert Storm and I worked in a Combat Support Hospital transferring patients by ambulance," he added.
Following his four-month overseas tour, he came back to Virginia, wedded his fiancée Debbie, returned to college and transferred to a National Guard Unit.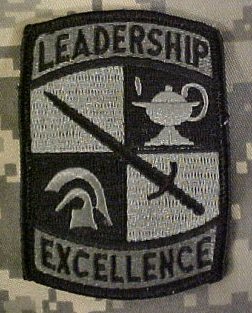 "After awhile, I began to think it was time for me to go back on active duty … I really missed it," he said.
In 1993, he joined the Army, the next few years were a frenetic mixture of training and duty assignments as he attended school to become a cook, completed a tour with an aviation battalion in Germany and then attended Officer Candidate School (OCS) in 1996.
"In the back of my mind, I always wanted to become an officer because when I served as a cook, I was never very good at cooking," he paused, "but I was always able to lead the other cooks to do good things."
Pinned as a second lieutenant in 1996, he embarked upon his first duty assignment as an officer at Ft. Stewart, Ga. In 1997, he was promoted to first lieutenant but had yet to complete his bachelor's degree, which was a requirement for promotion to captain.
"The Army sent me to Georgia Southern University for two years and I was able to graduate with my bachelor's in marketing and logistics in 2000," he noted.
Promoted to the rank of captain shortly after his graduation, Ferguson completed a tour with the 3rd Signal Brigade in Ft. Hood, Texas, followed by service as commander of the 289th Quartermaster Company.
From 2003 through 2006, he shifted his focus from soldier to educator while serving as a training officer and company commander for new OCS recruits at Ft. Benning, Ga., until receiving orders to deploy with the Iraq Multinational Forces.
"I was the maintenance officer for all of Iraq," he said. "We were stationed at Camp Victory in Baghdad and I collected all the reports for the equipment from the Air Force, Army, Marines and Navy, and would roll it into a single preparedness report that was submitted to (the commanding general)."
Leaving Iraq in June 2007, he completed Command and General Staff College at Ft. Leavenworth, Kan., and later served a brief stint at Schofield Barracks, Hawaii. In January 2009, he deployed to Afghanistan to serve as a brigade operations officer, assisting with the establishment of new bases in support of the troop surge.
Briefly returning to Hawaii in early 2010, Ferguson soon revisited Ft. Leavenworth, this time to serve as a logistics instructor until receiving orders to report to Lincoln University in July 2013.
"I wasn't even sure where Lincoln (University) was," Ferguson laughed. "At first, I thought I was going to Nebraska."
For the past three years, the married father of two has resided in Jefferson City and has served as the university's Professor of Military Science, helping train young students as future Army officers. However, his time in the Army, which now spans more than 27 years of active service, will conclude when he departs for Ft. Lee, Va., later this summer to finish out his career.
"My time at Lincoln has been wonderful," he affirmed, "… to have the opportunity to work with college students and to share my experiences and knowledge as a soldier with them."
He added, "I've never regretted my decision to serve in the military—not even a single day. I love getting up every day and working with soldiers, teaching them that you are going to make mistakes, but to learn from them and keep moving forward in your life and career."
Jeremy P. Ämick writes on behalf of the Silver Star Families of America
http://www.silverstarfamilies.org/