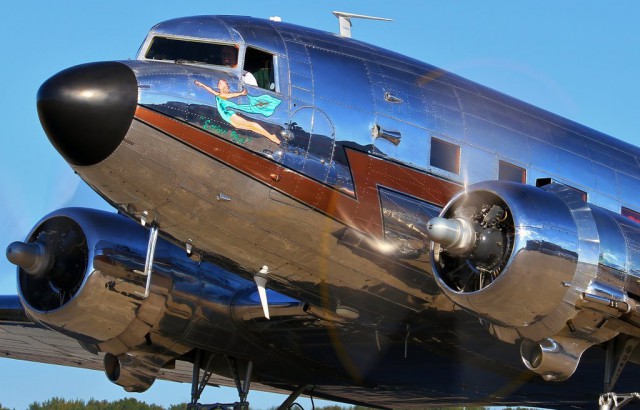 The Douglas Dc-3 was developed as a stretched version from its successful predecessor DC-2 that  first flew in 1934. That model crushed the dominance of the Tri-Motors made by Fokker and Ford, the "Flintstones" styled 1920's aircraft, that made Fokker rich and famous. The genesis of the all-metal Douglas Dc-2 with retractable landing gear, feathering props and superb streamlining compared to the steel tubing canvas and wood covered  Fokker/ Ford planes meant a giant step forward, Even the contemporary Boeing 247 was lagging behind when compared to this flying wonder.
Anthony Fokker was taken by total surprise: overwhelmed by the view of that shiny twin engine Douglas DC-2, he must have realized overnight that he had lost against such competition. There was no way to bridge the technological gap in short time, so he bluntly asked and got from Donald Douglas the license to build the DC-2 in Holland for KLM etc.. And the best was yet to come, the first DC-3 was ordered by American and flew operational in June 1936. It became an instant sales hit, and blew any other type of aircraft out of the market in such way that before WWII, the DC-3 alone was accountable for more than 65 % of all Passenger transport in USA and Canada.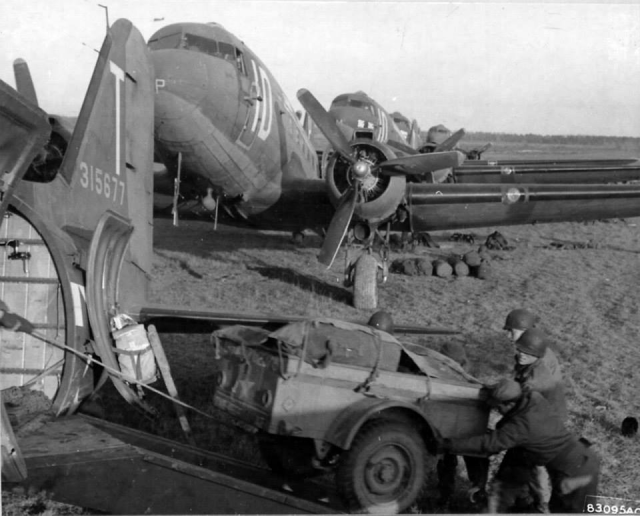 Of the 16.000+ C-47 's made before and during the war, the great majority had survived and went to serve for another 20-30-40 -50 years and more. The Aircraft that had changed the World of Aviation and Air Transport since its introduction in 1936, was now adding another feat. The longest lasting revenue making Transport in the History of Aviation and motorized transportation. There is no car, truck, boat , train or plane  that can boast a commercial career of 70 years in such numbers (excl. some small scale tourist attractions with old trains, boats and cars).
Yet , it is not given to all Dakota's to live on forever  in one piece . See the C-47 L-4  above/ below that survived until Sept. 2010 when she crashed during a road transport (!) against a concrete fly-over wall. The road span between the walls was erroneously documented, the transport crew did not stop for a final check with as a result that the outrigger like port engine nacelle slammed into the central wall, wrinkling and rupturing the total air frame in the process.
Damage was so bad that any option for restoration was nullified on the spot and the wreck was dumped at the parking lot next to the Musical Hanger Theater, where this C-47 was supposed to play a Star Role in the novel  Theater Production "Soldaat van Oranje". ( In 5 years  running now almost 2 million visitors, an all time smash hit in theater productions in NL). Very sadly, the L-4's career was over before it had begun and the derelict Dakota was offered for sale. most likely to end  up in the smelting oven for recycling into soda cans. In summer 2013,  I bought the crushed plane and had  a better plan than letting her burn in Hell.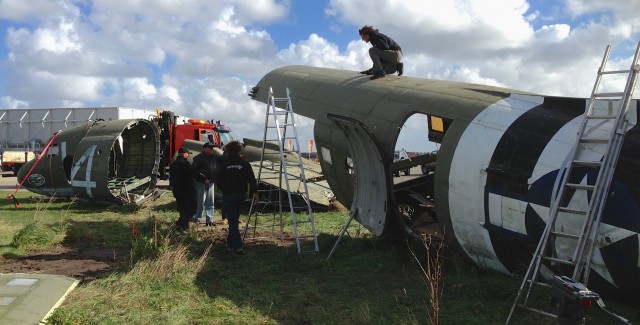 We separated the cockpit of the battered C-47 on 16 Sept. 2013  and sold it to MPS (Multi Pilot Simulations), a Dutch Company that converts Boeing 737 and Airbus Cockpits to fixed base professional Flight Simulators for major Airline Companies in Europe. The Dc-3 cockpit's outer shell and interior has been refurbished with a cockpit layout and avionics as exist in the Dutch Dakota Association's (DDA) flying DC-3 PH -PBA. Exactly with same feeling of controls, all made from scratch with counter force simulating activators and a huge 3 -D IMAX like screen in front.
What remained after we had disassembled  the wings, the tail and the cockpit, (all kept intact) was a badly torn and corroded fuselage for which I had at that moment no other plans. For no good reason other than the nostalgic sentiment that you do not waste any Dakota materials. That aircraft had conquered my passionate affection since the early 1950's, when I was flown to hospital from a remote Borneo Jungle to Balikpapan after I had suffered as a young boy a very nasty accident that nearly cost me my life. The DC-3 flew me out and saved my soul as an ambulance. My mom asked me to say thanks to the Doctor but instead I remarked that he had only given me a terrible headache with the skull operation and in my view the only thing that really had helped me out, stood there shining in the Pacific sun, waiting to fly me back. You bet, the Dakota had reached the status of a life line to me, as described it in my book.
We are now some 60+ years later, my passion never faded and a month ago I cut from this aircraft my own Commemorative Placard for interior decoration. I designed and applied a logo  "Celebrating 80 years Maiden Flight of the DC-3″ and with a Photo of this same aircraft, framed it and put it on the wall of  my studio, just next to a few other war relics and photos (see photo below).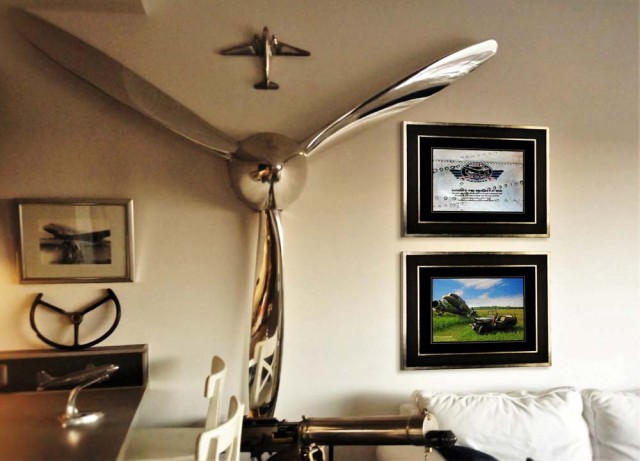 This is a Limited Series offer only: originating from the WW II Douglas Oklahoma plant, you can now own a riveted Skin Plate taken from the fuselage of this 1944 built C-47 (photo above), that you can display as a unique authentic vintage aviation object in your living room, study, office or hangar.
For all my friends and rapidly expanding readership that follow my weekly blogs on War History Online. In case you might be seriously interested to own such aluminium panel, decorated as a Commemorative placard, please read this post, view the photos and  if this entices you,  make your decision asap, in order to avoid the disappointment of an out- of -stock. This is the ideal (Christmas) Gift for any (vintage) Aviation Buff, DC-3 Fan, War Bird Lover, (ex-)Pilot etc. who can appreciate the Celebration of the Dc-3's Maiden Flight 80 years ago (17 Dec. 1935).
That feat will have massive Media attention by end of this year. My advice, stay ahead of the mass in buying your gifts and souvenirs. Limited Edition authentic objects as this panel offered are most probably sold out by that time. What follows are replicated machine produced fake articles from SE Asia, while this is the real DC-3/ C-47 thing , hand made in Oklahoma, USA, Dec. 1944. Different League!
The riveted skin panel, decorated as a "Commemorative Placard", comes now for sale in a Limited Edition, taken from this C-47 depicted in the photos. The package that I offer contains the bare metal brushed aluminium plate of 11 x 16 in/ 28 x 40 cm with the logo "Celebrating 80 Years DC-3 Maiden Flight" plus the Photo "Icons of Victory" of the aircraft & Jeep in same size 11 x 16 in/28 x 40 cm.  Note: the real sizes of Photo and Placard are often much larger than what you see on your screen (depending screen dimensions, view for an enlarged photo of the placard the very last photo of this post).
On top, there comes the DVD "Broken Dreams", a stunning  English spoken Video Production by Suzanne van Leendert, that shows the career of exactly this C-47 from its birth in Oklahoma (end 1944) to the farewell party and the dis assembly where  we took the cockpit off in Sept 2013. Finally, I will deliver with the placard a signed Certificate of Authenticity with a serial number and your name on it, as being the proud owner of a genuine War Relic. taken from a Douglas C-47 fuselage plate, built in USA in 1944.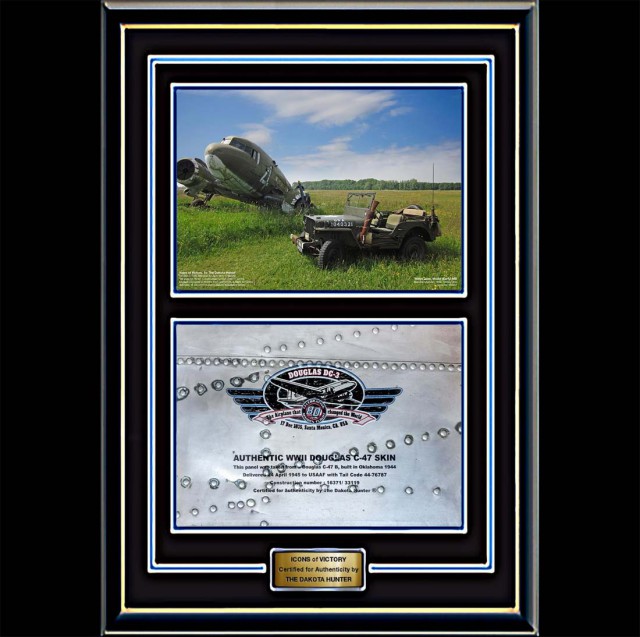 The special package that I offer to you does not include the frame(s). That saves you high S & H costs, while you can select the frame(s)  shapes and colors that fit best in your office or study. You can mount the panel and the photo in two separate frames (two times 20 x 26 in/ 50 x 65 cm) or in a single  frame ( 24 x 36 in/ 60 x 90 cm)  as you can see on photos (above). The  larger frames with aluminium outer edge are for sale in the  Home Interior shops/ depots from US $ 30 and up. The 52 min. DVD that comes with the package (see cover below)  will give you an unprecedented complete view of this particular aircraft's career.  An emotional interview with  the real Rosie the Riveter, as she goes back to the former Douglas Oklahoma Plant with photos and footage of the factory in 1944, followed by the proud post war years flying for Air France.
Later came the Night Mail flights and we see the aircraft's  role  slowly being relegated to aerial geophysical  survey flights and remote cargo flights in Africa. Most ex-owners were found and interviewed,while they supplied footage and photos. After a storm the aircraft was damaged beyond repair and entered the Museum circuit in 1990. First as a Gate Guard in the Ardennes Victory Memorial Museum ( Belgium), later in the Wings of Liberation Museum in Brabant (Holland). This complete film documentation from 1944 to 2013 is r wall too?are and unique, thanks to Suzanne's research into the  long time span of almost 70 years and it makes the Placard even more valuable, as you can show your friends/ family its full history. Not taken from an anonymous donor aircraft, but from a C-47  with a career that is unfolded in a touchy and romantic tale, with the gloom of the decay of this aircraft but also the fact that parts as the Cockpit, tail and wings will live on, as much as the skin plates will. Maybe on your wall too?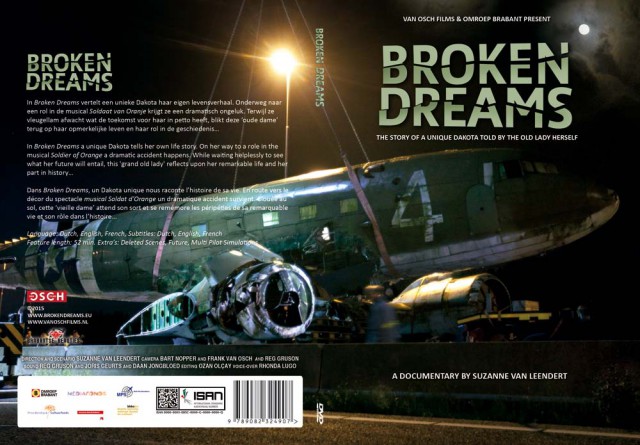 Finally, I will deliver with this unique package a "Certificate of Authenticity"  for the Skin Panel, verifying it as being an original piece of the fuselage of the C-47 depicted, made in 1944 and delivered to the USAAF in April 1945. On the certificate, your name will be filled in ( or the name of the person that you want, in case of a gift). The number one has been sold, the first low numbers  are reserved for special Relations and Friends. All serial numbers are given in a sequence of ordering.  The certificate, the placard and the photo will be signed by myself as being the producer / designer of the Placard and Photo and the owner of the C-47 fuselage. With that I can guarantee you the Placard to be really cut from this aircraft as shown in the photos and on the DVD. Few C-47's will exist that can claim such similar well documented and illustrated history !
For more information about prices and ordering of this unique package, please click the button Web Shop on my site www.dc3dakotahunter.com
Meet me also on Facebook at http://ww.facebook.com/hans.wiesman
PS Below you will find 3 more photos, First the "Certificate of Authenticity". Then the Photo of C-47 & Jeep, that you can also order in Black/ White, as depicted. For some purists, such Commemorative Tableau looks more vintage when the photo comes in Black/ White. That choice is yours, you can fill it in on the  Placard Shopping Page in my Web Shop, where you can eventually add to your order my book The Dakota Hunter in Autographed version. The very last photo in this blog shows the Placard in enlarged version, showing the fine details of the plate."